6 Amazing San Diego Based Health Foods to Try Now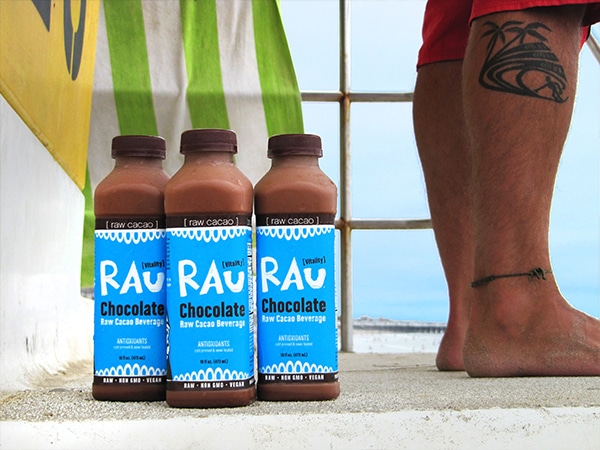 Feeling bombarded by the overwhelming amount of new health foods lining grocery store aisles? Well you're in luck, because we've narrowed down a few of our local favorites for you.

1. Rau

Rau bottles up everyone's favorite guilty pleasure in an unexpected way. Chocolate in it's raw form is called Cacao, an ancient superfood discovered originally by the Mayan's and known by them as "food for the gods." Rau all began when college roommates Daren and Brian experimented mixing cacao with different spices and eventually developed their secret recipe. Only the finest cacao beans are picked in Ecuador, and cold pressed to maintain their vital properties. The combination of fresh cacao and organic spices is packed with super foods, antioxidants and vitamins, and an overload of delicious flavor (without any added sugar). Sipping on Rau maintains healthy blood sugar and pressure, increases intake of antioxidants, and includes excellent doses of magnesium, Vitamin C and Vitamin D. But wait, we have more good news! Rau is completely dairy, soy, preservative and sugar free. The Rau Original tastes like a healthier & lighter chocolate milk, and Rau Mint can easily be mistaken for a juiced peppermint patty. Next time you're craving a spoon full of Nesquick, drink Rau instead. You won't be sorry.





2. Perfect Bar

Don't be fooled, this nut bar may be new to you – but it's old school and awesome! Perfect Bar was created in the mid 60's by Dr. Bud Keith, who passed on his healthy living company down to his family. Dr. Keith was quite a legend in the fitness scene here in San Diego, opening one of the first gyms and juice bars ever in Mission Beach. Keeping with the wellness spirit, Dr. Keith created Perfect Bars in order to share the belief that whole foods are crucial for healthy living and complete nourishment. All 7 Perfect Bar flavors are non-GMO, gluten free and naturally sweetened with organic honey. Paleo Pops are an excellent way to get in your complex carbs before or after your workout, or as a healthy alternative to sweet indulgent treats. For breakfast, I like to grab the Almond Acai bar – it gives me energy and keeps me full for a good portion of the day. I also like to go for Perfect Bar's Carob Chip (instead of a chocolate bar) when lounging around watching a movie. Although those two are my longtime favorites, I must admit that all Perfect Bar flavors are delicious, and the perfect choice for an "anytime" grab & go snack.





3. Green Bee

Green Bee is fairly new to the San Diego juice scene. Founders Dave and Kent have collaborated to promote their love of juicing by creating a product that meets their high standards of quality and health. Utilizing their combined knowledge and experience, they have developed the "Green Bee Super Smoothie" and are changing lives "one glass at a time." The Super Smoothie is raw and unpasteurized, and contains a special ingredient that sets it apart from any other product on the market – Royal Jelly. Created by worker bees over a span of three to four months, Royal Jelly is not to be mistaken for squeeze-out-of-the-bear honey – it's the Queen Bee's secret jelly that enables her to live an exceptional five to seven years longer than other bees. Royal Honey, the super food known to increase energy, promote healthy skin, build lean muscles, and kickstart a healthy metabolism, also packs more than 20 amino acids. At first sip, you may think that this super smoothie is loaded with sugar, but look at the label and you'll see that each serving contains only 6 grams of sugar. Just one serving contains super foods such as kale, spinach, spirulina, flaxseeds and chlorella. Try it for yourself at Fit, or check out the cleanse packages on the Green Bee website!





4. Barnana

From Brazil to La Jolla, these naturally dehydrated banana snacks are deliciously addictive. Professional triathlete Caue Suplicy shared his secret family snack with other athletes all over the country before deciding to go big and create "Barnana." Whether you prefer them plain, covered in organic chocolate or peanut butter, or coconut flavored – Barnana never disappoints. Barnana takes pride in their slogan – "the super potassium snack," which keeps muscles energized and nerves moving for healthy digestion. Here's what's most impressive about the original Barnana flavor – it consists of only one ingredient, banana. All options are non-GMO, gluten free and high in fiber to help maintain low blood pressure and promote a healthy heart. Here is a special "Fit" tip – employees and members love to eat them cold. Keep them in the fridge for a post-workout, refreshing and revitalizing bite.





5. Ocean Ranch Organics

Cranberry Orange, Meyer Lemon Blue, and Pomegranate are just a few flavors that make up the line of our favorite San Diego granola company, Ocean Ranch Organics. Kim Redman, an organic farmer with fourteen years of experience as a chef, created Ocean Ranch Organics Granola when people just couldn't get enough of her granola. Kim is no newbie to the health industry, her cooking career took her throughout various spa and retreat locations, and gave her the opportunity to cater for professional athletes. What sets Kim apart is the uniqueness of her recipes – adding a bit of "zest" helps liven up her extra scrumptious granola. Ocean Ranch Organics granola varieties will catch you off guard with unexpected flavor combinations, but will leave your palate pleasantly surprised and wanting more. Eat Ocean Ranch Organics granola on it's own for an easy snack, add it to your favorite yogurt for breakfast, or use it to top off a fruit bowl for delicious dessert.





6. Paleo Pops

One word, YUM! Paleo Pops are a new favorite everywhere in San Diego! With these morsels of deliciousness, Paleo Pop creator Keisha has finally proven that eating like a caveman doesn't need to be boring or difficult. Bite-sized Paleo Pops come in four delicious flavors that can easily be mistaken for regular cake pops upon first glance. However, these nutrient-dense energy bites are no joke – they're all gluten, dairy and soy free. Don't be fooled by the green colored, organic spinach packed "Popeye Pop" flavor – it still tastes like a treat. "Brownie and Cookie Dough" is a crowd favorite, a perfect replacement for a real cookie or brownie. Just one pop will keep you satisfied! Paleo Pops are perfect to grab on your way out the door before your workout, or a guiltless treat for those late night sweets cravings. Paleo Pops prove that even with a healthy lifestyle, you don't have to deprive yourself of mouthwatering delicacies.

[ts_fab]
Subscribe To The Fit Blog
Monthly articles for a Fit lifestyle, straight to your inbox.
Happening On Facebook
Recent Posts