No matter what your favorite way to sweat is, we know how important it is to keep up a consistent workout routine to maintain a healthy mind, body, and spirit. Hopefully, you have been keeping up a good exercise regime using one of our virtual training programs while our Fit clubs are temporarily closed. However, we understand that you enjoy working out at the gym for a plethora of reasons like the equipment, environment, personal training, classes, and culture to name a few. It is challenging to stay motivated when you are thrown off of your routine. So, don't feel bad if you've taken a step back without having access to your usual amenities. We miss seeing your shining faces in person as much as you miss having access to the facilities, and we can't wait to get you back to Fit! We are taking this time to prepare for a sweet and safe post-pandemic reunion with our beloved Fit Family!
As the vaccine rollout is happening, now is the time to get your body ready to return back to Fit and a little sense of normalcy. We are eagerly awaiting the news of when we can open our doors again. Don't worry, you will be the first to know when we get the go-ahead! In the meantime, here are 4 tips on how to safely prep your body for a post-pandemic return to the gym.
We're Getting Ready to Welcome You Back
While you are getting your body ready to head back to the gym, Fit is getting ready to welcome you back to our clubs with the amenities you've been missing during our temporary closure. We miss you all so much and are taking necessary precautions to ensure that our facilities are clean, safe, and ready to kick your butt once it is deemed safe to return! In the meantime, you can take advantage of our Virtual Training to help stay on top of your fitness goals and prep your body for the sweet post-pandemic return to the gym!
Personal trainers are the expert consultants of the fitness world. They've thoroughly studied different training approaches, worked with hundreds of clients, and tested countless diets to determine what works best.
Needless to say, getting personal training in San Diego is a tried-and-true way to take your workouts to the next level, regardless of whether your goal is to lose weight, build muscle, or prepare for an athletic competition.
But how do personal trainers do this? What exactly happens when you hire one and show up for your first training session? How will your personal trainer ensure you achieve your desired fitness results? Keep reading to find out! (more…)
Whether you're just starting out with an exercise program, or you're not getting your desired results with your current routine, hiring a personal training professional in San Diego may be just the thing you need to get the most out of your workouts.
But why is this so? What are the 3 main advantages personal trainers provide that you can't get on your own? How useful is a personal trainer if you're trying to build muscle? Read on to learn the answers to these questions! (more…)
Getting into the world of fitness and home workouts isn't easy, especially if it's been a while since you last exercised. Having the right mindset and hiring a reliable San Diego, CA, virtual trainer can help a lot, but it still takes some time to get used to your new schedule. 
In an effort to help you stay active during the COVID-19 lockdown, we have prepared a list of 3 tried-and-true fitness tips that will make your workouts more effective even if you're a total newcomer to the world of fitness. Read on to learn more. 
How can a beginner start working out at home?
First off, you'll need some equipment. Don't worry, it's nothing fancy! Just get some comfortable clothes (sweatpants, t-shirt, and sports bra) and a pair of running shoes (make sure they're clean so you don't mess up your floor). Depending on the type of training you do, you may also need a yoga mat. 
Here are the top 3 tips to follow if you're looking to start exercising at home:
1. Set concrete and realistic goals
Get a piece of paper and write down your goals in a way that's clear, easy to track, and not impossible to achieve. For example, "lose weight" is way too vague, while "lose 100 pounds by doing 3 hours of cardio every day" is unrealistic and probably dangerous for your health. 
A great beginner weight loss goal would be: "lose 15 pounds by doing 20 minutes of cardio a day and eliminating processed sugars and refined grains for a month". This tells you exactly what you need to do and allows you to clearly track your progress by checking your weight. 
2. Make sure the workout fits in your schedule
The realities of modern life mean that free time can be in short supply even when you're working remotely. That's why it's important to create a general daily schedule that leaves enough time for physical activity. Failing to do so will reduce the quality of your training and constantly give you excuses to postpone or avoid it. 
3. Work out with a professional
It's no coincidence that most actors, models, athletes, and other people who place great value on their physical health and looks use personal trainers. Simply put, having an expert to guide you and keep you motivated during your training is the single most effective way to exercise.
The good news is, modern virtual workout programs are highly affordable, effective, and no less convenient than in-person training. Enlisting in one is the single best way to kickstart your home workout regime and make sure you stick with it.
When is a home workout not enough?
If you're a beginner, the answer is: NEVER. The only times home workouts aren't as effective as going to the gym is if you're a bodybuilder looking to compete at Mr.Olympia, a professional swimmer training for the next Olympics, or a similar high-powered athlete.
In these and similar cases, you're simply going to need a lot more equipment and space than you probably have in your home. If you really are training at this level, it's best that you consult with your personal coach or manager on how to train during coronavirus. 
Where can I find a dependable San Diego, CA, virtual trainer?
Are you looking to enlist in a state-of-the-art virtual training program? If so, look no further than Fit Athletic. As the leading fitness club in San Diego, we provide top-notch virtual training services that include access to seasoned personal trainers, as well as on-site training at multiple locations.
For instance, our Carmel Mountain gym includes high-end workout equipment, an olympic-size swimming pool, indoor cycling, yoga, and group fitness classes, and more. Get in touch with us today!
Most people in California are result-oriented, and you really can't blame them for it. Between holding a full-time job, commuting to and from the said job, taking care of their family, and having a social life, they're already busy enough as it is and don't want to waste their valuable free time on something that's unlikely to give them the outcome they want.
While this approach can work well in many areas of life, it's often used as an excuse to avoid staying active during the COVID-19 lockdown. This can be a serious problem, as leading a sedentary lifestyle for months on end is far less healthy than exercising at home even a little. 
It's also unnecessary, as people are more than capable of having an effective workout at home, especially if they hire a San Diego virtual trainer to help them out. Keep reading to learn more about how to make the most of your home workouts. 
Can you get the same results working out at home?
It all depends on what your goals are and how you go about obtaining them. If you're looking to lose weight, build strength, improve your looks, maintain good cardiovascular health, stay more active as you get older, and target a specific muscle group (eg., you want to straighten your core muscles to relieve back pain), then the answer is a resounding YES. 
The vast majority of all the benefits you can get from working out, you can also get at home with practically no equipment. For the best results, you should enlist in a tried-and-true virtual training plan that gives you access to experienced personal trainers. 
Other benefits of working out at home include:
It's cheap. All you need is a pair of running shoes, some comfy clothes, and maybe a yoga mat.
It's safe, especially if you have an experienced virtual trainer to guide you.
It's more natural. You'll mostly be training with your own body weight rather than with heavy exercise machinery that restricts your movements and does a lot of the work for you.
It saves you time. You won't have to travel to and from the gym.
No one's looking. Exercising in the privacy of your home means you won't have to worry about strangers watching you or interfering with your training. 
How long does it take to see results from working out at home?
Unfortunately, a one-size-fits-all answer to this question doesn't exist, as it all depends on your personal situation and goals. For example, an individual who wants to lose 50 pounds or more will naturally take a longer time to do it than someone who's only looking to shed a few pounds in order to get their "beach body". 
Either way, you should never be focusing on short-term results when working out. Your goal should always be to improve your health and energy levels over the long run. Constantly keeping track of time can only cause you to become demotivated. 
Where can I find a second-to-none San Diego virtual trainer?
Here at Fit Athletic, we can proudly say we offer the best virtual training program in San Diego. By signing up for Fit Virtual Training, you'll be getting access to a state-of-the-art virtual training app that includes the complete range of cardio, mobility, and strength workouts as well as access to top-notch personal trainers. 
If training on-site is more to your liking, our Mission Beach gym boasts cutting-edge workout equipment, an indoor pool with a retractable roof, group fitness and yoga classes, a sauna and steam rooms, and more. Visit us today! 
As any successful athlete will tell you, the right mindset is by far the most important thing when it comes to staying fit and achieving your goals. Not even the best sports equipment and virtual training in San Diego, CA, can get you where you want to be if you see every workout as an obstacle or a chore. 
It doesn't matter if you're lifting weights in the gym or doing cardio in your living room, nor does it matter if you're an experienced athlete or a newbie to the world of fitness. The only thing that matters is being able to motivate yourself to put in an effective workout. 
Keep reading to learn how to do just that!  (more…)
With the COVID-19 pandemic still in full swing, it's safe to say that most Americans will be spending the next few months indoors. In order to stay healthy and avoid putting on too many extra pounds, we all need to find ways to exercise without leaving our homes. 
For some people, this means hiring a virtual trainer in San Diego. For others, it means adapting their usual training regimen to fit the current situation. However you decide to go about it, you can use the 4 tips in this article to get the most out of your home workouts. Read on!  (more…)
It's an unfortunate fact that the COVID-19 outbreak is still a serious issue in many parts of the world. Since we have no idea when a vaccine will become available, we have no choice but to hope that face masks, social distancing, and self-imposed quarantine will protect us from this dangerous disease.
If there's a silver lining to this whole situation, it's that at least now we all have enough time to exercise in the comfort of our homes. In fact, working out in your house can be more beneficial than doing so outside, especially if you have one-on-one access to seasoned trainers.
But how do you plan a home workout? What's a good cardio routine if you're a beginner? Do you need to purchase expensive equipment, or are San Diego virtual training workouts enough? Keep reading to learn more!
How do you plan a workout at home?
The answer to this question varies widely from person to person. Your specific circumstances and what you're hoping to achieve will determine how often you train, what you eat, and what your average workout looks like.
Ask yourself the following questions:
What is my goal?
Are you a professional athlete, or are you simply trying to stay healthy and possibly get a little leaner in the process? Is your goal to become "jacked", build up your strength, or lose a lot of weight?
Do I have any underlying health conditions?
Are you suffering from any health issues that may interfere with your training? For example, you'll probably want to refrain from doing deadlifts if you have a bad back. On the other hand, people with bad backs may want to adjust their workouts to include exercises that strengthen their core and reduce the strain on their back.
How much am I willing to spend?
While workout equipment generally offers good value for the money, the upfront costs can quickly exceed most budgets, especially if you're buying a treadmill or an exercise bike. If you're looking for a cost-effective option, your best bet is to join a virtual training program.
Am I allergic to any foods?
A proper diet is a crucial part of any workout regime. Being allergic or otherwise intolerant to some foods may limit what you can achieve with your workouts. For instance, you likely won't be able to get enough protein to build huge bodybuilder muscles if you're allergic to meat.
What is a good everyday workout routine?
Your health, age, available equipment, and which results you're going for are just some of the things you should consider when planning your home workout. If you're not sure how to proceed, it's best to reach out to a reputable health club and get advice from a personal trainer.
Here's a 15-20 minute cardio workout for beginners:
Jumping jacks: 2 minutes
Side lunges: 10 sets
Squats: 1 minute
Jumping rope: 1 minute
Jump squats: 15 reps
March in place: 1 minute
Walking lunges: 10 sets
Squats: 1 minute
Jump rope: 1 minute
Jump squats: 15 reps
Jump rope: 1 minute
Step up: 2 minutes
March in place: 2 minutes
Push ups: 20 reps
Tricep dips: 30 reps
Who provides the most effective San Diego virtual training workouts?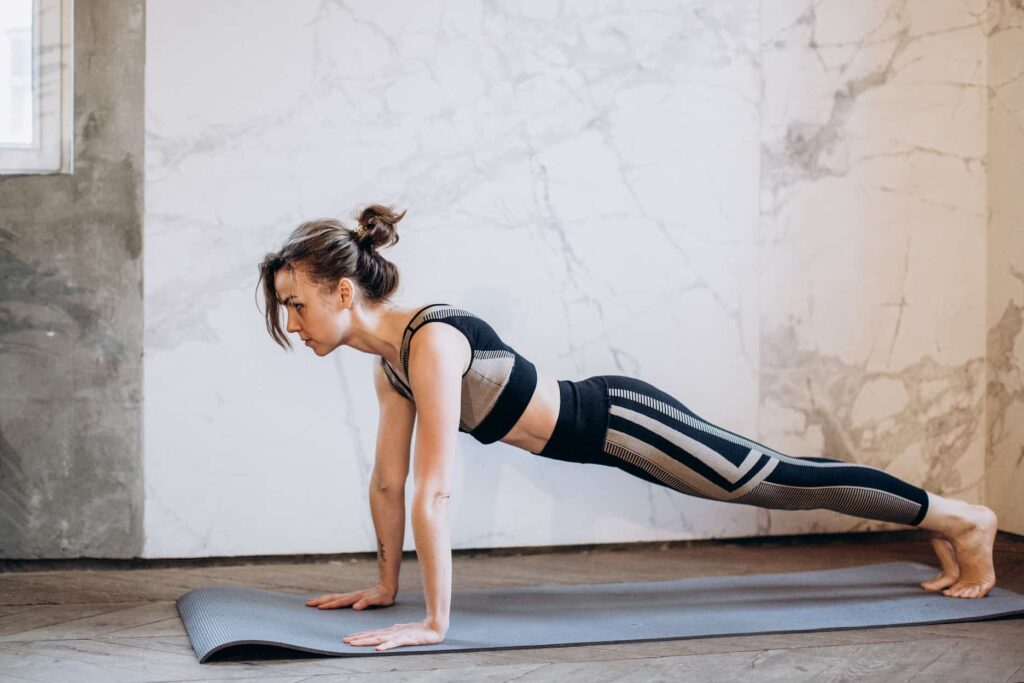 Whether you're looking for a first-rate virtual training program, or you want to join the top health club in San Diego, you can't go wrong by giving Fit Athletic a call. A rooftop pool, high-end workout equipment, and group fitness classes are just some of the many great things you can find in our East Village gym. Contact us today!
To say that the COVID-19 crisis has disrupted our society would be a massive understatement. With no vaccine on the horizon, and no way to tell when the pandemic will subside, we're forced to reorganize our lives and find new ways to do things we once took for granted.
Which brings us to the topic of this article: how do you stay fit without leaving your house? After all, going to a sports court or a public pool is out of question, while hiring a personal trainer or building an extensive home gym is too costly for most people.
The solution: harness the power of the internet! You can get some much-needed exercise by following a San Diego virtual training program that's specifically designed to cater to your fitness needs. Read on!
How can I keep myself fit at home?
Believe it or not, working out at home often yields better results in the long term. This is because most Americans can't find the time to go to a gym on a regular basis, or may be prevented from doing so by unfavorable weather or other complications.
Exercising in your living room saves you time and gives you full control over your workout. Since consistency is key when it comes to staying fit, and since individuals who get in the habit of exercising at home are more likely to adopt a fitness lifestyle, this dramatically reduces the chance of them slacking off or quitting early on.
Here are the top 3 most effective ways to stay healthy at home:
Everything is an opportunity to exercise
Whenever you have to lift something that's even a little heavy (eg., a milk carton), instead of placing it straight into the fridge, lift it up and down a few times, or maybe even do half a dozen bicep curls with it.
Other ways to incorporate exercise into everyday activities include:
Doing chores such as vacuuming or mopping counts as a physical activity, so why not speed it up and burn even more calories?
Pace around the house while talking on the phone instead of sitting down.
If you sit for prolonged periods of time, you should take 5-10 minute fitness breaks after every hour or so. Do some push ups or crunches during this time, or just walk around the room.
Watch your diet
Being at home all day can get boring, and boredom can cause you to drink or eat more than you should. In order to avoid putting on extra weight, consider making a diet plan and keeping an in-depth food diary for everything you eat.
Enlist in a virtual training program
Unless you're a fitness freak or a pro athlete, you likely find it hard to stay motivated and keep yourself accountable while working out. The good news is, you don't have to do everything on your own!
There are state-of-the-art virtual training programs that are specifically designed to help you set realistic goals, keep track of your progress, and provide you with ready access to experienced trainers.
Where can I get top-quality San Diego virtual training?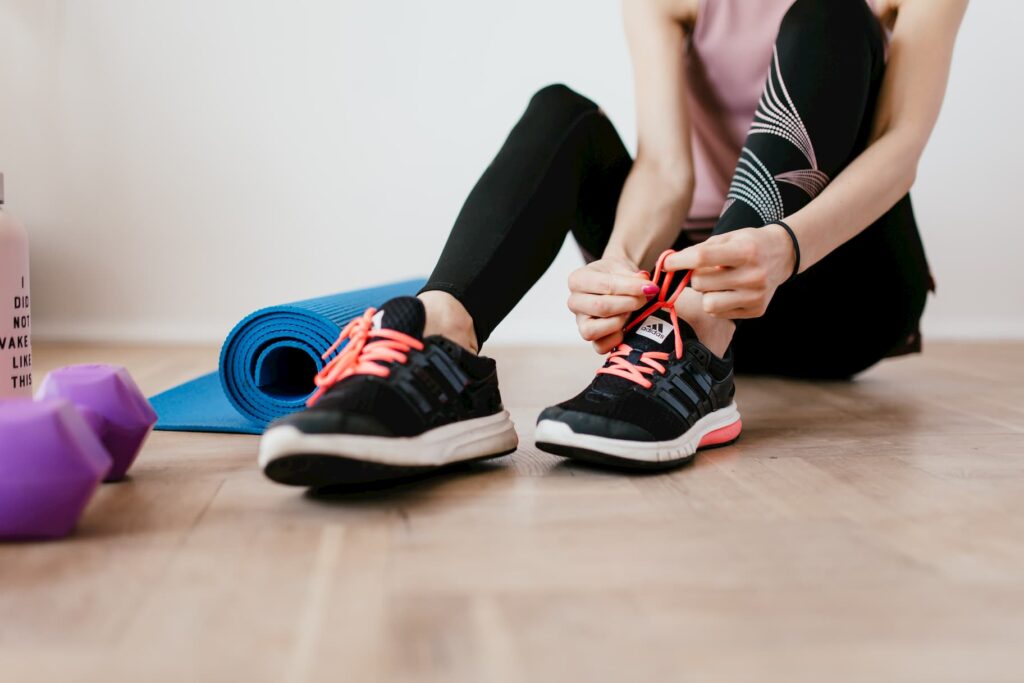 Whether you're a lifelong athlete looking to continue your training regime during the epidemic, or you're a newcomer to the world of fitness, don't hesitate to give Fit Athletic a call.
Our San Diego gym is equipped with all the amenities you could possibly wish for, including cutting-edge workout equipment, a sauna, steam rooms, a hot tub, a rooftop pool, and even an outdoor cardio deck with a view of the Petco Park. Reach out to us today!
Knowing what to expect from virtual training is just as important as being familiar with the staples of virtual training. Being thoroughly aware of the ins and outs of virtual training will help you when trying to stay fit in your home, as well as assist you in creating a home workout routine more easily. 
Although virtual training is relatively new, it has been gaining popularity during the last couple of months as an excellent exercising method that does not require you to leave your home in order to do it. There are also many other benefits to it, but let's first see how you should actually approach your virtual training workouts in San Diego. (more…)