Swimming is not only a popular sport but a great way to stay active, healthy and have fun! It's a healthy, low-impact activity that's beneficial for all ages. An hour of swimming can be just as helpful as running and easier on the bones and joints.
Health Benefits of Swimming
Swimming is an exercise that activates the whole body! As you move through the water, you're able to build endurance, muscle strength, and cardiovascular resistance- without stressing the body. This is a great all-around workout also to maintain a healthy weight, heart, and lungs. With almost all of your muscles being activated during swimming, this workout is beneficial for everyone.
Types of Strokes in Swimming
By using different types of strokes during your swimming workout, you can focus on other muscle groups. Some basic strokes you can use include:
Breaststroke: This stroke is executed by starting in a prone position with a coordinating kick. The legs are brought forward with the knees together; feet are turned out with a backward sweeping motion of the arms.
Backstroke: Start on your back and alternatively lift your arms out of the water in a backward motion, followed by legs extended and kicking.
Sidestroke: This stroke is similar to breaststroke—however, you alternate sides with this stroke.
Butterfly: Perform this stroke on the chest, with both arms moving symmetrically accompanied with a butterfly kick.
However, no matter what stroke you choose, the water resistance will still push your body for a full-body workout.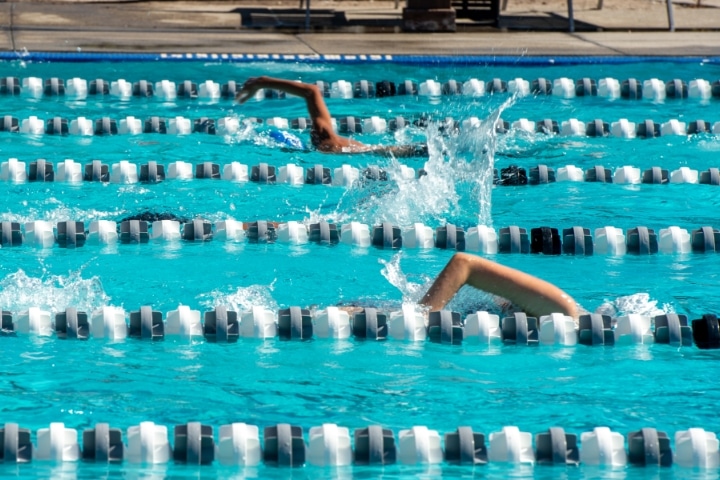 Additional Health Benefits of Swimming
Going for a swim has tremendous physical benefits, but it also has mental and preventative benefits. Scheduling in a few laps can be a great way to unwind and is a great way to find peace and alleviate stress. The resistance against the water trains the body to improve coordination, balance, posture, and flexibility. It's also a type of exercise that's low impact, meaning no hard pressure on joints, which can provide great intense impact therapy for injuries. Finally, swimming is accessible in many places! This exercise is a great way to cool down on a hot day, from swimming pools to beaches.
Safe For Everyone
Swimming is an exercise that can be safe for everyone. People who have arthritis, asthma, or other physical injuries can benefit and improve their health. In addition, swimming is a great aerobic workout for women who are pregnant and children. Remember to talk to your doctor before starting any new exercise programs with your related condition or are pregnant.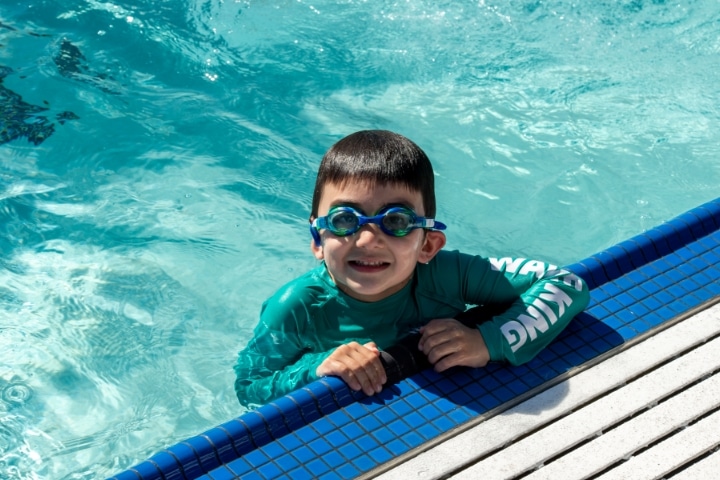 Swimming at Fit Athletic Club
Try your next swimming workout at Fit! All of our locations have premium amenities and water access for you to practice your swimming strokes. With our Little Italy and East Village locations, you can experience an elevated pool with cabanas for lounging in aftward. Fit Solana Beach has beach access for members to share ocean swimming. In addition, Fit Carmel Mountain and Mission Beach include an Olympic-sized swimming pool for swimming exercises, swimming lessons, and pool parties for kids!
Swimming is easy to incorporate into your workout routine at Fit. Sign up for your membership here to experience the benefits of swimmings!
Breathe in, breathe out. Meditation and breathwork are simple practices with great benefits. Both are great to practice mindfulness, as well as promote long-term wellness. Here are the best ways to incorporate these practices into your lifestyle to relay mindfulness every day.
About Meditation with Breathwork
Meditation and breathwork work seamlessly together. Mediation is a technique used for mindfulness, where breathwork helps by calming the body down physically. Together, you can use these elements to elevate your daily wellness routine.
Meditation
Mediation is commonly known as a set of techniques to raise awareness and attention. Some people think of mediation by thinking about one object in particular to focus the mind. But meditation is much larger than a singular act; it's about focusing your thoughts on living in the present moment and remaining grounded. Meditation can be used to make revelations of the heart through the mind.
It's important to note that meditation has been practiced and valued in cultures worldwide for centuries. Many religions have traditions of using meditative exercises. While this is how mediation started- the technique has grown to many different types of practices.
Many people start to meditate by focusing on breathing as their "anchor" and letting the mind wander to let it clear and feel present ultimately. Meditation is more directed to feeling, healing, and manifesting.
Breathwork as a Type of Mediation 
Breathwork is the process of incorporating breathing techniques to change your breathing pattern intentionally. People practice breathwork for many different reasons– from improving your emotional state to lowering the body's stress. In general, meditation breathwork refers to various breathing techniques, exercises, and programs to focus on the awareness of breathing for a certain amount of time.
There are plenty of different types of breathwork exercises ranging from gentle guided practices to trauma-healing exercises. Many people experience breathwork practices in a yoga class or right before bed to clear their minds.
The Benefits
Emotional 
Practicing meditation can have mental and physical benefits. It can provide peace and balance that boosts your overall wellness. Performing meditation throughout the week can help you manage emotional conditions, translating to physical benefits by being less stressed!
Specifically, the emotional benefits of meditation can include:
Increased patience and tolerance
Stress management
Increasing creativity
Building self-awareness
Anxiety relief
Reducing trauma
Physical 
Meditation is helpful for physical benefits as well, significantly if you are greatly affected by stress. More research is being performed as we learn more about the benefits of meditation; however, recent studies have shown that meditation can help manage the following:
Anxiety
Asthma
Cancer
Chronic pain
Depression
Heart disease
High blood pressure
Irritable bowel syndrome
Sleep problems
Tension headaches
Ways to Practice Meditation Every Day
Meditation is a creative practice, with no "right" way to try it. Don't let this stop you from incorporating this into your daily lifestyle. What matters is that you make it work for you!
Breathwork: Try focusing all your attention on breathing deep and slow, counting your breaths, and holding breaths. This practice is a great way to slow your heart rate down and find immediate de-stress relief!
Walking: If you find more peace by moving- try walking! This can be a meditative practice by focusing on your breath, the movement of your body and not focusing on the destination you are going to. This can be a great way to re-connect and ground yourself.
Mantra: Whether your mantra is spiritual or a personal saying, try repeating it over as you relax or walk outside.
Take a class: At Fit, we offer various mindfulness classes from sound bowl healing, yoga, and meditation. With our highly educated instructors, you're able to experience the benefits of meditation at your favorite gym.
Meditation at Fit
At Fit Athletic, we focus on the wellness of the whole body. Each of our locations encompasses premium amenities to help you achieve your goals physically and mentally. Our Group Fitness yoga classes are available for guided meditations at every location, and our new sound bowl healing class available at the East Village location.
For class times, visit our website and Instagram to stay updated on Fit Athletic news.
Fitness is more than the body– it's the connection between mind, body, and soul. It's essential to prioritize our mental health, which is why our 'Your Brain on Fit' campaign is set to raise awareness and highlight Mental Health Awareness month. We want to take a step towards prioritizing mental health not only this month but into our lifestyles for the long run.
Fit Athletic Club and Wellness
Fit Athletic Club is not only a luxury fitness club, we aim to inspire healthy and inspired living. As we know, this past year faced many challenges. Our lives were transformed in more ways than we expected and mental health was pushed to the forefront. It's important to prioritize a healthy mind– studies show it drives monumental factors in life including maintaining good relationships, productivity, being physically healthy, coping with stress, and more.
At Fit Athletic Club, we create an inclusive community that prioritizes inspired living and taking time to address mental health.
Simple Mental Health Improvements
From preventive stress management to scheduling workouts that you can look forward to, will instantly help you heal and improve your mental health. Try these simple steps to improve your wellbeing throughout the week:
Schedule workouts that bring you joy– If you're forcing yourself to complete workouts that don't agree with your body, it contradicts the great mental benefits of exercise. Exercise boosts endorphins in your brain to stimulate happiness– you know, that "afterglow" effect after a workout that you love! If you're unsure of what the best workout routine is right for you, we recommend scheduling a time with our Fit Personal Trainers to talk through and create an exercise plan that works for you.
Find your community– Studies show that being a part of a supportive community creates a better quality of life, including improved physical health factors! With this in mind, 2020 highlighted the importance of social relationships and community. Whether it's an online community or surrounding yourself with like-minded people, a support system that encourages you to grow is essential. At Fit, we are a family of people who believe in full-body wellness and encourage each other on our health journies. One easy way to partake in our fitness community is our Group Fitness classes, with a wide variety of classes to choose from.
Stress management– Take time for relaxing activities that ground you. These calming actions physically make your body reduce muscle tension, blood pressure and slow your breathing to handle stress. Stretching, yoga, meditation, and saunas are easy ways to implement this into a daily routine. In fact, saunas are shown to help fight off depression, fatigue, anxiety, and appetite loss. All five of our Fit locations include premium saunas that are currently open.
Developing Long-Term Health and Wellness
Developing these simple strategies to improve mental health can result in long-lasting wellness. The goal for these tips and campaign is to create small improvements in our life to find long-term balance through wellness.
A large emphasis within the campaign is the importance of setting long-term goals that apply to you. For example, don't just set a goal to "prioritize working out", make it a priority to find movement every day that agrees with your body. Feel intuitive about how you want to eat and work out throughout the day to enjoy your wellness journey, as well as maintaining your hard-earned progress (instead of short-term diets).
Your Brain on Fit
Mental and physical health are linked. If one is off balance, the other can't work as well. When both are in good health, you feel a stronger feeling of who you are that translates to all aspects of life.
At Fit Athletic Club, our goal is to achieve a balance between the two. Our gym and high-end amenities are here to help you keep your physical and mental health in check. Check out our saunas, Group Fitness, Certified Personal Trainers and get involved with our fitness community- we are here to promote your mental health long-term wellbeing!
Protect Yourself From These Common Sports-Related Injuries
Getting in enough physical exercise is important for our health. Yet, whether that physical activity involves working out at the gym or participating in sports, it's important not to overdo it. Pushing yourself can lead to common, yet painful injuries. Being aware of ways to avoid these injuries can help you stay safe, while pursuing your fitness or sports goals.
Head injuries
These types of injuries are more common in competitive team sports and include everything from traumatic brain injuries to incidences of TMJ. Trauma to the jaw or skull is generally responsible for swelling or a fracture of the bone of the skull in both these types of injuries. That's why regulations for contact sports, such as football or hockey, set guidelines for wearing face and head protection. While some types of sports don't require this type of protection, that doesn't mean there isn't a risk of a head injury. For instance, TBI incidences are still common in sports like basketball and soccer, even though the players don't wear helmets or mouth guards. In any physically active sport, it's wise to consider wearing a helmet or similar protection to protect your face and head.
Neck Pain
When the neck becomes misaligned, it can cause pain that won't seem to go away, but this isn't necessarily due to an injury. In fact, it can begin in the office, while you're working at you desk. Your neck becomes misaligned through poor posture, but the pain can really intensify later, when you hit the gym. It can become a bigger problem as you lay on the weight bench, if you don't ensure your neck and upper back are fully supported against the pad. Doing lifts that force you to raise your hands over your head can really aggravate the condition. To strengthen these muscles, do reverse shrugs with the lateral pull down bar, adjusting the weight to a comfortable level. Just pull the bar down to 3-4 inches in front of you.
Lower Back Strain
This is a common injury at the gym, especially with those who don't practice a proper form. Like the neck, the back relies on proper posture and, when it doesn't get that support, it can cause a strain in the lower back. A sharp pain, while doing squats can be an indication that you've put a strain on your back. To prevent this type of strain, practice working with your neutral back posture, before you begin lifting or doing squats. By laying on your back with your knees bent and your feet flat on the floor, you can experience your natural posture. Get comfortable with this posture, before advancing your workout.
Stress Fractures
These a tiny, hairline cracks in the bones of the lower legs, shins, and feet. Generally, they are caused by performing a repetitive motion too excessively, or they can be caused by overexertion. Symptoms of stress fractures include sharp, shooting pain in the foot and shins, making it difficult to walk. Jumping, running, walking, and even standing still can cause the pain to grow worse and the area around the shin and ankle may swell. To prevent stress fractures, start slowly and increase the intensity of your workouts gradually. Each week, you can boost your workout safely by 10%, giving your body time to adjust and build muscle.
Sprained Ankle
This is common in every sport, among runners, and also in gym workouts. This often happens when you're running and not paying attention to your footing. A misstep can cause your foot to twist beneath you, bending the ankle in an awkward position. The best way to prevent sprains is to run or jog on flat, even surfaces. If you're on the treadmill, don't forget to wear the clip that will stop the machine if you lose your balance. Outdoors, try to stay on concrete when running, as natural trails may be uneven and littered with branches and rocks.
Staying safe is important during any physical activity. To that end, be sure to wear the proper protective equipment and follow safety guidelines for that activity. While getting a good workout is your goal, overdoing it can lead to accidents and injuries that may leave you sidelined.
Nowadays, everyone seems in a hurry to live. But when you stop for a moment and look at the bigger picture, you will see that being in complete agreement with yourself is crucial for true happiness. Fortunately, mind-body balance is best achieved by healthy lifestyle practices, which have other amazing benefits as well. Follow these 5 Major Pillars of a Fully Balanced Body and Mind Through Fitness and discover the importance of living a healthy balanced lifestyle!
The Essentials
Living in a total state of both inner and outer equilibrium is the key towards a successful existence. To help you accomplish this, here are the five major pillar of a fully balanced body and mind through fitness.
1.    Appropriate Diet
It's no secret that what you eat is reflected both inside and out. For this reason, maintaining an appropriate diet is the most important principle of a balanced lifestyle. And to achieve this, you need to first and foremost rely solely on natural, organic ingredients. Therefore, fresh produce and free-range meats need to become a staple in your kitchen.
In addition, never forget the importance of regular interval meals. Although many people believe that you should eat three meals a day consisting of breakfast, lunch, and dinner, the reality is a bit more different. It is indeed important to have three meals, but you can also have four or five smaller ones too. As long as they're at the same time each day, you're set.
Furthermore, your meal plan needs to be in tune with your exercise routine. For example, if indoor cycling is your workout of choice, you need to find out more on what to eat before spin class so that you balance your physical activity with your nutrient intake. In the same way, if you're a weightlifting enthusiast, that should reflect on your plate.
2.    Sufficient Hydration
Drinking plenty of water is essential in the field of fitness, and it is also a direct companion of any healthy diet. Hydration is important because it regulates all your bodily functions. It helps eliminate waste and toxins through urine and perspiration, it lubricates your musculoskeletal system, it promotes tissue elasticity and it maintains a steady core temperature.
Thus, the perfect mind-body balance cannot exist without it. Depending on your gender, age, height, and weight, you should ideally drink 2 to 4 liters of the stuff daily so that your well-being is preserved at all times. Generally, the average woman needs a 2.7-liter daily intake, while men should drink as much as 3.7 liters to support themselves.
3.    Regular Workouts
Although it's true that diet lies at the base of any balanced lifestyle and is a focal point of reaching any fitness goal, let's not forget about exercising. Regular workouts are also an essential part of finding the middle ground between your body and your mind. But how can you find something that you enjoy that also promotes your interior equilibrium?
According to Harvard Medical School, a good way to approach this is by having a go at Eastern-influenced physical activities that are both engaging and soothing at the same time. Yoga is perhaps the number one choice, but you can also choose the path less traveled and practice tai chi or qigong. Classic standing balance exercises are also an amazing alternative.
4.    Reasonable Timing
An essential part of your routine has to do with duration. Exercise for too long and you'll be left feeling completely drained. On the other side of the issue, if you don't do it enough, you won't see any progress. Determine what the best timing is for you and your personal needs. A personal trainer can help you with that if you need further assistance.
5.    Feeling Good
There is a common misconception that toning and slimming down-related objectives are achieved through imposing limitations, undertaking the most difficult exercises, restricting what you eat and monitoring everything closely. While there is some truth to that, the most important part of the entire journey is actually ensuring that you feel good.
Not feeling pressured in any way keeps up your motivation, which in turn is beneficial to how much you engage with your workout routine. After all, the key to keeping balance and reaching goals is not what you do, but how well you do it. So, what are you waiting for? Throw your scale into the garbage and focus on what you're experiencing.
Conclusion
At the end of the day, true balance needs to start with you. But paying attention to these practices is something that will surely further you down the path towards progress. And when you also manage to stay fit in the process, it's a win on all sides. All you need is a little ambition and a lot of self-confidence.
Image Source: Unsplash.com
5 Reasons Why Warm Up Exercises Are Important
The importance of warm–up exercises should be considered by anybody who works out. Although warm–ups probably won't help much with burning calories or building muscle, they're crucial to the success of a workout! Before you even think about running or using the machines at the gym, you ought to make sure you complete a warm up and do a few stretches – but what makes them so important? 
1 . They help to increase body and muscle temperature
A good warm-up will raise your body temperature, which is particularly helpful to your muscles. As your muscle temperature increases, oxygen becomes more available to your muscles, allowing them to contract and relax more easily – so you'll be able to perform more strenuous tasks with ease. Your heart is also given a chance to prepare, meaning it won't be too strained during your workout. 
2 . You'll reduce your risk of injury
The last thing you need when you've been faithfully attending the gym and reaching your goals is to become injured. Warming up will improve muscle elasticity and allow for efficient cooling, meaning less chance of accidentally hurting yourself or overheating during your workout and ruining your day! 
3. They can help you to mentally prepare

 
Jumping straight into a workout without being adequately prepared can throw you off completely, especially if the preparation is mental rather than physical. It's easy to give up when working out gets difficult, but you'll be much less likely to do so if you've given yourself time to remember why you're working out. Use your time warming up to think about what you're about to do, guaranteeing that both your body and mind will be ready to succeed. 
4. You'll increase your flexibility, which will help with other exercise
Stretching is often considered something that should be done in addition to regular warm–ups. Stretching will increase blood flow to your muscles, and allow your body to increase its flexibility in both the short and long-term – always a plus when it comes to properly performing a workout. Stretch after you've already completed your warm up, as stretching when your muscles aren't properly warm can lead to injury. 
5. You'll be ready to tackle the heavy-duty machines at the gym
Using machines to help build muscle is a great way to spend your time at the gym, but they shouldn't be used before you've had a chance to loosen your joints! Warming up will ensure that both your body and mind are in the right state to handle gym equipment, again reducing your risk of injury.  
As well as a good warm-up, workout preparation should also involve ensuring that you have suitable equipment for the exercises you'll be doing. Crossfit, for example, can be enhanced by the use of accessories; particularly helpful for its Workouts of the Day are resistance bands and palm guards. 
Popular warm-up exercises you might like to try include jogging on the spot for several minutes, cycling, or even simply performing your workout at a much slower pace to prepare your body. For your stretches, try static stretching, which involves stretching a muscle slowly and holding it in place for up to thirty seconds. 
The benefits of warming up are evident, and warm ups will help you to achieve your goals at the gym; it's therefore clear that warm-up exercises should not be overlooked by gymgoers at any level. Once you've prepared your body and mind and done some stretching, you'll be ready to make the most of your workout! 
Kefir is a unique fermented beverage that contains probiotics and other nutrients that are beneficial for many things, such as improved digestion and immunity, weight control, and building lean muscle mass. While most kefir products are cow, goat, or sheep milk based, there are 3 basic types of kefir: dairy milk kefir, coconut milk kefir, and water kefir. For the purposes of this article, we will focus on the dairy milk kefirs and how you can benefit from drinking these after a workout.
What is Kefir?
Kefir is similar in taste to yogurt, only in a drinkable form. It contains many of the same beneficial bacteria as yogurt, but it is thinner in consistency and contains almost no lactose. Lactose is the naturally occurring sugar in milk.
Kefir is made by fermenting the milk kefir grains. These aren't actually grains at all. They are gelatinous masses that have different types of bacteria and beneficial yeast mixed in with milk proteins that are capable of fermentation at room temperature. The grains are removed from the milk and can be used to make a fresh batch of kefir, similar to how sourdough starter is repurposed. The end product is a very digestible dairy beverage that is loaded with beneficial bacteria, also known as probiotics.
Nutrients and Workouts
In addition to the beneficial probiotics, dairy kefir is a good source of protein and essential amino acids. 1 cup of kefir contains approximately 10 grams of protein. The whey protein in dairy products helps your muscles to recover after exercising, according to a 2011 review in The Proceedings of the Nutrition Society. The type of protein in kefir, casein, is a slower digesting protein. This may help your muscles to synthesize the protein for longer durations of time, thus promoting muscle growth.
Kefir also contains magnesium, calcium, and vitamin D. Magnesium and calcium together are essential for maintaining a healthy and calm central nervous system. This is beneficial for regulation after intense cardio workouts. Calcium and vitamin D together are necessary for bone health, according to The National Institutes of Health. Strength and resistance training, followed by drinking kefir will benefit your bones.
The B vitamins, including B12, are abundant in kefir. B12 is a natural energy booster. If your workout is intense, zapping your energy, you would do well to have a glass of kefir to restore energy, rather than reaching for a sugary energy drink.
Weight Control
After working out, you might feel famished and want to reach for a high-sugar, high-carb snack to get a quick, but temporary, recharge. This might make you feel good for a short period of time, but it will spike your blood glucose levels unnaturally with pretty empty calories. It won't satiate you like healthy lean meals with plenty of protein and fresh produce will. You will be hungry again very quickly and may find yourself eating more than you need to.
If time is limited, and sitting down to a meal isn't possible, consider having a nutritious smoothie made with kefir and fresh fruit. The Harvard School of Public Health noted in 2014 that "full-fat dairy may help control weight because it promotes more of a feeling of satiety and the fatty acids in full-fat dairy may help with weight regulation".
While the newest diet trends for building strong bodies and controlling weight are leaning more toward eliminating grains, sugar, legumes, and dairy, there is some hard evidence that the protein, probiotics, and other nutrients found in fermented dairy may be the exception to current thinking. Chris Kresser, LAc, a leading authority on Paleo nutrition, refers to kefir as the "not-quite-Paleo-superfood".
The next time you finish an intense cross-training workout, a boot camp session, circuit training, or whatever you enjoy, try drinking some kefir for muscle repair, satiety, bone health, and an energy boost. Be mindful of how you feel compared to having an energy drink or a high-carb snack.
At some point everyone faces setbacks on the road to fitness. While it is easy to beat yourself up about missing a workout or hitting a weight loss plateau, it is important to keep moving forward. To get back on track, use these tips that will help you forget that you ever experienced a setback.
Revisit Your Goals
Start by taking a second look at your goals to make sure you didn't set standards too high and overwhelm yourself. You can eventually hit your goals if you break loftier goals into smaller ones that give you a sense of achievement. If you have recently experienced an injury or new health condition, then it is important to alter your goals to fit your current level of physical health.
Practice Visualization
Once you have your goals set, it is time to start thinking about the future. Professional athletes utilize visualization techniques to hone their focus before competitions and you can use this same method to increase your motivation. Whether you are looking to finish a marathon or need to master that complicated gymnastics routine, spend a few minutes each day visualizing what you want to happen.
Go Public With Your Intentions
Having goals is important and sharing them with others helps to keep you accountable. Let your coach or best friend know what you are attempting to accomplish. Alternatively, you can create a social media post or start a blog detailing your journey. Whatever method you choose, make sure to keep the people involved updated, and invite them to ask you about your achievements along the way.
Think About the Non-Physical Benefits
People often get frustrated when they don't feel like they are seeing the effects of their workouts on their body. Instead of getting stuck ruminating on a scale that won't move or your inability to lift that certain amount of weight, try to see that each workout builds your stamina along with improving your mental health. That elevated mood you get after a strenuous workout is just as important as looking amazing in your swimsuit.
Change It Up
Boredom is a big reason for fitness setbacks, and losing motivation means that it is time to change up your routine. As you plan for changes, try to come up with ideas that are completely different for your normal routine but that will increase your skills. For example, a football kicker might take dance lessons to fine tune their kicking skills while still enjoying a cardio workout. Alternatively, a swimmer might go for a long run to increase their stamina. Just doing something out of your normal routine will kick start a positive attitude making your regular workouts more interesting.
Establish a Reward System
While it might be tempting to go out for a luxurious restaurant meal after winning that marathon, it is important to stick to healthy rewards. Giving yourself little markers for your achievements helps improve your motivation while reinforcing positive behaviors. Consider giving yourself something fun like a stadium blanket with your favorite team's logo, or you could get some new gear such as running shoes. Either way, rewarding yourself sends signals to your brain that will keep you wanting to achieve even more.
Get Inspired
Remembering why you care about fitness is as simple as watching others who also pursue a healthy lifestyle. Take a break from your regular workouts, and go watch a professional or high school sports team in your field of expertise. From catching a football game to enjoying a gymnastics competition, watching others playing at their peak performance will help you renew your determination to hit your fitness goals.
Make It Social
It's possible that you have been focusing too much on your workouts and not enough on how much fun physical fitness is when you add some friends. Get your friends or teammates together and head to the park for a game of soccer. Alternatively, you could schedule a weekly jog with a friend. Even walking with another group of moms as a stroller group turns a mundane workout into an uplifting experience, and having someone depending upon you to show up helps keep you accountable.
Set a Schedule
Changes in your routine are another common reason for setbacks that are easily correctable. Getting sick, having a baby or starting a new job are all potential hindrances to your normal workout schedule, and it is possible that you just need to change it up. Think about what happened before you got off track, and see where changing your workout schedule might help. For example, you may just need to get up an hour earlier in the morning instead of doing your jog at night. Once you set your schedule keep in mind that flexibility is still important. On days when you can't stick to your routine, have a backup plan such as breaking your workouts up into smaller chunks so that they are more manageable.
Talk to any professional athlete, and they will tell you that setbacks happen to everyone. The important thing is to not let it deter you from accomplishing your goals. While you can't take back the time that you have lost, you can take control over the future by implementing these strategies for getting back on track. By renewing your focus and adjusting your workout routine as needed, you will be able to accomplish every one of your fitness goals.
Oh, exercise. We all know that we should do it, we all understand its benefits and yet so many of us struggle to make it a daily part of our lives. It's not necessarily because we're lazy; rather, we all deal with mental roadblocks that keep us from lacing up our gym shoes and hitting the jogging path.

If you struggle to find the motivation to hit the gym, don't sweat it. (Pun intended!) Instead, use these eight motivational methods to help yourself to get into a better mindset to make exercise a regular part of your life.

1. Visualize Your Goals

There's no shame in physical changes being a huge motivator for you to workout. Plenty of people exercise primarily for aesthetic reasons. This is why it can be useful to visualize what you would like to look like. Whether that's an older version of yourself or a popular Instagram fitness model, there's nothing wrong with focusing on what you would like your end goal to resemble.

2. "Just Do It"

Nike didn't come up with this phrase randomly. The concept of "just doing it" can be incredibly helpful when you're trying to get into a fitness mindset. If the idea of hitting the gym feels overwhelming, then just get up off the couch and go for a walk around the block. You'll have done something, which is better than doing nothing.

3. Write Out Your Intentions

Putting pen to paper can be a great way to make your goals seem more real. It's a good idea to sit down and actually write out an exercise schedule that you'd like to follow. Try not to plan for too much too soon. If you've been a couch potato, don't start out with a full week of difficult boot-camp classes.

4. Consider The Non-Body Benefits

Sure, a lot of us workout because we want that swimsuit body. But there are other benefits to fitness, such as combatting depression and addiction. For example, many facilities offering sober living in Los Angeles advocate fitness as part of therapy. If the physical results aren't enough to motivate you, focus on the other benefits of exercise. Addiction Helper states "Taking up a sport will keep you active and healthy and will ensure that you always have something to do. Team sports will also mean meeting new people, which is an added bonus. That is why sports plays a massive part in the recovery process fro recovering addicts."

5. Stop Focusing On The Scale

Focusing on the scale can be frustrating and discouraging. After all, our weights fluctuate and you rarely see quick results at the beginning of a new fitness regimen. Instead, try focusing on athletic achievements. For example, if you can only run a mile, keep training until you can run two miles. Focusing on your accomplishments instead of your weight can be far more motivating.

6. Reward Yourself For Accomplishing Goals

No, we're not talking about rewarding yourself with pizza or beer. Instead, promise yourself a non-food treat if you stick to your fitness schedule for a month. A great reward would be a new dress or suit, which you'll probably need if you've stuck to your program.

7. Recruit A Friend

If you're trying to meet fitness goals, odds are one of your friends is as well. Recruit a like-minded buddy to be a source of motivation, inspiration and accountability. The two of you can keep each other on track and help one another to stay motivated.

8. When You Fail, Get Back On The Horse

So many people beat them+selves up when they miss a day of working out. While it's great to stick to your fitness goals, keep in mind that even professional athletes occasionally skip a day. If you miss a day of working out or fall off of your set schedule, don't beat yourself up. This is bad for motivation and bad for your morale. Instead, just pledge to get back on that horse the next day.

Exercise isn't just beneficial to our bodies, it's beneficial to our minds and overall senses of wellness. If you use these tips, you can stay motivated and stay on track as you work to accomplish your fitness goals. Remember that getting in shape is a marathon, not a sprint. Pace yourself and eventually you'll get to where you want to be.
4 Ways Cold Water Benefits Your Body
Cold Water Perks: 4 Ways It Benefits Your Body
Each year on New Year's day, thousands of Canadians clad in nothing but bathings suits and take the "polar plunge" into the freezing English Bay to celebrate the start of a new year. In the Netherlands, more than 10,000 people do the same, collectively diving into the icy cold waters of Scheveningen in swimsuits, mittens, and hats. The United Kingdom has a similar tradition, the "Loony Dook" where over 1,000 participants parade through the streets of South Queensferry, Scotland dressed in crazy clothing before plunging into the freezing sea.
Places across the United States are even catching onto this tradition, with annual events held in states like Washington, Colorado, New York, Massachusetts, New Jersey, New Hampshire, and Minnesota. And while the thought of plunging into below-freezing water in the middle of winter might seem insane to you, you might think twice after learning just how good ice water is for your body. From gulping down glasses of the stuff to soaking in an ice water tub, experts have discovered that classic, cold H2O actually benefits the body much more than we ever thought.
As a health and fitness enthusiast, you'll find these four cold water perks particularly interesting.
1. It Helps You Rehydrate
Do you feel like you suffer from a lack of hydration while exercising or that you tend to burn-out quicker than you used to? Switch to chilled water instead of warm or room-temperature water. Experts at Columbia University recommend cold water for athletes that exercise vigorously, as it helps lower your body's core temperature to a normal range, which allows you to last longer and burn more calories during your workout. Studies have also shown that the human stomach absorbs drinking water that's been cooled to approximately 41-degrees Fahrenheit much faster than warm or room temperature water, which ultimately helps fend off the side effects of dehydration.
2.  It Prompts Weight Loss
Before exiting your nice, warm shower, crank the water temperature down to as cold as you can stand and try to stay in the cold water for two to three minutes. By subjecting yourself to ice cold water, your body will activate what's called brown fat cells.  Unlike white fat cells that are the predominate form of fat in the body, brown fat cells contain a large number of iron-containing mitochondria, which act as the cell's heat-burning engine. Furthermore, the purpose of brown fat is to burn calories in the body in order to generate heat. Thus, when you withstand time in cold water, your brown fat cells will vamp up their heat-generating process and burn more calories.
3. It Stimulates Your System
Cold water stimulates your system in two different ways:
First, splashing cold water on your face makes you alert and helps wake you up. Underneath your skin lies thousands of tiny, sensitive sensors that, when exposed to cold water, send messages of shock to your brain. These shock signals tell your brain to pump up your adrenaline levels and the steroids aldosterone and cortisol, which gives you that jittery, heart-pumping feeling that get's your body moving.
Second, drinking cold water boosts your immune system. Emerging, research-backed products like the ASEA Redox Supplement can bring your cellular communication to optimal levels which helps improve the health of every system in your body. Every cell in your body relies on something called redox signaling, a cellular messaging process that helps detect and correct problems within the cells. As you age and encounter more environmental toxins, cellular messages are sent less frequently and less efficiently, but with products like the Redox Supplement, these cells are stabilized and activated to improve the overall health of your body.
4. It Helps Muscles Recover
Whether you're a current athlete, former athlete, or simply into fitness, you probably know first hand just how painful and annoying sore muscles can be. Within the last few years, however, experts have found that soaking in an ice bath after an intense workout can be incredibly effective. Chris Bleakley, PhD, and researcher at the University of Ulster in Northern Ireland says that an ice bath can reduce sore muscles by about 20%, especially in cases of delayed onset muscle soreness, or DOMS. By soaking in an ice bath, you can fight the inflammation, pain, stiffness, swelling, and localized muscle soreness that often comes after a hard workout routine or difficult new exercise.
The benefits of cold water for the body are important to understand if you want to give yourself an extra edge in overall body health and wellness. I hope the next time you're in the shower after a tough workout, you'll give a cold rinse an extra thought or two!