Can Stretching Help Me Get Fit?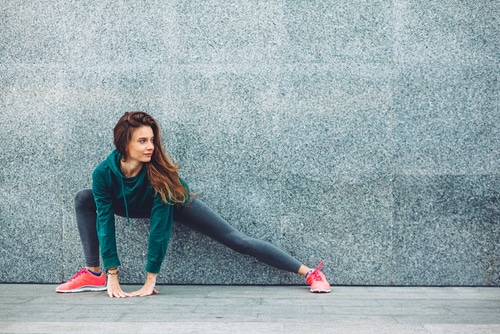 Stretching and keeping fit are not often mentioned together, other than in the "stretching before working out" way. But, can the good feeling of stretching be of value for more than just preparing to exercise?
Now, we know that you probably have more questions about stretching before exercising at a boot camp class in Mission Beach, like what happens if you refuse to stretch, or for how long you need to stretch. But, let's first see how stretching can help get you fit.
Does stretching count as exercise?
Stretching has been regarded solely as a pre- and post-workout routine for so long. So, it can be rather difficult trying to debunk the myth that stretching is nothing more than workout preparation.
However, stretching definitely is a form of exercising. You don't have to consult the experts of the California Department of Public Health to find that out. Every time you perform orchestrated physical actions with your body, you're working out.
So, when you stretch, you not only prepare your body for the full workout to come, but you're also exercising already. Your body's moving and you're burning calories and that's all that matters.
But, still, we do have to point out that while stretching is vastly important as both a warm-up routine as well as an exercise method in itself, it cannot, completely, replace a half an hour or an hour exercising session. But, it does a great deal of good nonetheless.
Can you get fit by stretching?
Stretching can definitely help you become a fitter individual. As we've previously said, stretching definitely counts as a form of exercising and it can, 100 percent, help you become more fit than you currently are and nudge you in the direction of a healthier lifestyle.
This is especially true if you're somewhat active. If you're in OK physical condition and want to keep all your joints well-oiled, doing the right stretches every day should be quite enough to allow you to not only remain fit, but to also improve your overall fitness.
What stretches should I do to get fit?
Now, as we've said, you should do the right stretches if you want to get or keep fit, and the following are the ones you should do on a regular basis:
Quad stretch – Lunge as much as you can forward with one leg up front, while keeping your back as straight as possible. Great for thigh muscles, inner hip, inner thigh and glutes.
Swan stretch – Lie down with your face towards the floor, place your arms slightly in front of you, and push yourself up while working your back as much as you can. This will work your quadriceps, but also your abdominal muscles.
Triceps stretch – Stand up and keep your back and neck straight, then take your arm and pull it as much back as you can, pushing gently with your other hand. Hold until you feel the burn, and give your triceps an awesome workout.
Bend stretch – Sit on the floor with your legs extended in front of you and close together. Reach out toward your toes with the rest of your body, keeping your legs straight. This is good for hamstrings, but also lower back muscles.
Neck flexion – These simple movements can do wonders to increase the flexibility and strength of your neck muscles. Sit down, legs crossed, and gently stretch your neck by moving your head first toward your chest, then toward your back, and then to both sides. Do this slowly, gently, but firmly, and you'll start feeling the effect soon enough.
Side reach – Stand with your feet apart, shoulder-width, and place your arm on your hip. Reach towards the other side of your body with the other arm as far as you can, hold, switch arms, and repeat. This stretch works your lower back and obliques.
Hamstring stretch – Lie down on your back, bend one leg at the knee as much toward the rest of the body as you can, and lift the other leg toward you while keeping it as straight as possible, helping it along with your arms if necessary. This will work your hamstrings gloriously.
So, there you have it – do these stretches that target all the major muscles of your body, and you're golden!
"Where in Mission Beach can a trainer teach me to stretch properly?"
If you'd like to try out stretching and you'd like to do it at a boot-camp style class in Mission Beach, then we'd like to invite you to Fit Athletic. We offer professional guidance from experienced trainers that will help you with everything you need, stretching included.
Additionally, you can also sign up for our stretching sessions at the Fit gyms that last from 15 to 30 minutes and increase your flexibility with our help. So, if you'd like to stretch with the best of them, stop by our place on your way to Belmont Park. Amusement parks are a blast, but so is Fit!
Subscribe To The Fit Blog
Monthly articles for a Fit lifestyle, straight to your inbox.
Happening On Facebook