Fit Spaghetti Squash Casserole Recipe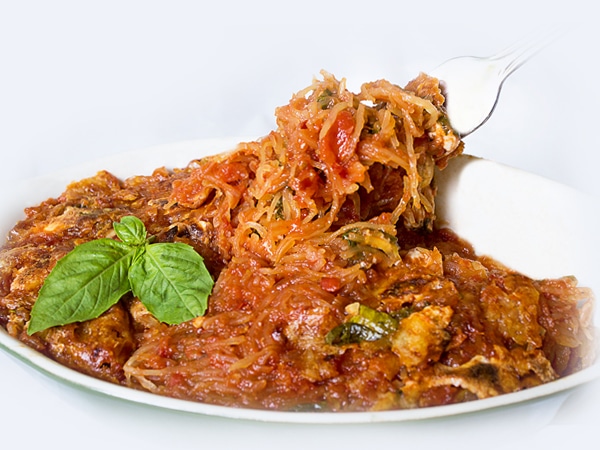 Difficulty Level: Easy
Time: 10min Prep, 40min Inactive Cook Time
Servings: 2 Entrees/4 Sides

Nutrition Facts Per Serving: Calories – 40, Protein – 1g, Carbs – 1g

Ingredients:
1 large spaghetti squash
extra virgin olive oil
sea salt & fresh cracked peppercorn
crushed red pepper flakes
1 cup organic reduced fat mozzarella, shredded
1/3-1/2 cup organic parmesan, shredded
1 cup organic fresh basil, stems removed
1 cup organic arugula (or spinach) stems removed
2 cups organic tomato sauce
1 – 8oz can organic diced tomatoes, juice removed

Directions:
Pre-heat oven to 425° F
Prep the Squash:
1. Halve squash length-way with a serrated chef knife. Remove & discard seeds with a spoon.
2. Place open-side-up on a baking sheet lined with foil. Lightly drizzle inner & top edges with olive oil & season with sea salt & fresh cracked pepper. Roast uncovered about 30 minutes or until edges are lightly browned and shriveled. Remove & let cool.
3. Drain diced canned tomatoes. Dab with paper towel to remove excess fluids. Lightly salt & set aside.
4. Rinse basil & arugula. Discard stems & dry between paper towels. Set aside.
5. Hold squash over a bowl and use a fork to scrape along the grain in long swift motions; letting the stringy content fall into bowl. Discard empty outer shells. Add tomato sauce. Stir to combine.
Make the Casserole:
6. Grease a small oven-safe casserole dish with olive oil. Add half the squash/sauce mixture, a layer of arugula (or spinach), layer of tomatoes, then a layer of basil & half of the mozzarella.
7. Pour second half of squash mixture over casserole & spread with rubber spatula. Top with a second layer of each of the remaining ingredients in same order. Top mozzarella with 1/3 – 1/2 cup shredded parmesan & lightly drizzle with extra virgin olive oil.
8. On your oven's broiler setting, bake under flame on rack positioned in middle level of the oven, until cheese is browned & juices are bubbling around edges; about 6-8 minutes give or take. Check every minute or so as the cheese can burn very quickly.
9. Cool for at least 10 minutes before slicing into the casserole so it holds its shape and retains its juices when sliced into.

Tip: Pairs great with chicken parmesan, grilled shrimp, or as a vegetarian entree with a salad.
[ts_fab]
Subscribe To The Fit Blog
Monthly articles for a Fit lifestyle, straight to your inbox.
Happening On Facebook