Five Benefits of Sauna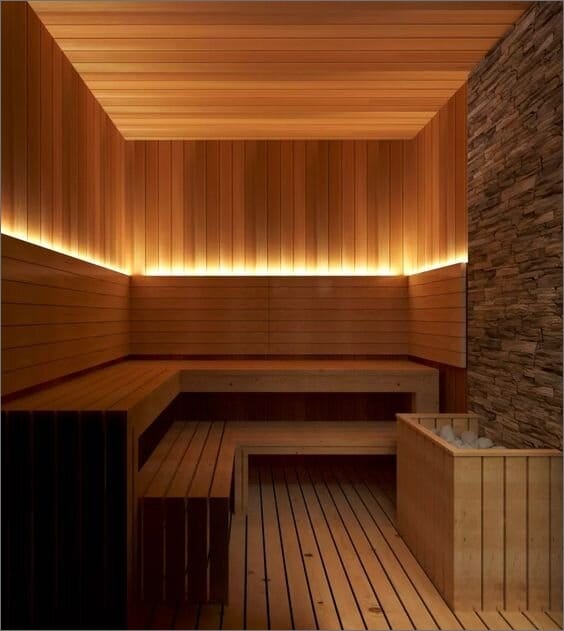 There's a unique relaxing element to sitting in a sauna to unwind from the day or a workout! A sauna is a heated room between 158 and 212 degrees. This heated room is a great way to release toxins and a type of therapy that has been used for centuries. With over a million saunas in the United States alone, people gravitate towards this therapy for relaxation, cardiovascular health, and overall wellness for many reasons!
Relaxation
Traditionally, people use saunas to unwind, reflect and promote relaxation. The way your body relaxes in the sauna is due to increased heart rate, making the blood vessels dilate, ultimately increasing blood flow to the skin—improving skin circulation overall.
While experiencing the increased heat, your body's response is to– sweat! Within this, the sympathetic nervous system becomes more active to regulate body temperature. This experience can make you less perceptive to pain and more alert. In addition, the heat physically relaxes the muscles, which creates an elation of relaxation after a long day or intense training session.
Relaxation is one of the most popular benefits of using a sauna. When you relax your body physically, a relaxed mindset will soon follow. A mental relaxation tip could be to try practicing meditation or intentional breathing exercises.
Pain Relief
Pain relief is another benefit to why people incorporate saunas into their daily routine. When entering the sauna, pain relief occurs when your blood vessels relax and dilate in a sauna, blood flow increases. This therapeutic process help alleviates tension in the joints and relieves sore muscles. In addition, the blood flow can help ease the pain with arthritis and chronic pain.
Aids Weight Loss
Although long-term weight loss stems from burning more calories and increasing exercise– many people find that saunas help with weight loss. Losing weight directly in the sauna is more due to water weight; however, the heat in the sauna boosts metabolism, and essentials burn more calories than sitting stationary at room temperature.
Skin Clearing Benefits
Spending time in the sauna can have skin-clearing benefits. The heat from the room makes skin sweat and opens pores. The water in the air can then help bacteria in the skin wash away. If your skin is sensitive due to hormones or medications, saunas might not be suitable for you.
Reduces Blood Pressure
Having high blood pressure creates strain on the heart and can increase heart attack or stroke. Often, medical professionals will prescribe patients who have high blood pressure to use saunas to improve the function and mobility of blood vessels. However, it's always important to talk to your doctor for treatments with your medical treatments.
Using Saunas at Fit
At Fit, we are leading the way for an all-encompassing gym experience for over 13 years. Our gyms include premium amenities such as saunas and steams steam rooms! You can experience the excellent benefits of a sauna at the convenience of your Fit location.
For more information about Fit Athletic and memberships visit our website.
Subscribe To The Fit Blog
Monthly articles for a Fit lifestyle, straight to your inbox.
Happening On Facebook
Recent Posts