HOW TO: Design Your Kitchen for Healthier Eating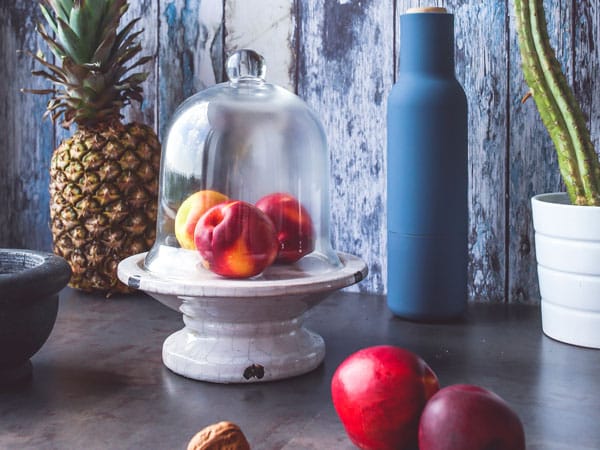 We are well into a new year. Your resolution to start eating healthier may already be a distant memory, but maybe it's time to revive that decision with a kitchen makeover that provides the tools and inspiration to make it a reality. Below are a few suggestions for making your kitchen a healthy eater's haven.
Color Me Healthy
Believe it or not, the color of your kitchen has an effect on your eating habits. The best color to help calm those junk food cravings is blue. If you can't paint your kitchen, try adding blue accessories and decorations. If you don't like blue, the next best thing is an earthy green. Think about small changes you can make like cabinet hardware or using dish towels in these colors.
Avoid bright colors such as red, yellow and orange — these are signature colors of fast food restaurants that want you to crave their particularly unhealthy fare. Emulating those establishments is probably not the best path to a healthier lifestyle.
Go for the Greens
Using fresh herbs can make you feel like a culinary connoisseur, and it enhances the quality of your food. An indoor herb garden can supply you with your favorite herbs all year round. If you're the crafty, green thumb type you can build your own, or you can opt for one of many different self-sustaining herb planting systems available on the market.
Learn the Art of Food
Create a living still life centerpiece with fruits and vegetables using a decorative cake stand, a punch bowl or some other creative vessel. Add some fresh flowers to enhance its visual appeal, then place it in the center of your table or island so it's in plain sight. Keep it well stocked so you can easily grab a healthy treat, but don't create a masterpiece that's too beautiful to eat. The purpose is to make fresh foods desirable and easily accessible.
Remember That Accessibility Is Key
Unclutter your countertops and replace that stack of mail and display of junk food with healthy appliances. For instance, if you plan to start your day with a tasty smoothie, having to dig your way through cluttered cabinets to find the blender is probably going to be counterproductive. Instead, keep the tools you need — like your blender, slow cooker and food processor — available and in front of you.
Shrink the Saucers
Portion sizes are important in developing healthy eating habits. Use smaller plates and trick your mind into thinking you're eating your fill. Most adults will eat 92% of what's on their plate. If you use a smaller plate, you can eat less and still maintain your membership in the age-old clean plate club. This tactic probably won't work if you fill your plate with potato chips and pretzels.
Know There Is a Tool for Every Task
Making healthy eating a lifetime habit is much easier if you actually enjoy it. Learning to cook nutritious meals is a lot more fun if you have the proper tools. Throw out all of your mismatched measuring cups and spoons, melted spatulas and scratched and dented pans. Replace them with brand new utensil collections.
A good cutting board and set of sharp knives will make cooking an enjoyable cooking experience. Invest in some quality green non-stick cookware and one of those cute utensil caddies. Select kitchen tools that reflect your style, such bright fun colors or sassy stainless steel.
Go the Distance
Once your kitchen design reflects your commitment to making a healthy lifestyle change, it's time to take it to the next level. Enroll in a cooking class or subscribe to a recipe kit delivery service like HelloFresh, Plated or GreenChef. These will introduce you to interesting new food concepts and give you a foundation on which to build more advanced cooking skills.
If you've already blown your New Year's resolution, it's not too late to implement and maintain a lifelong commitment to healthier eating. Before you know it, healthy eating will be a way of life — instead of a fleeting annual resolution.
—–
Megan Wild is passionate about living a healthy lifestyle that is aided by home design. She writes about her ideas on how the two correlate on her blog, Your Wild Home.
Subscribe To The Fit Blog
Monthly articles for a Fit lifestyle, straight to your inbox.
Happening On Facebook
Recent Posts