Meet the Best Personal Trainers in San Diego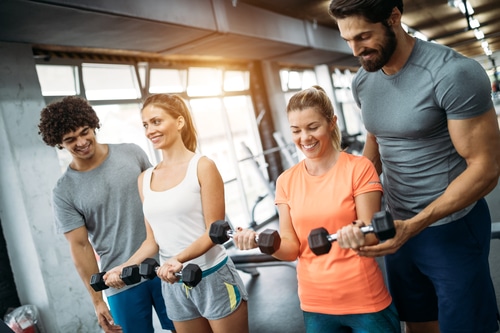 Want to achieve your fitness goals, get those envious and toned abs and sinewy biceps, lose weight, be happier and healthier? You can do all that, and more, with the help of the best personal trainers San Diego can offer!
Fit Athletic has brought together fitness industry professionals who use state-of-the-art techniques and personalized approach to maximize your results. We will help you get in shape and stay motivated on your road to success. With access to the unsurpassed expert instructors, tools, training facilities and other amenities at Fit, you can make an incredible fitness transformation and accomplish epic results. You will love your body at all times! The best personal trainers in San Diego are here to help you make it happen!
Jessica Pirtle
Want to step up your fitness game, strengthen your body and transform your mind? Meet Jessica, an outstanding fitness trainer who will provide you with a unique experience by helping you achieve and maintain a healthy balance between your body, soul, and mind.
Having tried a number of different training styles, Jessica is well-versed in designing individualized workout plans. She specializes in nutrition, strength training, weight loss, muscle hypertrophy, HIIT/circuit training, prenatal and postnatal fitness training.
Jessica's goal is to teach you how to nurture your whole self and adopt a positive attitude toward exercising. The most productive workout program is the one you actually enjoy and that's exactly what Jessica is here for!
Pete Cavanaugh
Getting out of your comfort zone is the best thing you can do for yourself. However, more often than not, breaking the cycle of habits makes us nervous. If you need a little push to get the body of your dreams, Pete is the guy you are looking for!
Pete specializes in weight loss, athletic performance training, kettlebell, bodyweight training, strength and conditioning, TRX, flexibility/mobility, and nutrition. He can help you to improve your flexibility, strength, and range of motion, as well as to enhance the connection between your body and mind.
As Pete likes to say, you should celebrate what your body can do and not punish yourself for what you ate. He can get you through any fitness challenge, giving you the opportunity to surprise yourself. The results will amaze you!
Dani Allen
In pursuit of knowledge, Dani has traveled throughout the country, working side by side with world-renowned orthopedic physicians. She was also an intern at a fitness college in Australia.
Dani specializes in weight loss, sports performance, strength training, as well as in rehabilitation and post-rehabilitation and functional and corrective exercises.
Buffing up her knowledge and meeting people from different cultures, she has gained a lot of experience and developed a one-of-a-kind training style. Dani will ensure that you get the most out of your training. What's more, working out will be fun!
Emily Zaler (fitness manager)
Competing at the highest level of collegiate athletics, Emily has developed a mindset for success. As a former D1 collegiate athlete, she learned how motivation, dedication and confidence can help you maximize your performance and reach your goals.
After a career-ending injury, Emily wanted to use her passion for education and fitness, as well as her personal experience to help others discover their inner strengths and overcome their weaknesses.
Emily has also contributed articles to renowned health and fitness publications like Oxygen Magazine, The LA Times, etc. Her commitment and expertise have made her one of the best personal trainers in San Diego.
Emily specializes in sports performance, functional training, post-injury rehabilitation, strength and conditioning, weight loss, and nutrition. Her aim is to make you feel better and move better – both inside and outside the gym. It's time to empower your body and your life!
Brandon Lind
Brandon believes that staying fit and healthy isn't just a trend; it is the way of life. Through support, encouragement, suggestions, and fitness hacks, he will help you make fitness a part of your lifestyle.
Brandon specializes in functional movement, HIIT/circuit training, sports performance, fat loss, prenatal fitness, and swim stroke technique.
Brandon won't simply apply his knowledge gained through experience in sports performance and functional training; he will provide you with all the necessary tools so you can lead a happier, healthier life.
Sam Guttosch
Sam will help you reach your fitness goals and embrace healthy habits. He specializes in weight loss, bodybuilding/physique/bikini, aesthetics, and sports performance.
Sam will inspire you to find joy in working out. He won't let you give up when your body and mind are challenged. Only when you overcome your limits, will you realize your potential!
Michelle Trapp
With more than 12 years of experience as a personal trainer, Michelle excels at weight training, weight loss, and contest preparation. She is also a nutrition specialist and a health and lifestyle coach.
Michelle believes that hard work, commitment, determination, and drive always pay off. So don't put off seeing those amazing results. Start exercising today!
Michael Gonzales
Michael will challenge the warrior in you who is waiting to be awaken. He believes that motivation, vision and perseverance are the key elements of success in fitness, as in life. Michael will help you use them to accomplish even those things you never thought you would.
He specializes in boxing, balance and coordination, flexibility, sport specific training, muscle building, small group boxing training, strength and conditioning, and corrective exercises.
Eric Sax
Fitness is not just about the looks; it is also about how you feel. Eric will help you achieve both. Under his care, you will build self-confidence and reach even those goals you didn't believe were possible.
Eric specializes in TRX training, muscle gain, fat loss, aqualogix fitness, circuit training, strength and conditioning, as well as small in group training.
Barkley Davies
Barkley will stimulate you to achieve great results through engaging, innovative and high-intensity workouts. He is specializes in fat loss, strength and conditioning, muscle growth, and metabolic conditioning, with a special focus on functional movement. If you are looking for a sport-specific program, turn to Barkley for tactical strength and conditioning and free-diving.
Natalie Diterlizzi
Juggling your busy schedule and fitness may seem like the ultimate exercise. Natalie will see to it that you find that balance and decrease your stress levels. She specializes in fat loss, post rehabilitation, circuit training, muscle hypertrophy, and cardiovascular interval training.
Kyle Farley
If you want to maximize muscle gain and fat loss, Kyle will motivate you and create a workout program based on high-intensity interval training and metabolic training, which combines cardio circuits and weightlifting. Kyle specializes in sports performance, flexibility, body composition, injury prevention, and sports performance.
Dave Sutton
Having spent four years in Air Force, Dave is accustomed to thinking outside the box and will spice up each training session to push you to the next level.
Dave specializes in Focus Mitt training (boxing) and balance and flexibility training. He will teach you to use the whole gym to maximize your workout experience.
Work with the best personal trainers in San Diego
Want the best personal trainers in San Diego to assist you in reaching your individual fitness and health goals? Fit Athletic is your go-to gym!
To come up with a proper workout plan for your needs, our skilled and experienced trainers will evaluate your current fitness and activity level, your lifestyle, attitude and preferences. We will help you find strength, motivation and confidence to overcome any obstacles along the way!
Subscribe To The Fit Blog
Monthly articles for a Fit lifestyle, straight to your inbox.
Happening On Facebook
Recent Posts