Swimming is not only a popular sport but a great way to stay active, healthy and have fun! It's a healthy, low-impact activity that's beneficial for all ages. An hour of swimming can be just as helpful as running and easier on the bones and joints.
Health Benefits of Swimming
Swimming is an exercise that activates the whole body! As you move through the water, you're able to build endurance, muscle strength, and cardiovascular resistance- without stressing the body. This is a great all-around workout also to maintain a healthy weight, heart, and lungs. With almost all of your muscles being activated during swimming, this workout is beneficial for everyone.
Types of Strokes in Swimming
By using different types of strokes during your swimming workout, you can focus on other muscle groups. Some basic strokes you can use include:
Breaststroke: This stroke is executed by starting in a prone position with a coordinating kick. The legs are brought forward with the knees together; feet are turned out with a backward sweeping motion of the arms.
Backstroke: Start on your back and alternatively lift your arms out of the water in a backward motion, followed by legs extended and kicking.
Sidestroke: This stroke is similar to breaststroke—however, you alternate sides with this stroke.
Butterfly: Perform this stroke on the chest, with both arms moving symmetrically accompanied with a butterfly kick.
However, no matter what stroke you choose, the water resistance will still push your body for a full-body workout.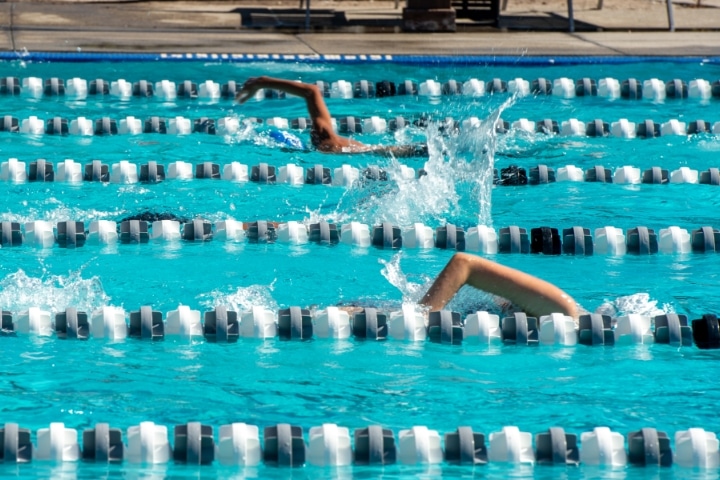 Additional Health Benefits of Swimming
Going for a swim has tremendous physical benefits, but it also has mental and preventative benefits. Scheduling in a few laps can be a great way to unwind and is a great way to find peace and alleviate stress. The resistance against the water trains the body to improve coordination, balance, posture, and flexibility. It's also a type of exercise that's low impact, meaning no hard pressure on joints, which can provide great intense impact therapy for injuries. Finally, swimming is accessible in many places! This exercise is a great way to cool down on a hot day, from swimming pools to beaches.
Safe For Everyone
Swimming is an exercise that can be safe for everyone. People who have arthritis, asthma, or other physical injuries can benefit and improve their health. In addition, swimming is a great aerobic workout for women who are pregnant and children. Remember to talk to your doctor before starting any new exercise programs with your related condition or are pregnant.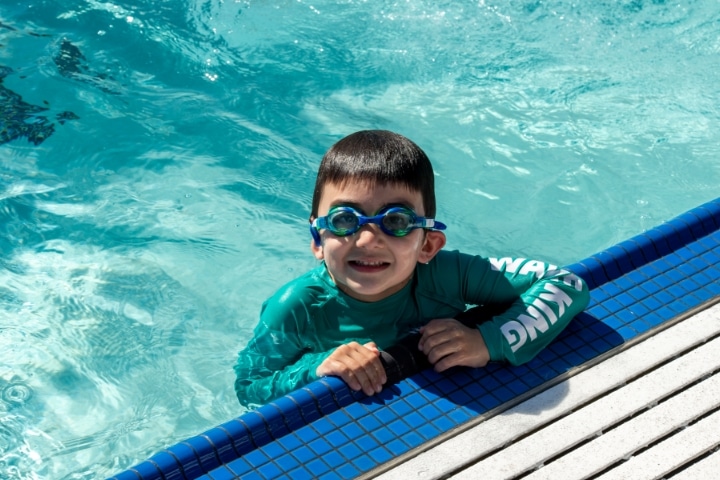 Swimming at Fit Athletic Club
Try your next swimming workout at Fit! All of our locations have premium amenities and water access for you to practice your swimming strokes. With our Little Italy and East Village locations, you can experience an elevated pool with cabanas for lounging in aftward. Fit Solana Beach has beach access for members to share ocean swimming. In addition, Fit Carmel Mountain and Mission Beach include an Olympic-sized swimming pool for swimming exercises, swimming lessons, and pool parties for kids!
Swimming is easy to incorporate into your workout routine at Fit. Sign up for your membership here to experience the benefits of swimmings!
There's a unique relaxing element to sitting in a sauna to unwind from the day or a workout! A sauna is a heated room between 158 and 212 degrees. This heated room is a great way to release toxins and a type of therapy that has been used for centuries. With over a million saunas in the United States alone, people gravitate towards this therapy for relaxation, cardiovascular health, and overall wellness for many reasons!
Relaxation
Traditionally, people use saunas to unwind, reflect and promote relaxation. The way your body relaxes in the sauna is due to increased heart rate, making the blood vessels dilate, ultimately increasing blood flow to the skin—improving skin circulation overall.
While experiencing the increased heat, your body's response is to– sweat! Within this, the sympathetic nervous system becomes more active to regulate body temperature. This experience can make you less perceptive to pain and more alert. In addition, the heat physically relaxes the muscles, which creates an elation of relaxation after a long day or intense training session.
Relaxation is one of the most popular benefits of using a sauna. When you relax your body physically, a relaxed mindset will soon follow. A mental relaxation tip could be to try practicing meditation or intentional breathing exercises.
Pain Relief
Pain relief is another benefit to why people incorporate saunas into their daily routine. When entering the sauna, pain relief occurs when your blood vessels relax and dilate in a sauna, blood flow increases. This therapeutic process help alleviates tension in the joints and relieves sore muscles. In addition, the blood flow can help ease the pain with arthritis and chronic pain.
Aids Weight Loss
Although long-term weight loss stems from burning more calories and increasing exercise– many people find that saunas help with weight loss. Losing weight directly in the sauna is more due to water weight; however, the heat in the sauna boosts metabolism, and essentials burn more calories than sitting stationary at room temperature.
Skin Clearing Benefits
Spending time in the sauna can have skin-clearing benefits. The heat from the room makes skin sweat and opens pores. The water in the air can then help bacteria in the skin wash away. If your skin is sensitive due to hormones or medications, saunas might not be suitable for you.
Reduces Blood Pressure
Having high blood pressure creates strain on the heart and can increase heart attack or stroke. Often, medical professionals will prescribe patients who have high blood pressure to use saunas to improve the function and mobility of blood vessels. However, it's always important to talk to your doctor for treatments with your medical treatments.
Using Saunas at Fit
At Fit, we are leading the way for an all-encompassing gym experience for over 13 years. Our gyms include premium amenities such as saunas and steams steam rooms! You can experience the excellent benefits of a sauna at the convenience of your Fit location.
For more information about Fit Athletic and memberships visit our website.
Protect Yourself From These Common Sports-Related Injuries
Getting in enough physical exercise is important for our health. Yet, whether that physical activity involves working out at the gym or participating in sports, it's important not to overdo it. Pushing yourself can lead to common, yet painful injuries. Being aware of ways to avoid these injuries can help you stay safe, while pursuing your fitness or sports goals.
Head injuries
These types of injuries are more common in competitive team sports and include everything from traumatic brain injuries to incidences of TMJ. Trauma to the jaw or skull is generally responsible for swelling or a fracture of the bone of the skull in both these types of injuries. That's why regulations for contact sports, such as football or hockey, set guidelines for wearing face and head protection. While some types of sports don't require this type of protection, that doesn't mean there isn't a risk of a head injury. For instance, TBI incidences are still common in sports like basketball and soccer, even though the players don't wear helmets or mouth guards. In any physically active sport, it's wise to consider wearing a helmet or similar protection to protect your face and head.
Neck Pain
When the neck becomes misaligned, it can cause pain that won't seem to go away, but this isn't necessarily due to an injury. In fact, it can begin in the office, while you're working at you desk. Your neck becomes misaligned through poor posture, but the pain can really intensify later, when you hit the gym. It can become a bigger problem as you lay on the weight bench, if you don't ensure your neck and upper back are fully supported against the pad. Doing lifts that force you to raise your hands over your head can really aggravate the condition. To strengthen these muscles, do reverse shrugs with the lateral pull down bar, adjusting the weight to a comfortable level. Just pull the bar down to 3-4 inches in front of you.
Lower Back Strain
This is a common injury at the gym, especially with those who don't practice a proper form. Like the neck, the back relies on proper posture and, when it doesn't get that support, it can cause a strain in the lower back. A sharp pain, while doing squats can be an indication that you've put a strain on your back. To prevent this type of strain, practice working with your neutral back posture, before you begin lifting or doing squats. By laying on your back with your knees bent and your feet flat on the floor, you can experience your natural posture. Get comfortable with this posture, before advancing your workout.
Stress Fractures
These a tiny, hairline cracks in the bones of the lower legs, shins, and feet. Generally, they are caused by performing a repetitive motion too excessively, or they can be caused by overexertion. Symptoms of stress fractures include sharp, shooting pain in the foot and shins, making it difficult to walk. Jumping, running, walking, and even standing still can cause the pain to grow worse and the area around the shin and ankle may swell. To prevent stress fractures, start slowly and increase the intensity of your workouts gradually. Each week, you can boost your workout safely by 10%, giving your body time to adjust and build muscle.
Sprained Ankle
This is common in every sport, among runners, and also in gym workouts. This often happens when you're running and not paying attention to your footing. A misstep can cause your foot to twist beneath you, bending the ankle in an awkward position. The best way to prevent sprains is to run or jog on flat, even surfaces. If you're on the treadmill, don't forget to wear the clip that will stop the machine if you lose your balance. Outdoors, try to stay on concrete when running, as natural trails may be uneven and littered with branches and rocks.
Staying safe is important during any physical activity. To that end, be sure to wear the proper protective equipment and follow safety guidelines for that activity. While getting a good workout is your goal, overdoing it can lead to accidents and injuries that may leave you sidelined.
Convincing kids to exercise can be one of the hardest tasks on the modern parent's agenda. With today's proliferation of technology regularly tempting children away from the sports-field and onto the couch, those 60 minutes of push-play a day have never been harder to enforce. After reading the up-to-date tips below, though, you'll be armed with a bevy of ways to get kids exercising. Wondering how to get kids to exercise? Keep reading to find out.
Be inventive!
When it comes to how to promote physical activity in schools, we all know that our best teachers came up with creative activities that totally distracted us from the exercise being done. From tug-a-rope to the playground, tag to swimming, there's multitudes of fun to be had if you think outside the box a little. There are also lots of school programs that one can explore and try!
Remind them that it's what the cool kids do
One of the best ways to motivate kids to be active is by reminding them just how common it is to join a group sport, or to take part in a class-based exercise. Whether baseball or hockey, ballet or judo, one of your kid's friends is bound to be doing it – and often, that simple fact will be motivation enough.
Make your home into a space for activity
Activity doesn't just have to be done outside, or in purpose-built spaces – it can take place within the walls of your family home, too (especially when winter takes outside exercise out of the equation). There are many ways to keep your kids active indoors, including repurposing a spare room into a gym, purchasing activity-based technology like a Wii, or getting your hands on a family fitness video that you can all have a good old dance to.
Implement a rewards system (within reason)
It's never a great idea to promise your kid a bag of lollies after they complete a lap around the block, but other rewards of a slightly-healthier nature – like extra pocket money or their choice of a dinner meal – can work a treat in sustaining exercise habits.
Tie activity in with the to-and-from-school commute
On the back of the previous point, you might consider telling your kids that in exchange for their walking or biking to school, you'll organise a regular movie night for the weekend. That way, you gain some extra time in the morning, as well – it's a win-win!
Resources, resources, resources
Sometimes kids are object-based exercisers and need something physical to base their activity around. By buying a resource like a trampoline for your backyard, your kids will be moving before you know it.
Get started early
The best thing that you can do to encourage kids to exercise is to normalize it in the family environment. If you don't exercise on a regular basis, how can you expect your child to want to? Making a habit of family exercise, such as hikes, active summer holidays, and sport-watching will afford your kids a positive attitude towards exercise for life. Here are 7 great ways on how to get kids to exercise!
To Find the Original Article Click Here
To read more blogs written by Alex, visit her blog! Click Here.
Each year at this time there's a huge commercial attention placed on the status of your heart – is it broken, lonely, filled, overflowing, fragile or hardened? Just how much chocolate does it take to mend a wounded heart? How many flowers prove one heart loves another? How many sappy love songs confirm no one has the answers to the mystery of this thing we call love, which seemingly comes from our heart?
If this love struck holiday gets you thinking about the status of your heart, then the most important question to ask yourself this month is: "How STRONG is my heart?"  I don't mean strong as in resilient. We've all been through a few daisies ("he/she loves me -loves me not") and we ultimately get over it.  
What I mean is how efficiently is your heart performing? With each heartbeat your heart pumps blood around your body. Blood provides your body with the oxygen and nutrients it needs to function and it also carries away waste.  The average heartbeat is 72 times per minute. In the course of one day it beats over 100,000 times. In one year the heart beats almost 38 million times, and by the time you are 70 years old it beats an average of 2.5 billion times. That may be hard to comprehend considering your heart weighs less than a pound, but it's a busy little muscle with more work to do than a hungry mosquito at a nude beach.
If your heart is unable to pump the amount of blood required to meet all of your body's needs, then blood is diverted away from less-crucial areas, including your arms and legs, in order to supply the heart and brain.  When this happens you will often begin to feel weak and tired. Then, simple, ordinary activities such as walking, climbing stairs or carrying groceries will begin to feel exhausting.
The good news here is that unless you have some pre-diagnosed heart condition, you have control over how healthy your heart can be. Yes, you have the power to create a healthy heart through what you choose to eat, how you choose to use your body and the life you choose to live.
You are what you eat and that is not a cliché. (Think about that the next time you reach for a Ding Dong!) We live in a world of convenience with quick bites and fast foods practically knocking on our doors. Unfortunately, the "good for you" food isn't always around. But if you will simply make a daily effort to put fresh, clean food in your body on a regular basis there is a higher chance t your arteries won't get clogged up with junk and your heart will be able function efficiently.
Unless you've been living under a rock for the last, let's say ten years or so, you should have some idea of the do's and don'ts of eating healthy. It's practically impossible to screw it up if you just use some common sense. Did it grow in the ground or on a tree and are you eating it in as close to its natural state as it can be, like an apple? Good. Is it wrapped in plastic, like a caramel apple? Not so good. Did you get a 2 for 1 deal at the drive through, like fried apple pies? Run Toto Run!
Now back to your heart. Your heart is a muscle and to make it stronger it needs to be trained just like all the other muscles in your body. You do that by getting your heart pumping by moving with vigor and energy. I know some of you think treadmills, stair climbers and cross trainers are the devil's spawn, but sweat and dedication on these machines can help create healthy hearts.
There are endless ways to raise your heart rate and strengthen your heart and they don't have to be regimented to a piece of equipment.  James Brown suggested many years ago: "Get up off that thang and dance til you feel better!" I agree. Dance! It frees the soul and is a great way to express yourself at the same time. Walk the dog, skate, swim, play tennis, take a bike ride or just pucker up with your Valentine; because even a good roll in the hay has its cardio advantages!
Living as stress free as possible is one of the best ways you can protect your heart. All too often we get way too caught up in the daily little nuisances that trip us up and raise our blood pressure: bad drivers, bad breath, irritating co-workers, annoying sounds, lost  homework, lost causes, lost keys, long lines, short patience, and the list goes on. These things add up and can cause stress to your heart's performance without you even being aware of it. Try your best laugh things off when you can, like you do when you're watching your favorite sitcom and these things happen to someone else.
Nuisances, however you define them, will be with us for a long time. Get over them and don't let them get the best of you, it's not worth the stress and potential damage you can do to your heart.  Instead, lighten up and live longer. If you're going to harbor things in your heart, make sure the things you hold close are positive and worth holding on to. Leave the stress behind so your heart can thrive. Your heart has plenty of room for good company.
Connie Cook
Area Group Fitness Director
Fit Athletic Club