"New year, new me" is not a tired cliché. It's something your 2023 can become if you set your mind to it. A new year's resolution that sticks is not declared at a random moment. It's carefully planned beforehand.
If you're ready to get into shape, these are all the steps you'll need to follow!
1. Get a Gym Membership
This is the most effective way to achieve your new fitness goals. You'll be in the perfect environment to inspire you with all types of different workout methods available.
2. Eat Foods That Give Energy
It doesn't have to be a sacrifice, either. There are plenty of delicious but healthy foods.
3. Establish a Rewards System
What do you consider a treat? Whatever it is, indulge in it every time you complete one full week of workouts.
4. Get Your Sleep Schedule in Order
Your new fitness goals will be hard to achieve if you're tiredall the time.
5. Find a Partner
As people, we feel beholden to doing something we've promised we're going to do for other people. Make this work in your favor, and be a way your new year promises are upheld.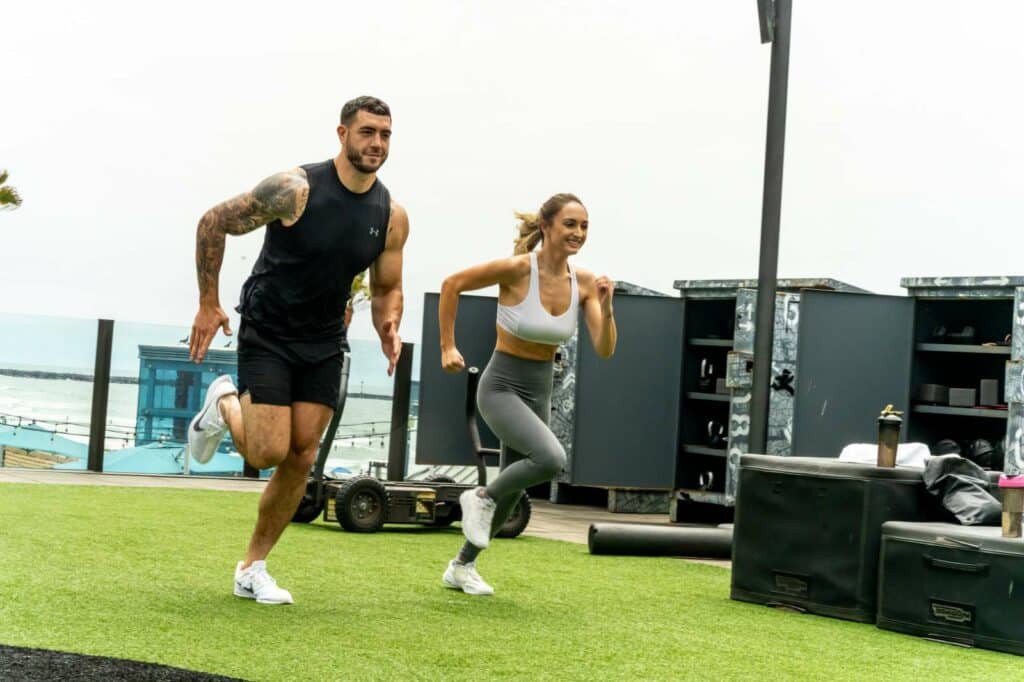 6. Clean Your Environment
What does this have to do with fitness? Everything. Clutter puts a serious damper on motivation.
7. Build Yourself Up Slowly
If you push yourself to the limit the first time, you won't come back. Stamina builds in increments. Meet yourself where you're at. If you only move for 15 minutes at first, it's still something. You can always do more later.
8. Make a Workout Schedule
Creating written evidence of your commitments will hold you more accountable.
9. Cut Out the Junk Food
Not only does it lack nutritional value, but it actively drains your energy.
10. Create a Motivating Playlist
Music has a powerful effect on our mood. Pick a set of songs that get you in the mood to get up and moving.
11. Rotate Your Exercise Methods
This has two functions. First, you work out different muscles. Second, it'll keep the novelty up so you'll stay interested.
12. Get Some Workout Equipment
Buy a small variety to figure out what works the best for you. Start out with the most basic, inexpensive types to avoid the risk of wasting money.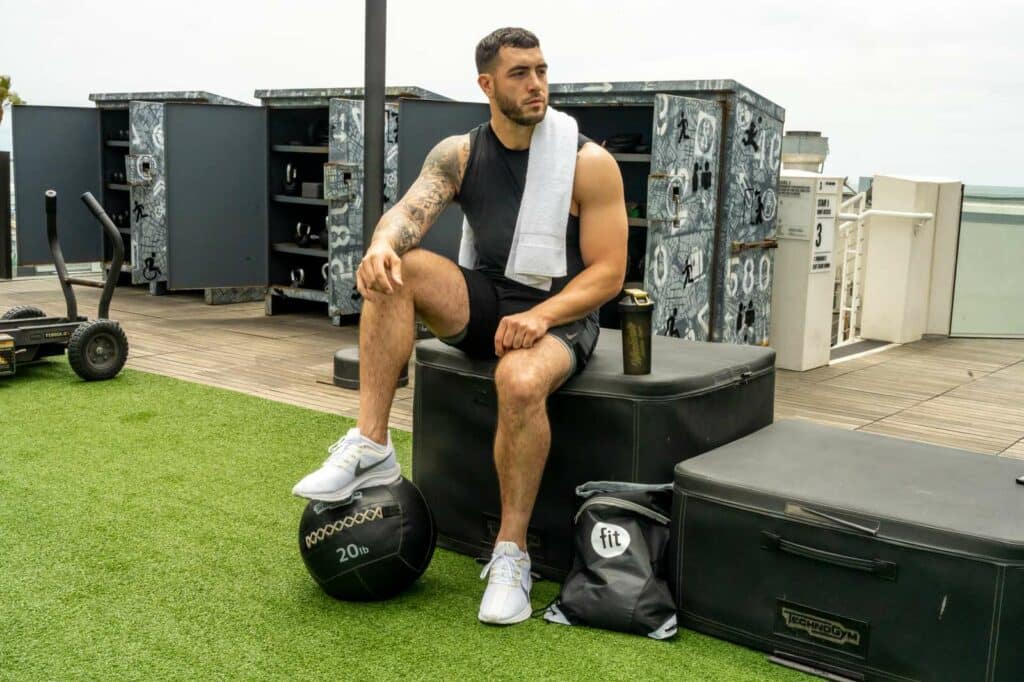 13. Eliminate Sources of Stress
The biggest new year resolution killer is stress. It has an extremely close relationship with fatigue, which will make it harder for you to find the motivation to work out.
14. Create A Fitness Room
This way, if you don't feel like making the trip to the gym some days, you can still get your workout in.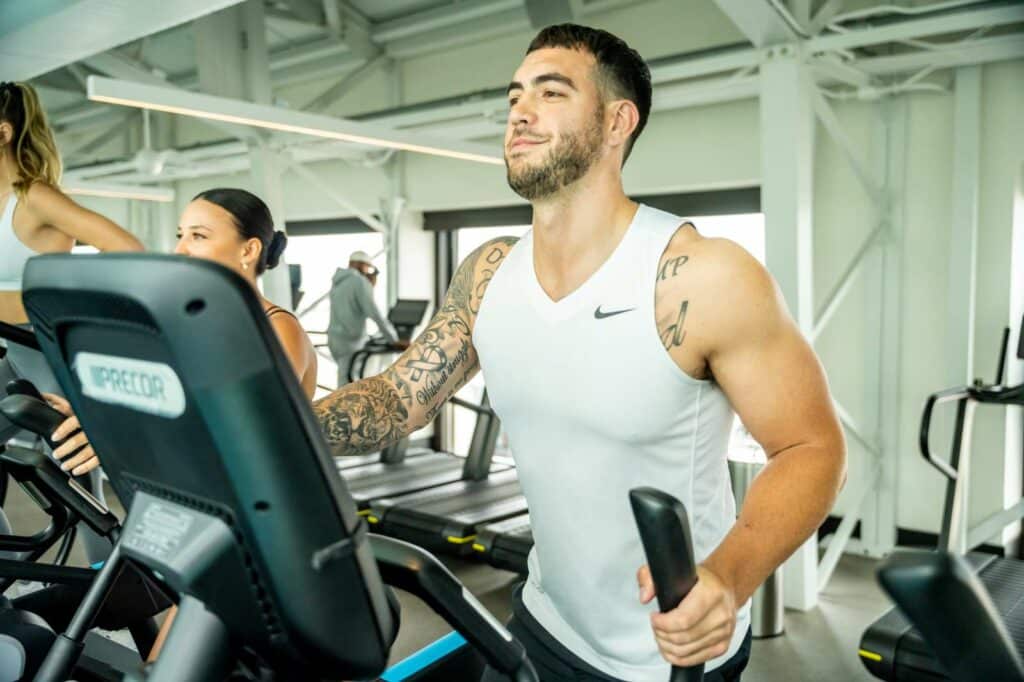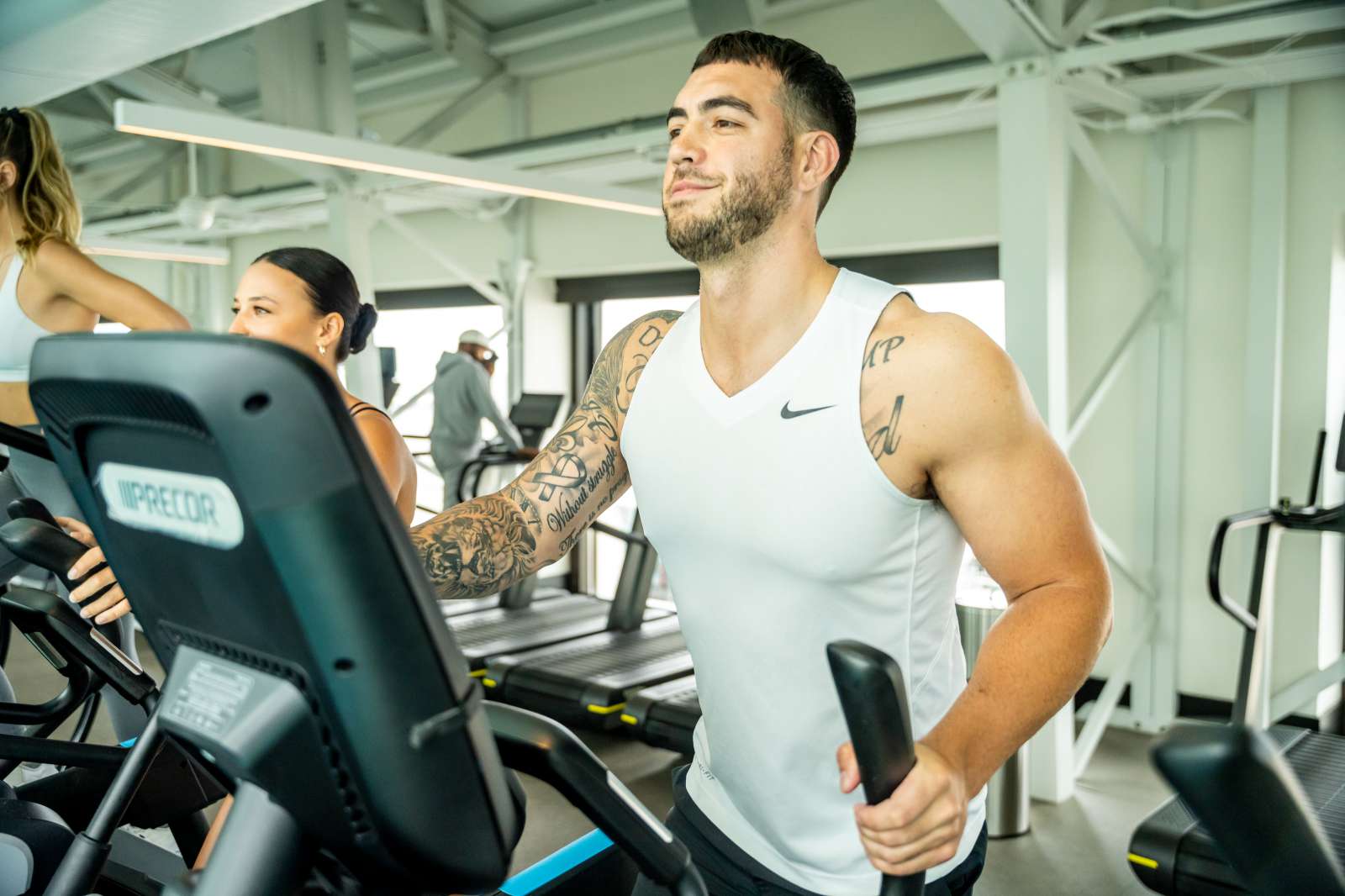 15. Make Notifications
Start the new year by putting a reminder on your phone for workout time. It'll serve as another enforcer.
Starting The New Year Right
Your new fitness goals begin today. A healthy lifestyle comes down to making choices that are beneficial to your mind and body every day. If you wake up every day committing to good choices, the results you desire will come naturally.
Fit Athletic Club in downtown San Diego is the first gym in the country to get their hands on the most functional cross training tool we've seen yet.
What is OMNIA™?
OMNIA™ is a functional training system which optimizes strength, endurance, flexibility, coordination and speed. It is designed specifically for small group personal training (4-8 people), to provide the same individual attention as one-one-one training but also the community dynamic of training in a group setting.
How is it different?
Technogym made it a point to keep OMNIA™ slim and sleek, not just for the external appeal, but also for purpose. OMNIA™ was designed to be intuitive for each participant, and easy for the coach to monitor the form and technique of all users during a workout. Additionally, the modular design lends itself to some pretty awesome high-intensity interval circuits, so you can amplify your metabolism and conditioning level.
What's next?

For an in-depth, workout-style tutorial on this revolutionary piece of equipment, contact me at the information below and I'll get you set up with one of our coaches for a free hour.
Also, be on the lookout for our launch of Fit Studio (in the mat room), which will consist not only of the OMNIA but also new Woodway Curve treadmills, TRX Rip trainers, traditional strength equipment and the Polar GX system – gamifying your workout by putting your real-time heart rate on the big screens.
[ts_fab]
Step 1: Blog.
Step 2: Profit!
If only the blogosphere worked that way. Building your fitness or healthy lifestyle brand by blogging requires considerable time and energy—not to mention talent. In a world becoming increasingly proliferated by life coaches, healthy-eating foodies, fitness junkies and weight loss crusaders, you may find yourself up against some stiff blogging competition without having a clear sense of direction or purpose.
Whether you are looking to grow ad revenue, increase awareness, build your brand or simply share your health & fitness story, these simple blogging tips that I picked up at the FitSocial conference might just help give your blog that extra oomph:

1. Keep it simple but significant.
Are your posts the right length? Short and concise is key.
Most readers don't have time to read paragraphs upon paragraphs about the effects of a cross-training workout on the synaptic responses of their neurons. While you may be the ultimate expert in these highly complex subjects and have a wealth of fascinating information to share, the truth is that most people just want to scroll through "how to get a firmer butt" or "5 reasons dark chocolate is a health food " while standing in line at Starbucks or waiting in their cars for their kids to get out of school.
Your audience is short on time and attention span. Be aware of your word count and use layman's terms wherever possible, so that you can get to the nitty-gritty of your post quickly—and they can, too.
2. Be real-time and relevant.
Remember when Kale was the hot new thing? The Paleo diet craze? Quinoa, juicing and cross training? Staying on top of the latest fitness and health trends and topics will help keep your readers engaged and show your level of expertise.
And don't forget to keep seasons, holidays, or well-known events in the forefront of your blogging mind. Sharing healthy Superbowl dip recipes in February or hotel room workout videos around the holidays will give your readers information they can actually apply to their lives, in real time.
3. Always be authentic.
You don't have to be an incredible writer with a Masters in English to build a large following of readers—they just need to like you and feel a connection to your brand. Be consistent with your writing voice and stay true to your style.
Some health and fitness blogs are consistently emotional (weight loss journeys, for example), some are highly informative and others are just plain hilarious. Don't be afraid to be a fitness nerd or give a gangster's edge to healthy cooking. In the blog world, originality always wins.
4. Think and work strategically.
Don't underestimate the power of a headline. What sounds more interesting to you – "How to Improve Your Diet" vs. "3 Surprising Superfoods that Will Change Your Life"?

Is your blog formatted correctly, and is it visually appealing? Create lists, bullet points, photos and slideshows that showcase your content effectively. Make the most of your blogging platform (such as WordPress) by filling out the "about" section, including a place to sign up for a newsletter, integrating social sharing icons and allowing reader comments.
Use tracking tools such as Google Analytics and bit.ly to help you analyze and assess your blog post performance. Amplify post reach and simplify multi-network scheduling with nifty organizational tools such as Hootsuite and Sprout Social. Let technology do the heavy lifting for you.

And finally, keep to some sort of consistent posting rhythm so that readers gain a sense of how often to check back.
At the end of the day, a blog reader has to know, like and trust you before becoming a loyal visitor. But with enough work and effort, your fitness or health blog can be in tip top shape for success.
Fit Athletic Club is currently looking for local health, wellness and fitness bloggers to feature in our newsletters and social media
[ts_fab]
Every year at this time there is a ridiculous amount of commercial attention placed on the status of your heart – is it broken, lonely, filled, overflowing, fragile or hardened? Just how much chocolate does it take to mend a wounded heart? How many flowers prove one heart loves another? How many sappy love songs confirm no one has the answers to the mystery of this thing we call "love" that supposedly lives in our hearts?
♥ Get moving ♥
Your heart is a muscle and to make it stronger it needs to be trained just like all the other muscles in your body. You do that by getting your heart pumping, by moving with vigor and energy. I know some of you think treadmills, stair climbers and cross trainers are the devil's spawn, but under all that equipment, sweat and dedication exists healthy hearts, striving to maintain or improve their ability to sustain our lives.
♥ Have fun ♥
There are endless ways to raise your heart rate and strengthen your heart and they don't have to be regimented to a piece of equipment in the gym. Do something that you enjoy and that's fun. Dance! It frees the soul and is a great way to express yourself at the same time. Walk the dog, skate, swim, play tennis, take a bike ride or just pucker up with your Valentine; turns out that even a good roll in the hay has its cardio advantages!
♥ De-stress ♥
All too often we get way too caught up in the daily little nuisances that trip us up and raise our blood pressure: bad drivers, bad breath, irritating co-workers, annoying sounds, lost homework, lost causes, lost keys, long lines, short patience, and the list goes on. These things add up daily and can cause stress to your heart's performance without you even being aware of it. Try your best to just laugh things off when you can, like you do when you're watching your favorite sitcom and these things happen to someone else.
Nuisances, however you define them, will be with us for a long time. Learn to get over them and get into yourself. Lighten up and live longer. If you're going to harbor things in your heart, make sure those things are positive and worth holding on to. Your heart's chamber has plenty of room for good company to take with you wherever you go. Leave the stress behind so your heart can thrive. ♥
[ts_fab]
Fit Athletic offers Fit training San Diego, Fit gyms Solana Beach and Gyms in Carmel Mountain locations.
See our top 3 tips for reducing cravings boosting mood and difference between raw vs cooked food
"New Year's Resolutions". I've heard those magical three words every January throughout the course of my 20 year personal training career; often uttered by people who are hoping to shed body fat and improve their health to feel and look better than the previous year. However, this common phrase often means something different to every individual.
This year I decided to deconstruct the definition of "resolution" and analyze its parts, in order to find my own meaning. I found that definitions of the word "Resolution" included: tenacity, fortitude and consistency.  Naturally, these words are also descriptive of someone who truly wants to make a change, and these words should always be kept in the forefront of the Resolutionist's mind:
Tenacity.
Do you have the mental tenacity to adhere to your goals? This one is hard; it's your True Grit – your mental toughness. You decide on an activity and then you do it. The 6 p.m. cycle class that you avoided all last year now becomes "hard scheduled" in your planner. That yoga class you've been putting off, because it doesn't sound all that fun – now becomes part of your routine.
Fortitude.
Do you have the internal fortitude, or guts, to keep it going when it gets tough? When someone says, "Hey, It's Taco Tuesday," do you say, "Sorry bro, I have bootcamp class. Why don't you come with me?"
Consistency.
Do you have the will and energy to follow through? Your energy and enthusiasm will wane – count on it. Test your mettle and challenge your resolve by planning ahead, eating for good nutrition (not just fun) and getting enough rest.
Channel your inner Matthew McConaughey, and as he says, "I try to break a sweat every day."
Monday: Start the cycle! Wake up early and go for a walk. If you're at a more advanced level, take a cycle class. Do your best to build the intensity as you go. Get a buddy to go with you so you can't back out.
Tuesday: Push it! Start with 100 pushups by completing five sets of 20 pushups, taking a moderate break in between sets. This could be enough for the day for some, or could just be a warm up. Push yourself to do 100 reps a day of all your favorite exercises, including bench press, shoulder press and squats. Take your time and don't try to get fit all in one day!
Wednesday: Stretch it! Take a yoga class that matches your ability and add it to your schedule.
Thursday: Step it up! Stadium steps have long been the choice of the choicest athletes, so why not give it a try? Find a local high school or college and take it one step at a time; spending 20 minutes the first time you go. Call your best bud when you go again and make it a habit.
Friday: Ab Fab it! This is where you test your guts—literally. It's the core strengthener called plank. Hold your body in a pushup position as tight as you can for one minute, and then repeat five times. Lying on your back, bring your elbow to the opposite knee slowly, completing as many repetitions as possible.Saturday: Repeat your favorite exercise! Be the trainer, bring a friend and inspire someone.
Sunday: Rest.Of course, make sure to get your doctor's OK before starting your New Year regimen. Challenge yourself to make changes for a better you. Write down your plan, and keep adding & improving it – because the better your resolve, the more successful your resolution.
[ts_fab]
Fit Athletic offers tips for reducing cravings boosting mood and training in Fit San Diego downtown, gyms Solana Beach and gyms Carmel Mountain locations.