In today's fast-paced world, maintaining a healthy lifestyle has become more crucial than ever. With the rise of technology, fitness enthusiasts now have access to a multitude of resources to help them achieve their health and wellness goals. One resource that has gained prominence in recent years is the iFIT app, which has now been integrated into the Fit Athletic Club membership, granting members access to thousands of global workouts. Designed for individuals of all fitness levels, the iFIT app is transforming the way people approach their fitness journeys.
The Power of the iFIT App
The iFIT app is a game-changer in the fitness industry, offering a comprehensive platform that caters to a wide range of fitness preferences and abilities. Now included with every Fit Athletic membership, providing members with an expansive library of workout options that can be accessed from the palm of their hand. Here are some key features that make the iFIT app stand out:
Global Workouts: One of the standout features of the iFIT app is its Global Workouts. These workouts allow you to virtually explore fitness destinations from around the world, all while breaking a sweat. Whether you want to enjoy the Colorado Mountaineering Series, or the Turks & Caicos Weight Loss Walking Series, the app offers a dynamic and immersive experience that can motivate and inspire your fitness journey.
Studio Classes: For those who thrive in a group setting, the iFIT app offers Studio Classes that simulate the feeling of being in a fitness studio. You can join virtual classes led by world-class trainers, offering workouts ranging from high-intensity interval training (HIIT) to strength training and more. The sense of community and motivation in these classes can be a game-changer for your fitness routine. Experience the intimacy of boutique studio workouts with all the hype that will keep you going strong.
Yoga and Mindfulness: Fitness is not just about physical strength; it's also about mental wellness. The iFIT app understands this and offers a variety of yoga and mindfulness workouts. These sessions help you find balance, reduce stress, and enhance your overall well-being, making it a holistic fitness tool. With iFIT Mind™, you can center yourself as you meditate, practice yoga, or take mental walks among stunning landscapes.
The Fit Athletic Club Advantage
Fit Athletic Club's integration of the iFIT app into its membership is a testament to its commitment to providing members with the best fitness resources available. This partnership elevates the fitness experience for club members in several ways:
Variety: Fit Athletic Club has always been known for its diverse fitness offerings, and now, with the iFIT app, members have access to even more variety. You can switch up your workouts to keep them fresh and exciting, helping you stay motivated on your fitness journey.
Flexibility: With the iFIT app, you have the flexibility to work out whenever and wherever you want. Whether you prefer to exercise at Fit, in the comfort of your home, or even while traveling, the app ensures that you never miss a workout.
Expert Guidance: Through the iFIT app, you can receive expert guidance from top trainers around the world. This level of expertise can help you take your fitness to new heights.
In conclusion, Fit Athletic Club's partnership with the iFIT app is a game-changer for fitness enthusiasts. It's a testament to their commitment to providing Fit members with the best tools and resources to achieve their fitness goals. So, if you're a member of Fit Athletic Club, don't miss out on the opportunity to elevate your fitness journey with the iFIT app. And if you're considering joining, this partnership is one more reason to become a part of this exceptional fitness community. Get ready to explore the world of fitness like never before and embark on a journey towards a healthier, happier you.
When you view health and fitness as a lifestyle rather than a part-time hobby or monthly challenge, you develop healthy, sustainable habits that will improve many areas in your life.
Adopting a new routine can help you in areas such as self-discipline, stress, adaptability, and balance. Pushing yourself to make these changes for good can help you show up as a better version of yourself in all aspects of your life.
Why Make Fitness a Lifestyle?
It's easy to feel intimidated by the health and fitness community. But, looking at this lifestyle change as an 'all or nothing mentality can make you easily overwhelmed –  that's why small steps in the right direction will create lasting results.
When you choose a fitness-focused lifestyle, you set an example for others to follow. Everyone can be affected by the choices you make, so it's important to make healthy ones that can inspire those around you.
Adopting this lifestyle also has obvious health benefits. From feeling self-confident to reducing the risk of disease, simply making these choices can impact your entire being.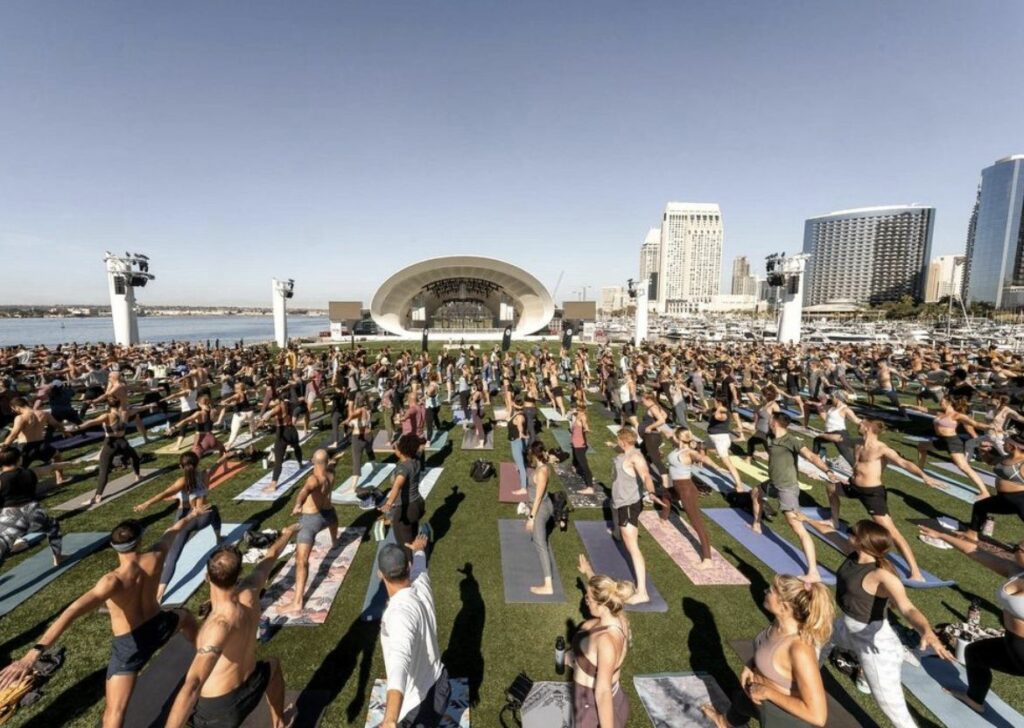 Consistency
As with starting any new habit, the most important step is to be consistent. When you set extreme goals, you're more likely to find yourself in burnout or feel completely defeated if you miss a workout. Set your expectations for nothing extreme or intense. The goal isn't to be perfect, it's just to be the best version of yourself.
If you eat a 'not healthy' meal or skip a workout, don't stress! Making this lifestyle change is a marathon and not a sprint. Just get back on track the next day and focus on the long-term goals. A healthy life isn't about an 'all or nothing mentality, and skipping or missing something here or there won't make an impact on your health but getting rid of all your habits will.
Find Workouts You Love
When you try to force yourself to do exercises that you don't enjoy or feel are wrong in your body, you are not setting yourself up for long-term success. The best practice is to find exercises that make you feel good and something you can commit to regularly.
Try a FIT group class at any of our locations to experience different workouts and find something new that you are passionate about! From high-impact to stress-lowering yoga classes, it's important to schedule workouts that motivate you to continue with a healthy, balanced lifestyle.
View Our Group Fitness schedule.
Accountability
Another huge step to developing healthy habits is accountability. When you're finding yourself on the downward momentum of feeling unmotivated, our FIT trainers are there to help you. Our top-performing Personal Trainers will work with you to develop a custom program that fits your lifestyle. They work with you to create a schedule that you enjoy and keeps you on track for your fitness goals.
Try FIT Today!
This is your life and your unique health journey – FIT is here to support you and make this lifestyle change seamless and supported. With premium amenities and joining a community of like-minded people, you're on the right track to make healthy habits for life.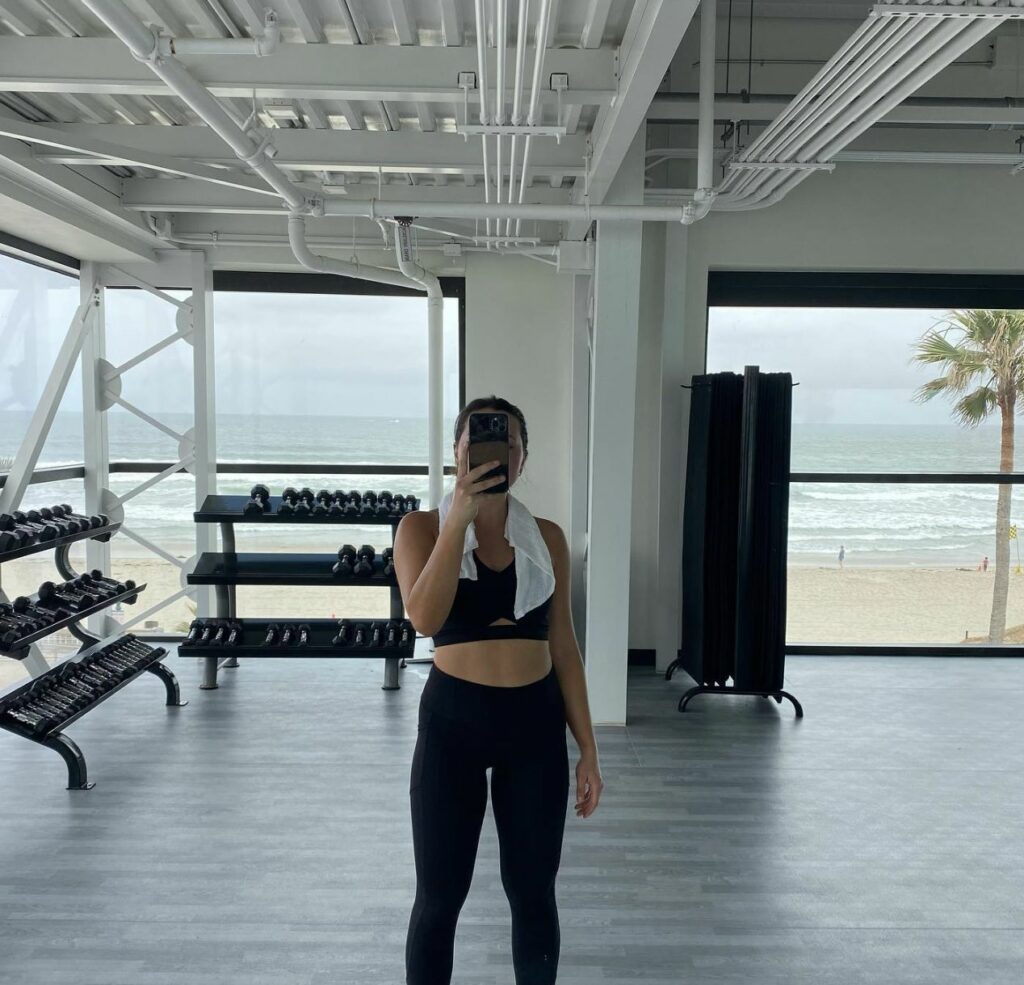 What is a HIIT workout, and why is it growing in popularity? Incorporating different types of workouts is key to building up different muscle groups and seeing more results in your workouts. "HIIT" is a broad term for workouts that involve short periods of intense exercise followed by short rest periods. One of the most attractive benefits of taking a HIIT class is that you can get maximum health benefits in a small amount of time.
Why High Intensity Interval Training?
A typical HIIT workout can be anywhere from 10 to 45 minutes long, made up of a series of workouts in small circuits. This type of workout can be anywhere from sprinting, biking, jumping rope, lifting weights, ropes, bodyweight exercises, or more.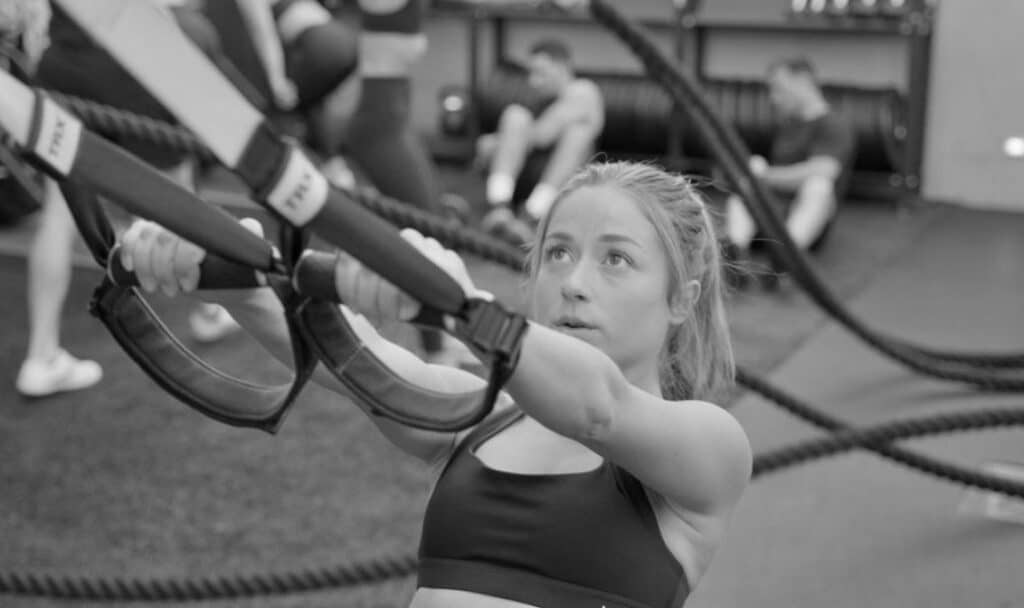 Since the workout is circuit-focused, one round or repetition of HIIT would most likely consist of 20 to 45 seconds of work, and a few seconds of rest. Do this for four to six reps for a complete workout. Depending on the exercises you choose to incorporate will affect the intensity of the workout.
HIIT classes are a great way to incorporate weight training and cardio into your weekly workout. A HIIT class is usually fast and furious but has also proven to be more enjoyable than a slower-paced exercise. It boosts class engagement and keeps your workout time efficient.
Long-Term Benefits of HIIT
Shorter period, maximum impact is one of the largest reasons for the popularity of HIIT workout classes. In fact, research shows that members in a HIIT class burned 25-35% more calories than another form of exercise. Other long-term benefits include:
Your metabolic rate is higher– After a HIIT class, your metabolism increases more than a workout with a steady jog. It is also noticed that HIIT could shift the body's metabolism toward using fat for energy rather than carbs.
High calorie burning- With a high-impact class, you're able to burn more calories in a shorter amount of time.
Muscle building- Given the nature of the class, you're going to be introduced to more weightlifting. This allows the body to build more muscle mass with new weight lifting activities.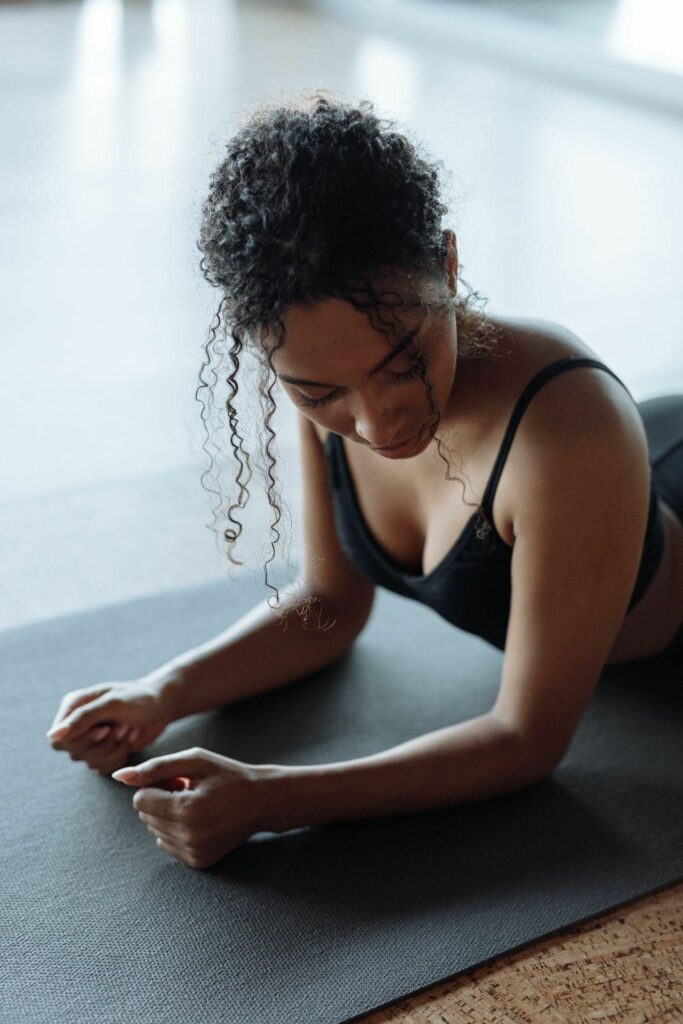 HIIT Versus Cardio
These two styles of working out are very different from each other and have their respective benefits. In a steady-paced cardio workout, like a long job, bike ride, or elliptical you're going to work your cardiovascular system, and slowly increase endurance. But with only participating in a steady-paced cardio workout, you might not reach your desired fitness goals and can wear down joints more easily – think knee pain on the hard pavement when you go for a run.
During HIIT, you might switch up your cardio for 30 seconds sprint, 10 seconds off, for around 20 minutes. You can get your heart rate up much faster than a steady pace and burn more calories in less amount of time. The benefits of a great workout are more accessible in a condensed time period.
FIT Grit
FIT unlimited group fitness now launches FIT Grit! Taking the best parts of weight training and cardio, FIT Grit burns stored body fat to increase your metabolism and burn calories even after your workout. This is a curated circuit training program designed to target all parts of your body. Led by passionate instructors, you'll find a new sense of community, accountability, and motivation by attending each class.
Sign up for FIT All-Club membership and experience unlimited group fitness classes at any FIT location today!
Heat things up this summer with your workout routine! You don't have to pigeonhole yourself in a boring workout rut – we've got some suggestions that will help you infuse summer fitness fun into your routine and keep you cool!
Set Yourself Up for Success
As the warmer weather heats things up, you might need to adjust your workout or the time of day you exercise. According to the journal Sports Medicine, your body may need one to two weeks to acclimate to the summer heat. For example, you'll probably want to adjust your running time if you're running in the thick of the heat in July.
Some great ways to acclimate to the warmer weather can be:
Heated Yoga – Available at all FIT locations. In a FIT heated yoga experience, you can expect to flow seamlessly between postures connecting your breath to movement in a room heated to 90-100 degrees. A moving meditative experience full of bending, twisting, and lengthening.
Outdoor HIIT – A high-intensity interval training group workout can be a great way to acclimate to the heat. High-Intensity Interval Training involves repeated bursts of high-intensity effort followed by varied recovery times. In this class, you will build lean muscle, improve aerobic fitness, and gain agility, and speed. This mix of exercises is guaranteed to develop explosive power and strength.
Download the FIT app and book a group fitness class!
Hydration
A rise in temperature can lead to some dangers of dehydration or heat stroke during your workouts. If you're planning your workouts on the FIT rooftop, it's important to be mindful of sun exposure. The American Council on Exercise recommends drinking a significant amount of water before, during, and after your workout and utilizing electrolyte supplementation.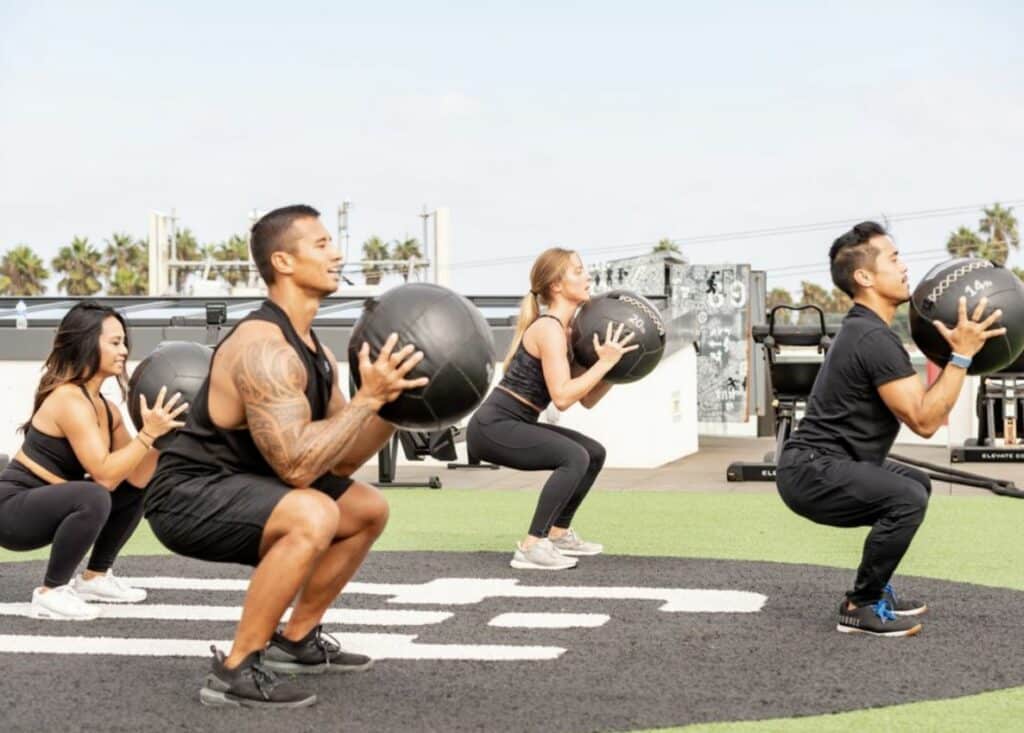 Having the right hydration means that your body will be able to perform in high temperatures. Water regulates body temperature and muscle and joint use. It helps deliver the proper nutrients to the rest of your body and prevents muscle cramps, dizziness, or other symptoms.
For more information on proper hydration and nutrition tips check out EatLove. EatLove is a nutrition system that provides custom meal recommendations and coaching to help build lasting, healthy habits around food.
The Right Apparel
Wearing sweat-wicking clothes is essential in the heat of the summer months. Wicking fabrics are designed to pull moisture from the body, through the fabric to the outer surface where it can evaporate. This process is what helps keep you cool, even as you sweat.
Check out our FIT apparel available near our Front Desk for premium workout outfits. Don't forget to grab a pre-workout snack or energy drink from our cafe!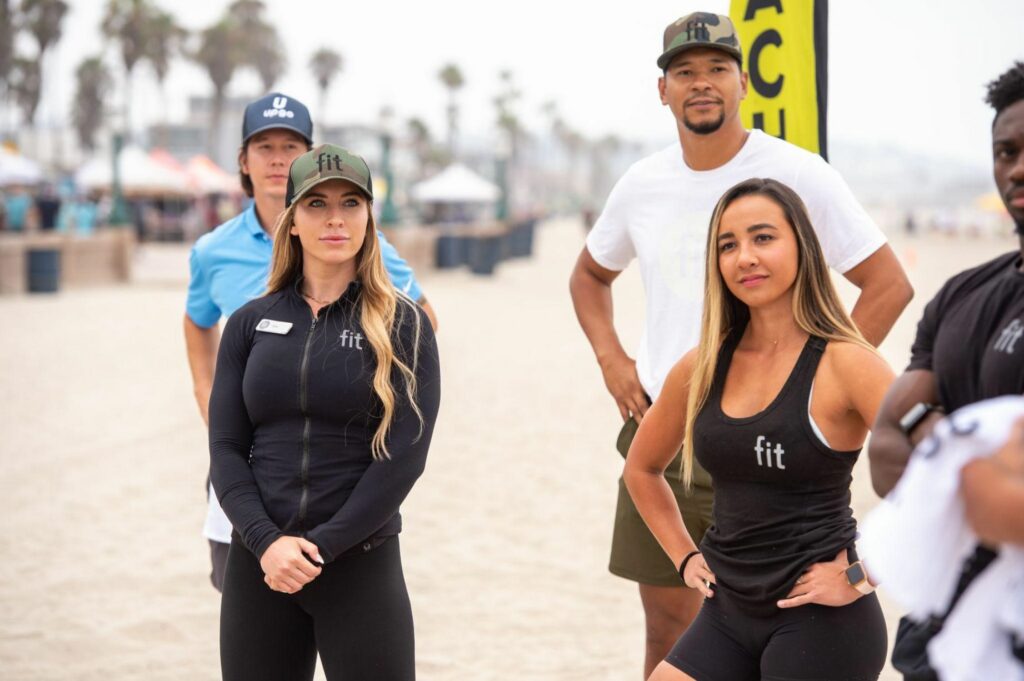 Beach X is Back!
What is one of the best ways to maximize your workouts this summer? FIT Mission Beach is bringing back Beach X! The boot camp fitness program you've been asking for is here just in time for summer. Led by passionate instructors, our group fitness classes are free for all members.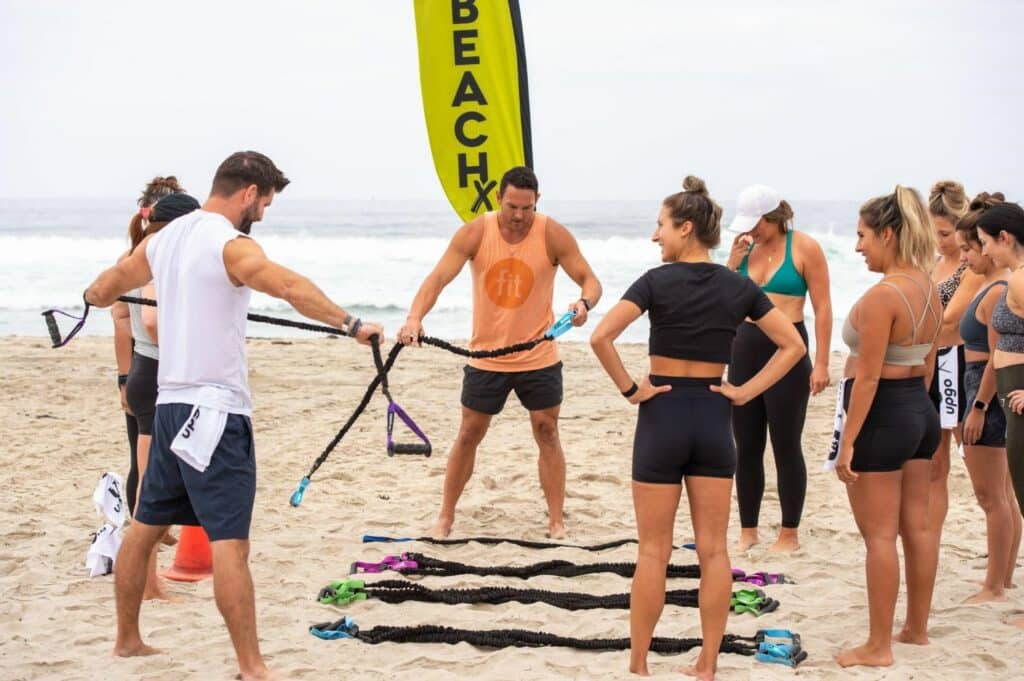 As a FIT member, you'll have access not only to our free boot camp classes but also to a rich variety of great amenities we offer at Fit Mission Beach, including an indoor pool, yoga classes, sauna, and more!
Enjoy the full perks of our premier outdoor bootcamp classes:
Free for members
Experienced instructors
All fitness levels
Inclusive experience
Join FIT Today
It's time to maximize your workouts this summer at FIT! Join the FIT community and experience premium amenities, group fitness classes, free outdoor events, and more.