THE TRUTH ABOUT GROUP EX: With pain, there will be gain.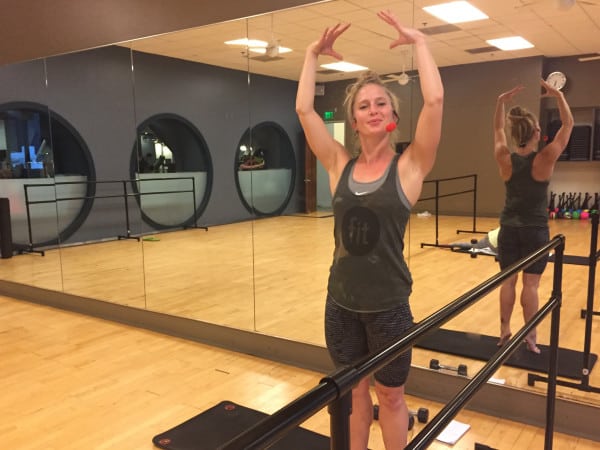 Workout #: 3
Group Ex Class: Fit Booty Barre with Sophie Blicher
Location: FIT Downtown
I've always thought one of the most elegant and graceful forms of dance is ballet. That is until light hand held weights are used, it is formatted it into an hour long group exercise class and I'm added to the mix. I do not have a dance background, rhythm, or even the slightest knowledge of executing a precise plié. However, I do know that my inner thighs and booty have never felt more challenged than they did during Fit Booty Barre.
Fit Booty Barre is an amazing mix of butt wrenching, ballerina inspired, killer moves. Sofie Blicher, our classically trained instructor, exudes the perfect mix of grace and skill while inspiring the rest of us to perfect our posture. I learned first, second, and fifth position? I can't tell you which one is which, but I can tell you that holding one of those positions while lifting weights will change anyone's perspective on a ballet barre workout. Yet with pain, there will be gain. I'm hoping to soon be the proud owner of a well sculpted lower body and abs, with impressive flexibility, rhythm and enviable posture.
I believe this vision, even for me, is attainable under Sofie's outstanding guidance. She is passionate about body awareness and even though I was thinking about a million different things I'd rather be doing while my inner legs screamed, "Stop!" Sophie stays focused and present and keeps her class on point. Her motto is: "Enjoy your workout, regardless of what it may be, and most importantly, be present."
When I spoke with her after class she expressed to me how important it is not only to enjoy your workout, but to enjoy the benefits of being active. "Use a workout as a way to break away from your day and fully experience your body." What a beautiful reminder; and I'll try to think about that next time my legs are shaking like Jell-O in her class.
Not only is she an outstanding barre instructor, she has an amazing skill set in various dance styles including Latin, African and hip hop. Additionally she is currently studying for her Master's Degrees in both Exercise Psychology and Nutritional Science.
As I write this, I realize Sophie's class was not just physically challenging but mentally challenging as well. I now realize that if I can't allow myself to be present with my body for a 60 minute class, it's time to press the reset button and remember Sophie's advice.
Don't think of your workout as a workout, but as a gift to yourself. It's time that we reflect on how extraordinary our bodies are. We don't have to be in a yoga class to be present in mind, body and spirit. It can happen in Fit Booty Barre too!
Subscribe To The Fit Blog
Monthly articles for a Fit lifestyle, straight to your inbox.
Happening On Facebook