Valentine's Day is Near – Got a Heart On?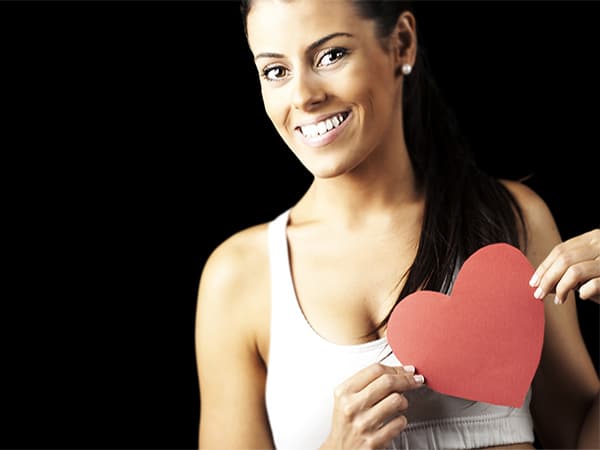 Every year at this time there is a ridiculous amount of commercial attention placed on the status of your heart – is it broken, lonely, filled, overflowing, fragile or hardened? Just how much chocolate does it take to mend a wounded heart? How many flowers prove one heart loves another? How many sappy love songs confirm no one has the answers to the mystery of this thing we call "love" that supposedly lives in our hearts?
♥ Get moving ♥
Your heart is a muscle and to make it stronger it needs to be trained just like all the other muscles in your body. You do that by getting your heart pumping, by moving with vigor and energy. I know some of you think treadmills, stair climbers and cross trainers are the devil's spawn, but under all that equipment, sweat and dedication exists healthy hearts, striving to maintain or improve their ability to sustain our lives.
♥ Have fun ♥
There are endless ways to raise your heart rate and strengthen your heart and they don't have to be regimented to a piece of equipment in the gym. Do something that you enjoy and that's fun. Dance! It frees the soul and is a great way to express yourself at the same time. Walk the dog, skate, swim, play tennis, take a bike ride or just pucker up with your Valentine; turns out that even a good roll in the hay has its cardio advantages!
♥ De-stress ♥
All too often we get way too caught up in the daily little nuisances that trip us up and raise our blood pressure: bad drivers, bad breath, irritating co-workers, annoying sounds, lost homework, lost causes, lost keys, long lines, short patience, and the list goes on. These things add up daily and can cause stress to your heart's performance without you even being aware of it. Try your best to just laugh things off when you can, like you do when you're watching your favorite sitcom and these things happen to someone else.
Nuisances, however you define them, will be with us for a long time. Learn to get over them and get into yourself. Lighten up and live longer. If you're going to harbor things in your heart, make sure those things are positive and worth holding on to. Your heart's chamber has plenty of room for good company to take with you wherever you go. Leave the stress behind so your heart can thrive. ♥
[ts_fab]
Fit Athletic offers Fit training San Diego, Fit gyms Solana Beach and Gyms in Carmel Mountain locations.
See our top 3 tips for reducing cravings boosting mood and difference between raw vs cooked food
Subscribe To The Fit Blog
Monthly articles for a Fit lifestyle, straight to your inbox.
Happening On Facebook