Can Stretching & Yoga Eliminate Anxiety?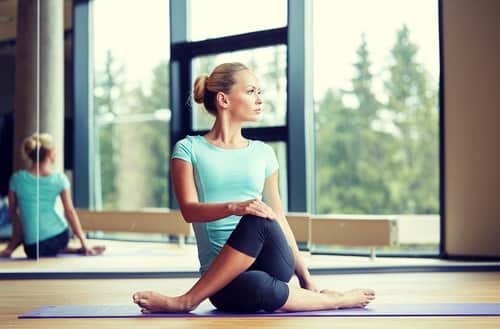 Let us be perfectly clear on this one – yoga was basically designed for calming stress and anxiety. It's the single biggest benefit of yoga. Yes, yoga is also beneficial for your posture, yoga can promote muscle relaxation, and there are many yoga styles perfect for improving flexibility.
But, again, yoga's there to make you feel calm, relaxed, and at ease. So, if you're wondering if practicing yoga in Mission Beach, San Diego can alleviate some stress and anxiety, the answer is a resounding yes, and here's why.
Can yoga calm anxiety?
Would a simple yes do? Would a hundred yesses do? Or a thousand? OK, we'll be serious. But really, yoga does calm anxiety. It's what yoga does best. Have you seen all the ooooms in those stereotyped yoga ads?
Well, in this case, the stereotypes are true – yoga is an excellent method for relieving both stress and anxiety, and you should definitely think about trying it out, especially if everything else you've tried has failed.
Trust us, even the experts from the California Department of Public Health would agree with us. First try yoga, and if it fails, which we don't think will happen, you can move on to other methods. But, let's now see the ways in which yoga helps you battle anxiety.
How does yoga help calm my anxiety?
Now that you know that yoga can actually calm you, let's see how it does that exactly.
Yoga regulates breath – Breathing is closely connected to the nervous system, and the more rapidly you breath, the more stressed you become. That is why yoga promotes slow, steady breathing as one of the ways to calm you.
Yoga lowers body tension – In addition to promoting relaxed breathing, yoga also relieves the tension from our bodies. The slow, precise movements makes your muscles relax, thus promoting relaxation of the mind too.
Yoga breaks worry cycles – Sometimes, you simply can't break the vicious cycle of worrying, which only leads to more stress and anxiety. When you start practicing yoga, however, every session turns your mind to your body, and you'll have no chance but to stop worrying.
Yoga fosters body awareness – Although this sounds a bit far fetched, it actually isn't. As yoga increases your body awareness, you become more capable of actively working on making your body more relaxed, even when you're not practicing yoga.
Yoga also involves meditation – Finally, there are slow, mellow styles of yoga that focus more on meditative techniques. These types of yoga are, you've guessed it, awesome for calming you down, as meditation usually is.
Can stretching help with anxiety?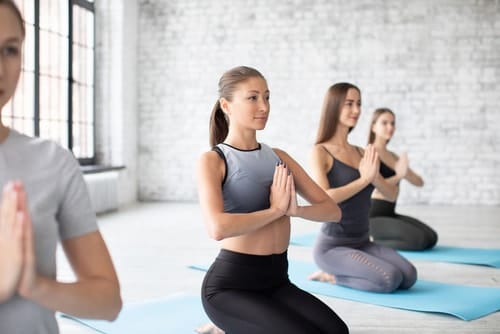 Sometimes, it's difficult to separate yoga from stretching. When you observe people practicing yoga for some time, you'll notice that there's a lot of stretching involved. And it is because of that fact that stretching is also great for reducing anxiety.
However, even though yoga involves stretching, vice versa is not at all true. There's no yoga in stretching, or, if there is, there's very little of it. That doesn't mean that stretching is in any way not suitable for reducing stress and anxiety.
Stretching is only a different way of doing exactly the same thing, and it's great for that purpose too. Just try to pay attention to your breathing while stretching, make your stretches as slow as possible, and try to keep them for extended periods of time. This will ensure maximum relaxation through stretching.
"Where can I destress through practicing yoga in Mission Beach, San Diego?"
We understand, there's little you can do to calm your anxiety in these trying times. You can't even visit the Gaslamp Quarter and let your mind relax for an hour or two. Times are tough, no question about it.
Even practicing yoga at a gym in Mission Beach is not something you should think about doing right now. However, at Fit, we think about our clients, so you can give us a ring anytime and we'll save you a spot as soon as the situation improves. Call us now!
Subscribe To The Fit Blog
Monthly articles for a Fit lifestyle, straight to your inbox.
Happening On Facebook
Recent Posts