The Ultimate Guide to Yoga for Beginners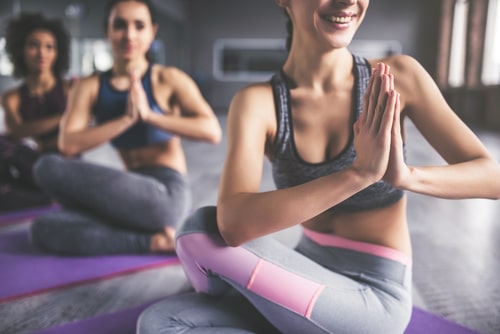 So, you want to do yoga, you've already started looking for the hottest spot for yoga in Solana Beach, but there's only one problem – you're a yoga rook and you don't really know what you're doing yet. Worry not, we've all been there. Our detailed yoga for beginners guide will tell you all you need to know.
Is yoga for me?
Obviously, the first question you should ask yourself – is yoga really the thing for you. Well, it probably is, because yoga is for everyone. It is accessible to the young, to the old, to the fit, and to the flabby. It isn't exclusive in any way.
Yoga is a great whole-body workout that doesn't feel like a workout at all. Which doesn't mean it's not physically demanding. Some of the most popular yoga positions are tough for even the savviest of yogis.
However, even if you've been plagued with a chronic condition you can't seem to shake off, yoga is not only possible but, most of the time, also recommended as a form of de-stress for the mind and the body.
You just need to worry about finding an experienced yoga instructor who can factor in your condition, your age, and any other aspects that can be a potential nuisance, and work around that. The rest is up to you, and, trust us, you'll love every second of it.
Why do it at all?
Many people are still skeptical of yoga for beginners, thinking that only the most experienced of yoga masters can fully reap the benefits of stretching your body and mind to its absolute limits.
The truth is somewhat different though. Yoga is beneficial to everyone willing to practice it with dedication, and here are just some of yoga perks:
Yoga will improve the health of your muscles, organs, and joints.

It will help you sleep better.

It will prevent sports-related injuries, but also speed up the recovery process if you do sustain any.

It can prevent various health conditions, such as heart diseases, diabetes, and many autoimmune disorders.

It can be a gateway to a happier, full life.
Even with all the benefits listed, people still remain unsure, feeling not quite convinced that mere stretches are enough to achieve all or some of the above. For those persistent head shakers, we recommend this – try it out. No read, however detailed, can replace hands-on experience. Once you try it, once you feel the effects, only then will you realize what we've been talking about.
What should I bring to my first
yoga for beginners
class?
As far as sports and exercise equipment goes, yoga is the most undemanding type of workout you will encounter. Yoga is practiced on a simple, yoga mat, barefoot. The only thing you do need to pay attention to are the clothes you're wearing.
They should be able to withstand continual stretches and bends, while remaining comfortable for you to spend an entire yoga class in. You've probably heard about yoga pants, a type of thin legwear designed with yoga in mind.
But it's not a requirement. When it comes to practicing yoga, you should never be self-conscious, and you should wear whatever you feel comfortable in. Since it is a workout for both the mind and the body, the only way to achieve great results is to be as relaxed as you can be while doing it.
The mat is also something you might want to consider. Although every gym where yoga is practiced offers mats for free or rental, most of the time, they're made of cheaper plastic, which is not that pleasant to work out on. You have two options: to buy your own mat, making sure it's comfortable, while providing proper joint support, or to join the best gym in Solana Beach and enjoy our first-class service at Fit Athletic!
As for the rest, the yoga place should supply it all. Some of the more advanced yoga positions require additional equipment, such as blocks, blankets, straps, bolsters, and chairs. No need to buy any of these, unless you're doing an online yoga class. Then, depending on the level of yoga you've achieved, you might need to purchase some extra equipment. But a mat, stretchy clothes, and good faith should be enough for the start.
But, what style of yoga is for me?
Again, this is a question that cannot be easily answered in general, as it is different for each and every yoga newbie. For most people, though, the best place to start is hatha yoga for beginners. Hatha focuses more on physical poses, and is slow enough for everyone to be able to keep up.
It's great for beginners because it gives you a chance to get a better feel of your body, while providing a good entry point for the more demanding positions to come.
If, however, you find yourself to be among the not-so-flexible individuals, don't get discouraged! It doesn't mean you're doomed to failure in any way. It just means that you will need a bit more time getting your body to the optimum state for yoga. And that's kind of the point, isn't it, to improve your physical fitness.
How often should I do it?
It all depends on how much free time you have available. The obvious answer is as often as you can. But, how often? That depends on you and you alone. The general rule of thumb is this – if you can manage, three or more times a week would be excellent, as it is only with regular practicing that you are able to witness all the benefits.
If you are pressed for time, it is enough to do beginner yoga a couple of time a week. It will be sufficient to keep your body in good shape, and you will see improvements in your health, sleep, and overall wellbeing.
Finally, the mindset!
The last piece of advice we have to give is that of the mind. Keep it open before coming to your first yoga lesson, don't close it off with prejudice and disbelief. Yoga is supposed to bring both the body and mind into alignment, and it cannot do so if one or the other is out of sync.
Do everything you can to approach your initial yoga experience open for a shift in perspective. Do this, and you'll be on the right path to firmly getting hold of everything yoga has to offer. And it is a lot!
If you're looking for premium
yoga for beginners
classes, you're looking for us!
At Fit Athletic, we're all yoga enthusiasts, and we know just how good it can be for you. We've seen it happen hundreds of times, and we can help make it happen! We have the most experienced, enthusiastic, and engaging yoga instructors in the wider San Diego area, and they will make your yoga baby steps firm and fruitful. Whether you're looking to try out Ashtanga, Vinyasa yoga, Yoga Sculpt or any other amazing yoga style, contact us to begin your journey through the magical world of yoga.  
Subscribe To The Fit Blog
Monthly articles for a Fit lifestyle, straight to your inbox.
Happening On Facebook
Recent Posts