By the time noon rolls out and lunch approaches, your belly is letting you know it's time to eat soon. You are up for something healthy because a well-balanced diet can help you manage your weight and stay active and strong, especially when you are working out at one of the top gyms in San Diego.
However, just thinking about a home-cooked lunch can make you feel like you don't have enough time to cook and you don't want extra stress about meal planning. On the other hand, committing to a healthy diet is one of the smartest decisions you can make. And guess what, packed lunches are not only for the kids.
You can always grab something nutritious at Fit café but if you want to want to whip up your own lunch, browse through some healthy recipes that will leave you feeling great and give your body the nutrients and energy for the rest of the day.
Kale stuffed pitas
As you could read in one of our previous articles, kale is pretty easy to combine with other food. To make a super healthy wrap packed with vitamins and minerals, you need are pitas, lacinato kale salad, hummus, carrots, cucumbers, and cabbage.
All you have to do is spread a bit of hummus inside each pita half, stuff it with ingredients and your lunch is ready to go. Be sure to make the kale salad in advance so that the kale has enough time to soften and marinate in the dressing. Feel free to get creative and play with ingredients. Mix all sorts of vegetables, add grilled chicken, lettuce, a healthy sauce of your preference.
Barley power salad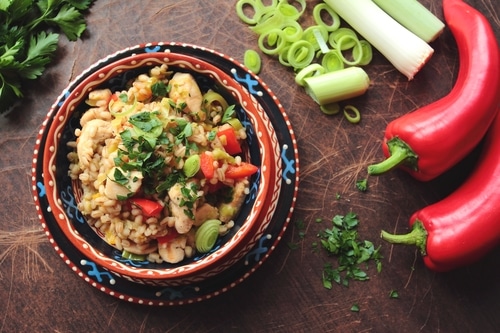 A barley salad bursts with nutrition and it is versatile enough to be served warm, cool or at room temperature. There are plenty of flavorful seasonings that make it healthy and delicious!
Barley is high in fibers, chickpeas are high in both protein and fibers. To add even more protein to your meal, trainers at top gyms in San Diego suggest that you grill the chicken and use only the lean white meat.
Follow the instructions on the package to cook one cup of barley. Drain, rinse, set aside and let it cool. Lay out the barley on a sheet pan, sprinkle with some olive oil and mix to coat well.
Grill two boneless chicken breasts and then chop into cubes. In a large bowl, mix with one cup of halved cherry tomato, two cups of pre-cooked chickpeas, and a bunch of fresh sage. Add the barley and season with salt, pepper and balsamic vinegar.
Rest assured you can definitely vary a few things and it can still turn out great. You can combine other salad ingredients with barley and chicken, such as a cup of dried apricots, a cup of pistachios, a few chopped green onions, and chopped parsley. Drizzle olive oil and lemon juice on it. You can also season the salad with basil, black pepper and Parmigiano-Reggiano. Possibilities are endless.
Quinoa salad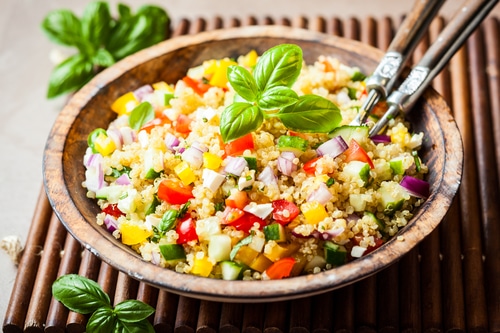 Tasty, full of fibers and protein, a quinoa salad is low in fat and it can be your perfect choice for a light lunch or dinner. Cook one cup of rinsed quinoa according to the package instructions and salt to taste. To get fluffy quinoa, use twice as much water as quinoa and cook uncovered till the quinoa absorbs the water.
Prepare the vegetables while the quinoa cooks. Take one red pepper, one peeled and grated carrot, one diced cucumber, and two finely sliced scallions. English cucumbers are practical because you don't need to peel them, though you still have to seed them so they don't make your salad watery. Shred the carrot and slice other veggies into bite-sized pieces.
Then make the dressing by mixing fresh lime or lemon juice with pepper, salt, vinegar and mustard. Now you can combine the quinoa with the dressing, vegetables and chopped fresh basil and/or cilantro. Toss and pack – that's your lunch ready to go!
Avocado sandwich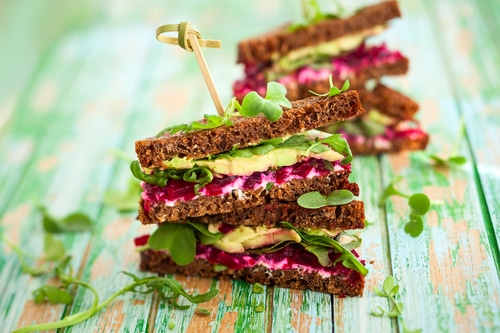 A delightfully easy to make, a sandwich can pack a bunch of healthy ingredients like avocado, artichoke hearts, provolone cheese, and red onion. Whole wheat or whole grain bread will keep your blood sugar stable throughout the afternoon. It definitely won't leave you hungry! Just be sure to keep the ingredients separate and assemble them before eating to avoid soggy bread. Serve with cucumber and tomato salad.
If you are an avocado lover and want a no-brainer solution, make a healthy sandwich in only 5 minutes. Slice up the avocado, tomato, Brie cheese (or any cheese you prefer), assemble them on a slice of bread, add a bit of fresh or dried cranberries, and drizzle a bit of balsamic vinegar. Now just close the sandwich with the second slice of bread and your lunch is ready to eat!
Looking for top gyms in San Diego? Stay fit & healthy with Fit Athletic by your side!
A healthy diet and the right workout routine are the key to staying fit and feeling great! Not all top gyms in San Diego can give you that! At Fit Athletic, we can help you get in shape and achieve optimal health and wellness. Our holistic approach, world-class amenities, experienced and qualified instructors and personnel will make it easier than ever to stick to your health goals.
Forgot to make your lunch at home? No worries. Need a meal after a workout? Not a problem. Fit provides a range of delicious ready-made meals that are high in protein foods. Visit FIT cafes in San Diego, Carmel Mountain Ranch, Little Italy, Solana Beach and Mission Beach and try our sandwiches, salads and other healthy options! They will give your body essential nutrients and leave you feeling energized.