We all know that exercising regularly is extremely important for keeping us healthy and in shape. However, many people struggle to stay motivated while working out alone, while others hit a plateau and then get frustrated when they can't seem to improve their performance.
If you're struggling to stay dedicated to your workout routine, group exercise could be the answer. Dedicating yourself to attending a regular fitness class could provide the structure and the camaraderie you need to meet your fitness goals and even exceed them.
Keep reading for a detailed look at the benefits of group fitness, including how signing up for classes at Fit Athletic Club can help motivate you toward getting in the best shape of your life.
The Case for Group Fitness Classes
Working out alone can provide time for personal growth and a chance for you to hone a specific skill or muscle group. On the other hand, exercising by yourself means there's no one around to correct your form, which could lead to injury if you aren't careful. Additionally, it's demonstrably more difficult to stay motivated and inspired while working on a solo project than when performing as part of a team.
In contrast, research has shown that group exercise does more to reduce stress and improve quality of life than solo workouts do. Participants in a study by the University of New England College of Osteopathic Medicine showed an impressive 26 percent reduction in stress levels after 12 weeks of working out in a group setting, while participants who exercised alone for 12 weeks showed no significant change in stress levels.
People who work out in groups have the advantage of being able to encourage each other to try harder and set new goals, as well as acknowledging and celebrating the moment when those goals are met. Group exercise classes aren't just beneficial for your physical health; they can also improve your mental and emotional health by lowering the risk of burnout and providing much-needed anxiety relief.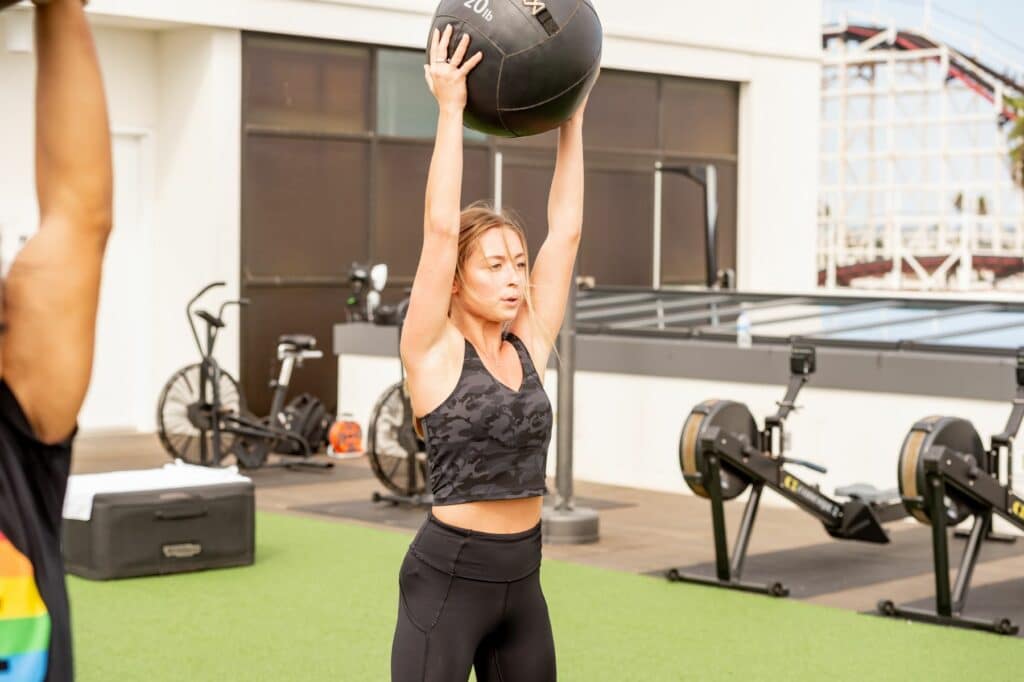 Group Fitness at Fit Athletic Club
There's nothing like working out with other people to get you motivated and inspire you to boost your performance to the next level. Being able to compare your efforts with others allows you to set clear goals for yourself, as well as make adjustments and improvements to your form and technique. For the best group fitness classes San Diego has to offer, check out your closest Fit Athletic center and join online today.
Fit San Diego operates several locations all over the city, so you're sure to find a Fit Gym near your home or office. For instance, if you work downtown, why not check out our evening classes at Fit East Village? Other popular locations include Fit Little Italy and Fit Mission Beach.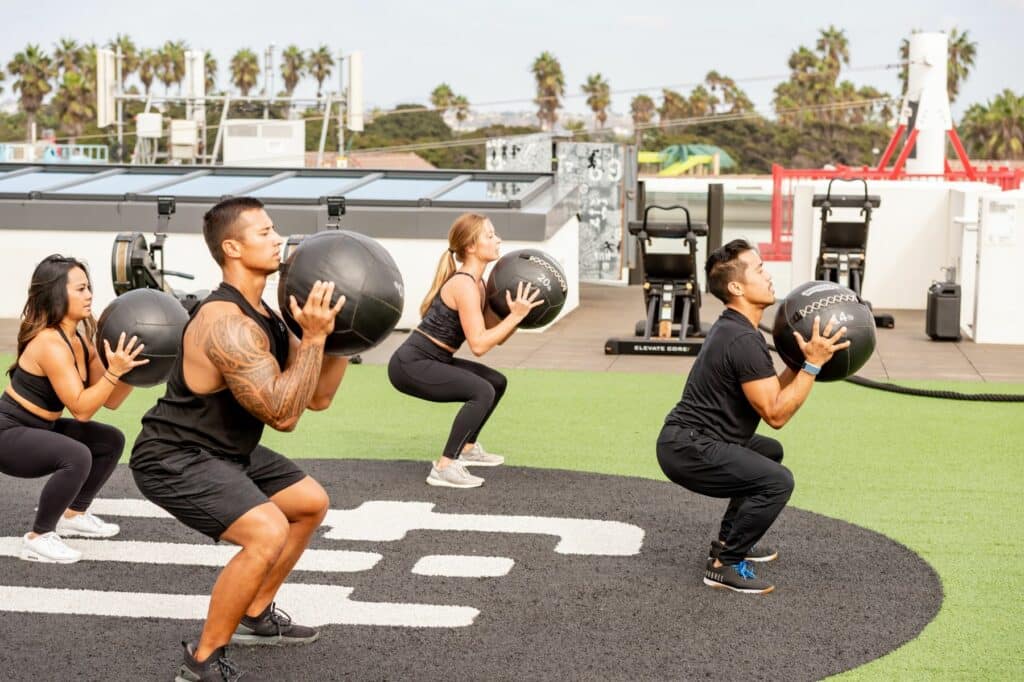 Bring Your Workouts to the Next Level
Take the next step in your fitness journey and see for yourself how motivating working out with others can be. Sign up for a free guest pass for group fitness classes at your nearest Fit Athletic Club location today!
Protect Yourself From These Common Sports-Related Injuries
Getting in enough physical exercise is important for our health. Yet, whether that physical activity involves working out at the gym or participating in sports, it's important not to overdo it. Pushing yourself can lead to common, yet painful injuries. Being aware of ways to avoid these injuries can help you stay safe, while pursuing your fitness or sports goals.
Head injuries
These types of injuries are more common in competitive team sports and include everything from traumatic brain injuries to incidences of TMJ. Trauma to the jaw or skull is generally responsible for swelling or a fracture of the bone of the skull in both these types of injuries. That's why regulations for contact sports, such as football or hockey, set guidelines for wearing face and head protection. While some types of sports don't require this type of protection, that doesn't mean there isn't a risk of a head injury. For instance, TBI incidences are still common in sports like basketball and soccer, even though the players don't wear helmets or mouth guards. In any physically active sport, it's wise to consider wearing a helmet or similar protection to protect your face and head.
Neck Pain
When the neck becomes misaligned, it can cause pain that won't seem to go away, but this isn't necessarily due to an injury. In fact, it can begin in the office, while you're working at you desk. Your neck becomes misaligned through poor posture, but the pain can really intensify later, when you hit the gym. It can become a bigger problem as you lay on the weight bench, if you don't ensure your neck and upper back are fully supported against the pad. Doing lifts that force you to raise your hands over your head can really aggravate the condition. To strengthen these muscles, do reverse shrugs with the lateral pull down bar, adjusting the weight to a comfortable level. Just pull the bar down to 3-4 inches in front of you.
Lower Back Strain
This is a common injury at the gym, especially with those who don't practice a proper form. Like the neck, the back relies on proper posture and, when it doesn't get that support, it can cause a strain in the lower back. A sharp pain, while doing squats can be an indication that you've put a strain on your back. To prevent this type of strain, practice working with your neutral back posture, before you begin lifting or doing squats. By laying on your back with your knees bent and your feet flat on the floor, you can experience your natural posture. Get comfortable with this posture, before advancing your workout.
Stress Fractures
These a tiny, hairline cracks in the bones of the lower legs, shins, and feet. Generally, they are caused by performing a repetitive motion too excessively, or they can be caused by overexertion. Symptoms of stress fractures include sharp, shooting pain in the foot and shins, making it difficult to walk. Jumping, running, walking, and even standing still can cause the pain to grow worse and the area around the shin and ankle may swell. To prevent stress fractures, start slowly and increase the intensity of your workouts gradually. Each week, you can boost your workout safely by 10%, giving your body time to adjust and build muscle.
Sprained Ankle
This is common in every sport, among runners, and also in gym workouts. This often happens when you're running and not paying attention to your footing. A misstep can cause your foot to twist beneath you, bending the ankle in an awkward position. The best way to prevent sprains is to run or jog on flat, even surfaces. If you're on the treadmill, don't forget to wear the clip that will stop the machine if you lose your balance. Outdoors, try to stay on concrete when running, as natural trails may be uneven and littered with branches and rocks.
Staying safe is important during any physical activity. To that end, be sure to wear the proper protective equipment and follow safety guidelines for that activity. While getting a good workout is your goal, overdoing it can lead to accidents and injuries that may leave you sidelined.
What time is it?
Featuring: Andre Houle, Rachel Mulvaney, Julie Quinn, Dominic Mineo, Leah Berzon & Dylan Jones
Want to try a Fit Yoga Class? Visit www.fitac.staging.wpengine.com for a FREE day pass and schedules!