3 Tips to Help You Stick to Your New Year Resolutions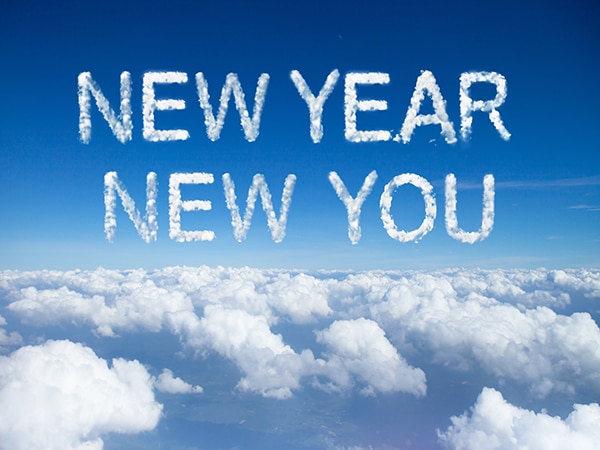 "New Year's Resolutions". I've heard those magical three words every January throughout the course of my 20 year personal training career; often uttered by people who are hoping to shed body fat and improve their health to feel and look better than the previous year. However, this common phrase often means something different to every individual.
This year I decided to deconstruct the definition of "resolution" and analyze its parts, in order to find my own meaning. I found that definitions of the word "Resolution" included: tenacity, fortitude and consistency.  Naturally, these words are also descriptive of someone who truly wants to make a change, and these words should always be kept in the forefront of the Resolutionist's mind:
Tenacity.
Do you have the mental tenacity to adhere to your goals? This one is hard; it's your True Grit – your mental toughness. You decide on an activity and then you do it. The 6 p.m. cycle class that you avoided all last year now becomes "hard scheduled" in your planner. That yoga class you've been putting off, because it doesn't sound all that fun – now becomes part of your routine.
Fortitude.
Do you have the internal fortitude, or guts, to keep it going when it gets tough? When someone says, "Hey, It's Taco Tuesday," do you say, "Sorry bro, I have bootcamp class. Why don't you come with me?"
Consistency.
Do you have the will and energy to follow through? Your energy and enthusiasm will wane – count on it. Test your mettle and challenge your resolve by planning ahead, eating for good nutrition (not just fun) and getting enough rest.
Channel your inner Matthew McConaughey, and as he says, "I try to break a sweat every day."
Monday: Start the cycle! Wake up early and go for a walk. If you're at a more advanced level, take a cycle class. Do your best to build the intensity as you go. Get a buddy to go with you so you can't back out.
Tuesday: Push it! Start with 100 pushups by completing five sets of 20 pushups, taking a moderate break in between sets. This could be enough for the day for some, or could just be a warm up. Push yourself to do 100 reps a day of all your favorite exercises, including bench press, shoulder press and squats. Take your time and don't try to get fit all in one day!
Wednesday: Stretch it! Take a yoga class that matches your ability and add it to your schedule.
Thursday: Step it up! Stadium steps have long been the choice of the choicest athletes, so why not give it a try? Find a local high school or college and take it one step at a time; spending 20 minutes the first time you go. Call your best bud when you go again and make it a habit.
Friday: Ab Fab it! This is where you test your guts—literally. It's the core strengthener called plank. Hold your body in a pushup position as tight as you can for one minute, and then repeat five times. Lying on your back, bring your elbow to the opposite knee slowly, completing as many repetitions as possible.Saturday: Repeat your favorite exercise! Be the trainer, bring a friend and inspire someone.
Sunday: Rest.Of course, make sure to get your doctor's OK before starting your New Year regimen. Challenge yourself to make changes for a better you. Write down your plan, and keep adding & improving it – because the better your resolve, the more successful your resolution.
[ts_fab]
Fit Athletic offers tips for reducing cravings boosting mood and training in Fit San Diego downtown, gyms Solana Beach and gyms Carmel Mountain locations.
Subscribe To The Fit Blog
Monthly articles for a Fit lifestyle, straight to your inbox.
Happening On Facebook
Recent Posts