Why do we go to the gym and get our regular sweat on?
We go to the gym to get an endorphin boost and enhance our overall well being. Regular exercise has great benefits for the body and mind. However, your body is ever-changing, and it's easy to plateau in your fitness results or lack motivation. Here are our most effective strategies to get the most out of your training and exercise routine.
Add On the Weight
Having an effective workout routine is a balanced mix of cardio and strength training. Sometimes, we can get carried away with one or the other and not see the results we are working towards. However, strength training is more important than you think. By limiting your workouts to only cardio, you can quickly decrease your metabolism, making weight loss or muscle building more difficult, as well as a plateau within your workouts.
We recommend training consistently with weights that are comfortable with your body. Once comfortable with a weight set, increase the resistance. Doing this will start to build up lean muscle mass to increase metabolic rate. Weight training additionally strengthens your bones and connective tissue. The strength added here will improve your stability will help prevent injury and keep your body strong!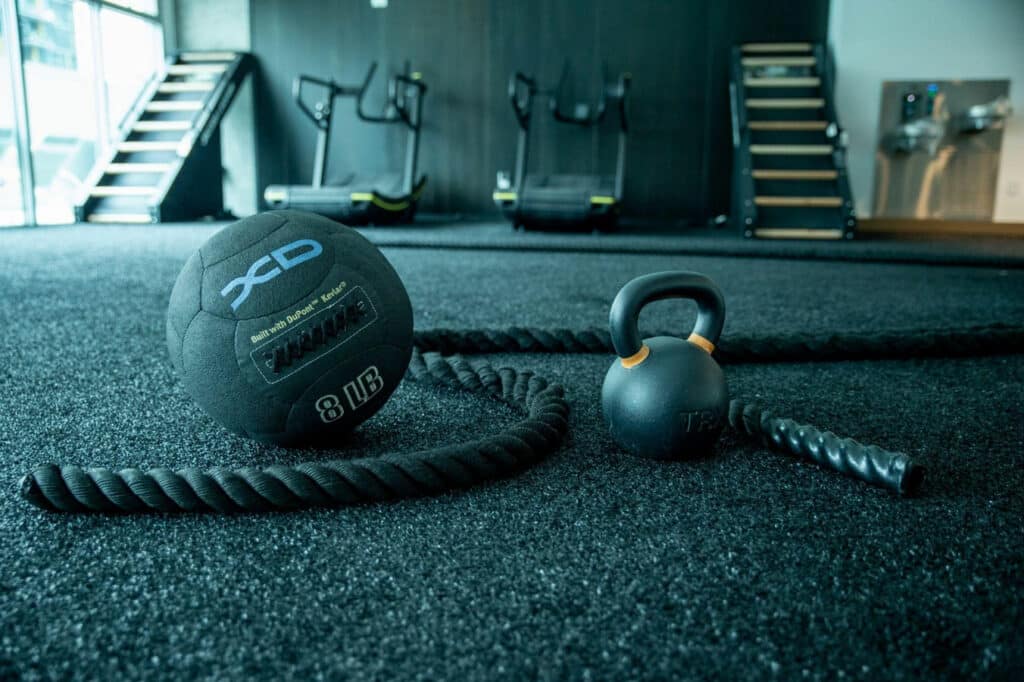 Warmup with a Dynamic Workout
The way you warm up is essential to the way your workout will lead. This is because activating different muscle groups before your training will fire up other parts of your body you want to activate. A dynamic warm-up will do this. A dynamic warm-up is moving while you stretch to utilize a joint's full range of motion and preparing muscles for more intense training to come. This type of warm-up promotes blood flow, prevents injury and uncomfortable soreness the next day. We recommend practicing this consistently before your workout for your body to adapt to new exercises.
Nutrition
Nutrition is a key player in seeing the results you want out of your workouts. It's more than picking broccoli over a cookie; it's choosing the right foods to fuel your body and mind. Start with the proper nutrition before and after your workout. It's recommended to maximize your workouts before with energy, whether a protein shake or banana. Afterward, studies show to refuel your body with fluids, complex carbohydrates, and protein. In fact, According to the Mayo Clinic, about 45 to 65 percent of your total daily calories should come from carbohydrates.
Keep in mind that a nutritious diet for a 45-year-old man is different from a 25-year-old woman's. Every person's body has different nutritional needs, but the baseline is the same. A balanced diet helps maintain blood glucose, concentration during exercise, maximize exercise performance, and improve recovery time.
Try a New Workout
Not only will switching up your workout routine help fight "getting bored" in a workout, but it will activate different muscle groups and joints, ultimately preventing injury and building strength and endurance in a new way.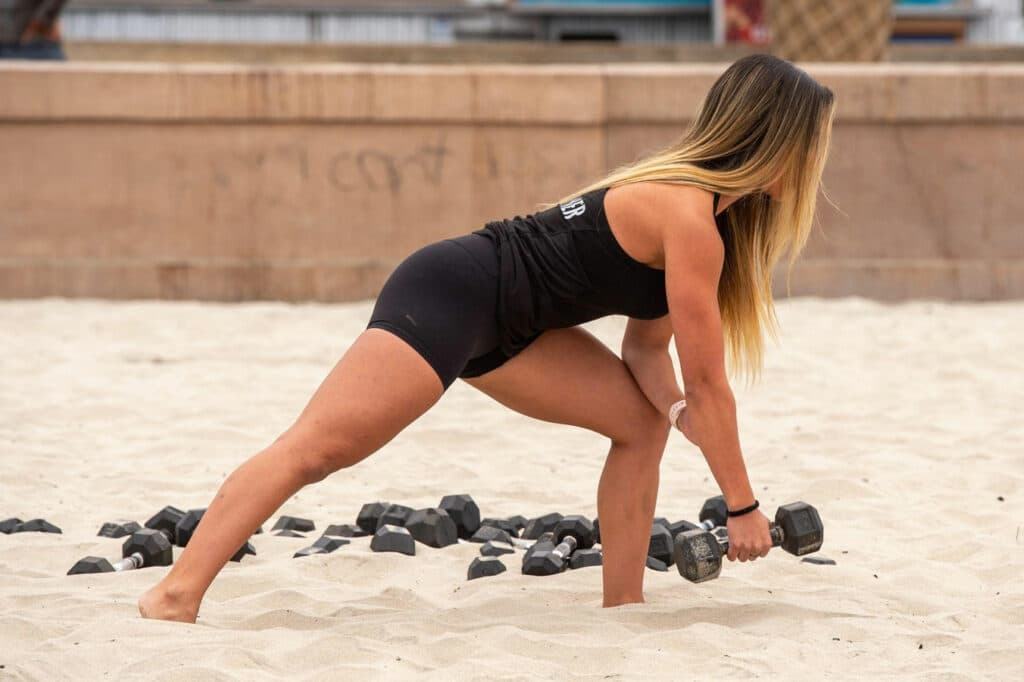 Many people gravitate to cardio to cut weight or reduce fat, and while cardio is a great workout, it's not the most effective long-term. Finding a balance between cardio and strength training is key. Here are some of our favorite types of exercises to switch up your training and get the most out of your workouts!
Cardio Intervals- A mix of steady cardio with higher intensity cardio.
Compound Exercises- A multi-joint movement pattern with various exercises, performed with precision and form.
HIIT- Combine short bursts of intense exercise with periods of rest or lower-intensity exercise.
Interested in learning more about fitness and your workout routine? Schedule a training session with a FIT Personal Trainer, available at all locations.
Reduce Stress
If you find yourself under intense stress and pressure, this may cause your workout to plateau. Stress on the body causes it to produce more of the hormone cortisol, which promotes body fat and makes it harder to lose weight. Having stress is normal, but intense stress does have adverse side effects. Fighting off stress, working out, getting enough sleep, and slowing down as best you can are great ways to fight this.
One of our favorite ways to fight stress is de-compressing in a FIT sauna or steam room. Learn about the benefits of incorporating a sauna into your routine here!
Fitness Made For You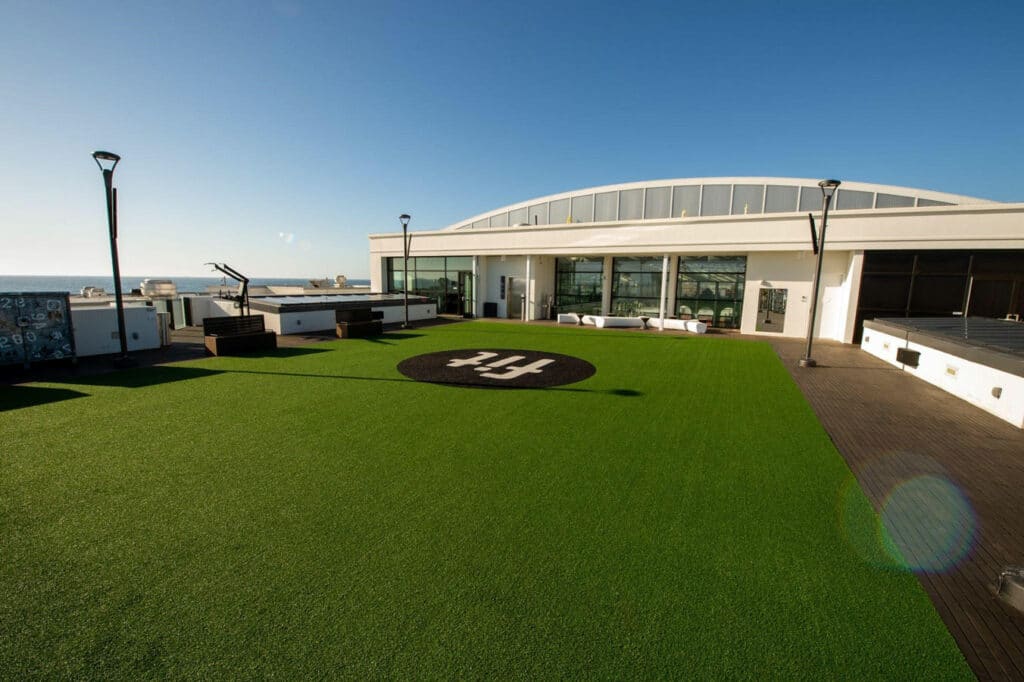 Ready to get the most out of your workouts? Schedule an INBody Scan! The INBody Scan measures and analyzes your body fat percentage, skeletal muscle mass, and body water percentages. This information is vital in implementing wellness plans that are catered specially to your body and can do your workouts that much more effective and efficient.
FIT is not only voted San Diego's '#1 The People's Gym', but a lifestyle. The FIT experience includes premium personal training, group fitness, workout facilities, social events, and more. So now's the time to reach your fitness goals. Sign up for your FIT membership today!
Breathe in, breathe out. Let the harmonic sounds surround your senses, and your body falls into a deep relaxation state.
Sound can have incredible healing and therapeutic qualities. Sound healing is used in many cultures around the world to treat both physical and mental conditions. At Fit, we offer immersive sound healing classes for our members to experience this unique modality.
What is Sound Healing?
Growing in popularity, sound healing is a technique used to alleviate stress-related conditions. Some conditions can include anxiety, depression, abnormal heartbeat, and high blood pressure.
We live in an environment that is impacted by vibration and exposed to unnatural vibrations and "disharmonies" every day. This can be anywhere from the emergency sirens on the street, air conditioners in our homes, construction noises while at work, or cell phones ringing constantly. All of these aspects affect the stress levels of our bodies.
Sound healing is composed of different principles. One of the main ones being that being exposed to harmonious and clear sounds can bring our atoms, molecules, cells, glands, and organs in a 'new frequency.' Our bodies all have a natural resonant frequency that can easily be out of tune. This process of replacing disharmonious frequencies with a steady one stimulates the sympathetic vibration into the body, to relieve stress-like conditions.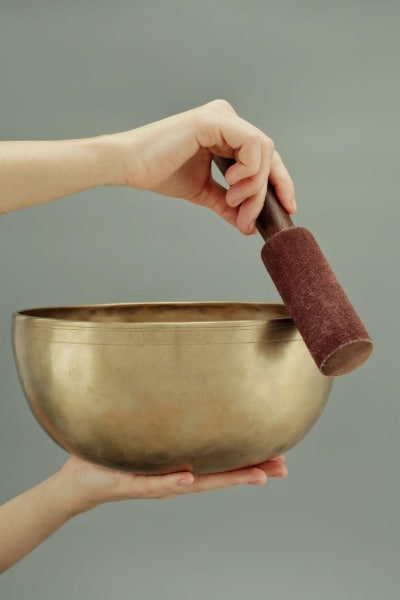 The Benefits of Sound Healing
Societies worldwide have practiced sound healing through healing ceremonies, singing, dancing, and more. Sound healing is done through instruments, like a sound bowl or even a human voice. The sound vibrations help facilitate shifts in the body through rhythm and frequency. The change in the body from ordinary waking consciousness to a relaxed consciousness provided intense stress relief on the body to release and move into a deep state of relaxation.
A recent study found that meditation aided by Tibetan bowls showed to decrease symptoms of stress and anger, with focus on those who were new to the practice. Another study found that those with fibromyalgia showed signs of decreased pain from the low-frequency stimulated by the bowls. Studies are continuing to grow about the benefits of this practice as well.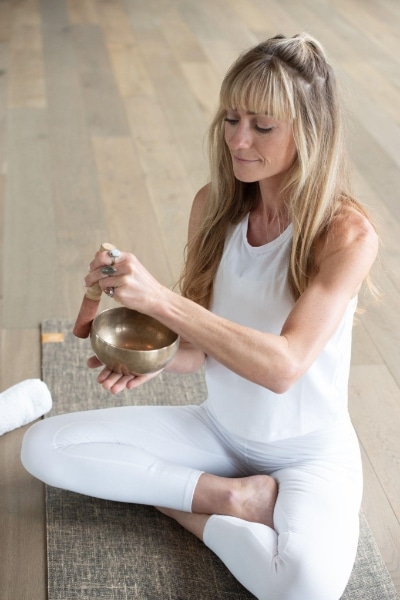 What Does a Sound Healing Class Look Like?
Although every sound healing class may differ slightly, the goal of relaxation and de-stressing is most common. Many classes begin with a guided breathing exercise. This process allows the body to shift the focus to hearing soothing sounds. For a class such as sound bath and vibrational therapy, participants typically are seated or lying down comfortably. Bowls are placed around the body and head for complete sound immersion.
In addition, some classes are more active, involving Vinyasa Yoga or Tai Chi. Finally, some one-on-one sessions are more focused on certain parts of the body that need help to relax. Sessions for all types of sound healing classes can last anywhere from 20 minutes to two hours.
How to Try Sound Therapy
At Fit, we offer a wide variety of group fitness classes. Experience the benefits of sound healing with our sound healing classes and crystal bowl special events.
Our upcoming Crystal Bowl Sound Immersion class on September 12th at East Village is now available. This sound practice will utilize seven crystal bowls, which are attuned to the seven primary chakras located along the spine. This tradition teaches that the "mind" is not simply contained within the confines of the brain and skull, but the "mind" is contained within the entire physical body. The chakras are energy centers that provide a road map to our holding patterns of predictable and mappable thoughts and feelings and emotions. Stuck energy in the form of negative, painful, or problematic emotions can lead to tension, tightness, and pain patterns throughout the body. This practice is designed to process through and resolve these holding patterns by moving energy. To pay and reserve your spot email rachel@fitathletic.com.
Use the power of your breath and try out this unique opportunity! Stay updated with Fit special events on our Instagram and newsletter.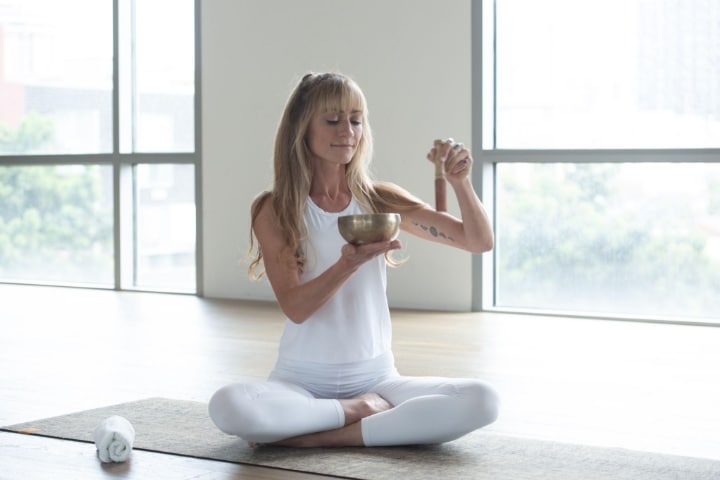 There's nothing better than that endorphin rush after a great workout. However, sometimes you find yourself in a fitness plateau and need extra support to achieve your fitness goals. In general, working out has many benefits, and people of all ages can benefit from it! Working out to get more toned, support weight loss, find mental relief, or learn more about fitness, working with a personal trainer can help you be accountable and achieve your goals. Here are our favorite reasons for hiring a Fit personal trainer for your fitness journey!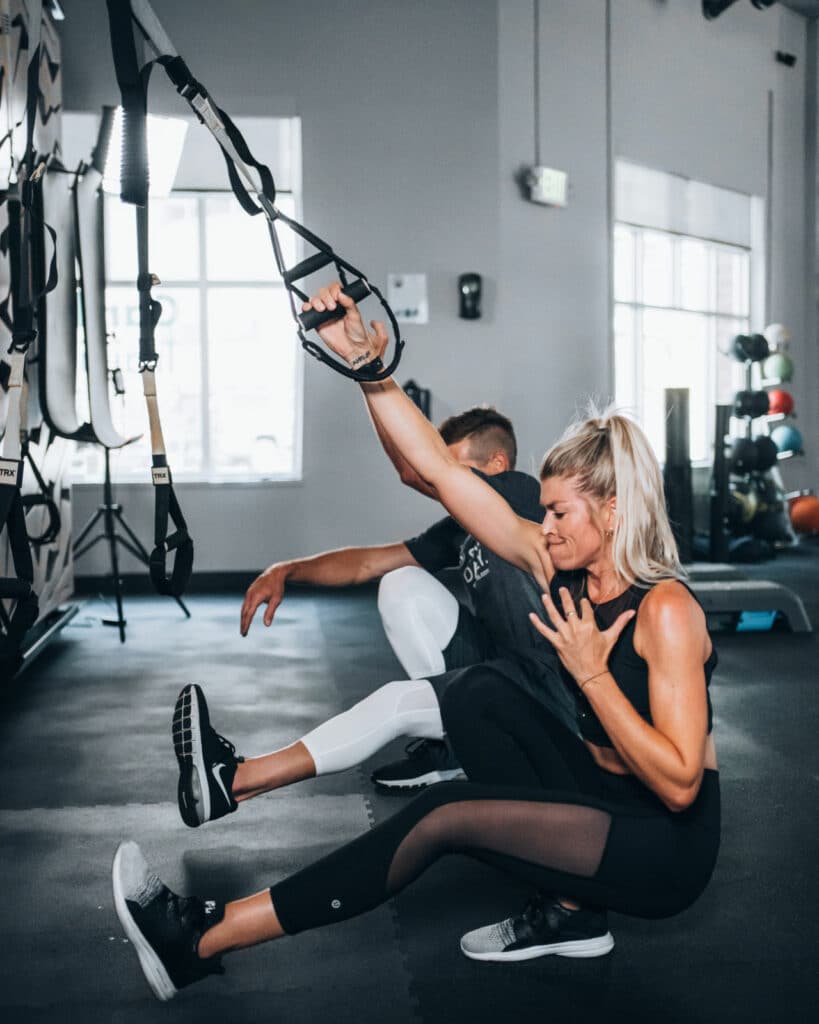 Bored With Your Old Workouts
If you've been working out for a while, you may find yourself bored with the old routine of your workouts. A personal trainer can be an excellent choice for you to help with workout burnout, weight loss plateaus, or an injury.
Working alongside a personal trainer can bring a fresh perspective. They can work with you to improve your program that may need adjusting to make your workout more enjoyable and challenging. They can give you a much-needed push to achieve your goals. They are also knowledgeable about new activities and equipment to show you a new workout!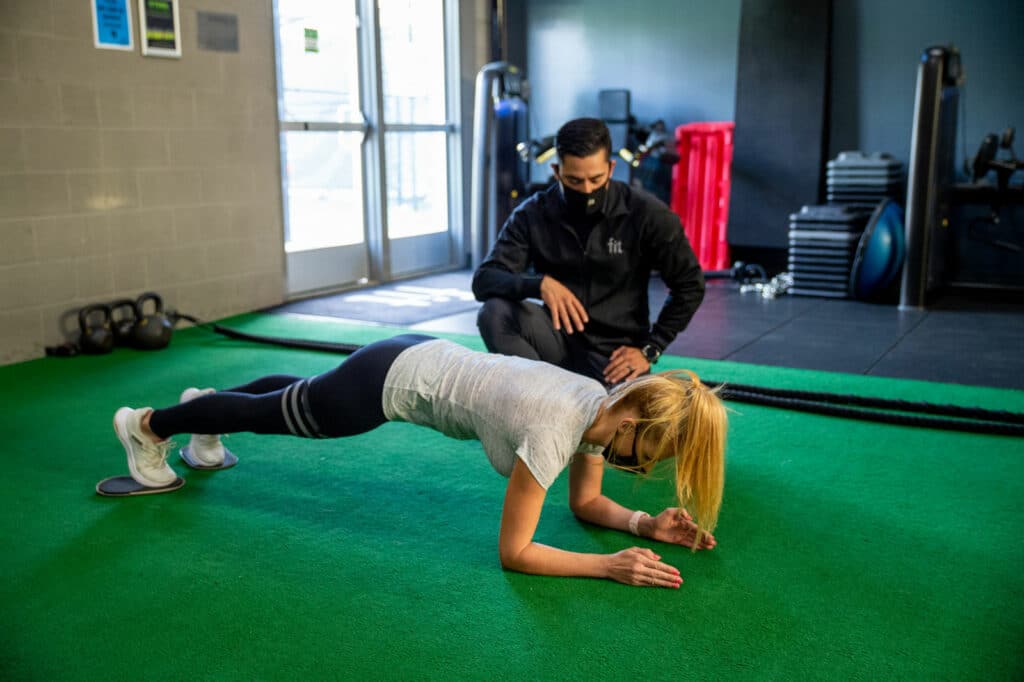 Try asking your trainer about circuit training, Tabata training, or different methods like supersets to challenge your body and mind.
Crush Your Goals
As your body gets older or used to the same workouts, you might find yourself on a fitness plateau. If you're looking to change your body or increase muscle mass, a personal trainer can help you achieve this. No matter your fitness level, a personal trainer helps you reach your goals. They understand how to activate specific muscles and for how long to train areas that are most needed.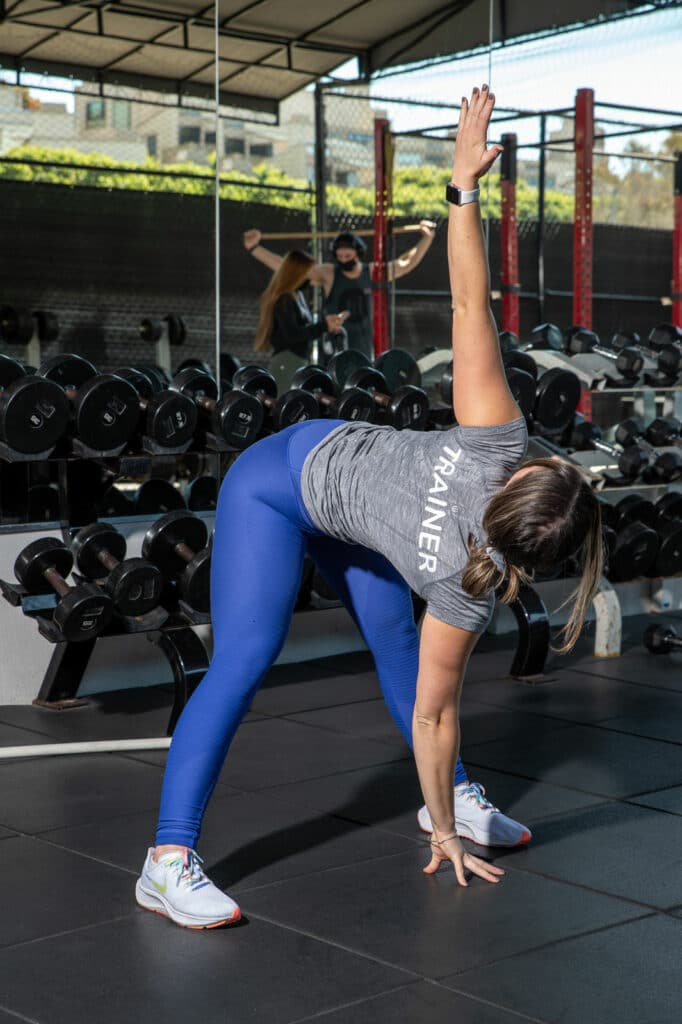 Learning More About Fitness
Even if you are knowledgeable about different types of workouts and enjoy exercising by yourself, hiring a trainer on a bi-weekly basis can benefit you! They can assist you in proper form or new kinds of workouts to build stamina and endurance.
Our trainers at Fit have specialized training in different expertise. They can help with targeted exercises to help with a specific aspect of your workout. For example, you might love working out independently but would like assistance with weight training to activate the right muscles without injuring yourself.
Our trainers can also teach you about muscles and how they work. Learning about this is essential if you want to work out independently at home or the gym.
Fit Personal Training
Fit Personal Training is powered by positive energy and driven by member results. Working with a trainer one-on-one creates an atmosphere of accountability between you and your trainer. Our trainers are experts at pushing you to your limit so you can reach goals you never thought possible.
If you're looking for expertise-based personal training in San Diego, Fit Athletic is a great choice. Our team comprises experienced trainers who are fully committed to helping you reach your goals and strengthen your health through customized exercise and personalized advice.
What to Expect on Your First Training Session
After the initial consultation and paperwork, your Fit trainer will get you sweating! Essential exercising you can expect include lunges, squats, or kettlebell swings, adjusting accordingly to your fitness level. Your trainer will take this time to have you perform a few initial fitness assessments to help you track your progress for the future and create long-term goals with you.
The frequency of your training sessions largely depends on your specific goals. For example, if your goal is to gain muscle and lose fat, we recommend attending personal training three times a week. Don't worry if you are not sure how often you should train- your Fit Athletic trainer can discuss everyday habits and goals to help you determine the best place for you. In addition, our inclusive gym is a safe and healthy place where you'll love to de-stress and boost your overall wellness. Sign up today!
Swimming is not only a popular sport but a great way to stay active, healthy and have fun! It's a healthy, low-impact activity that's beneficial for all ages. An hour of swimming can be just as helpful as running and easier on the bones and joints.
Health Benefits of Swimming
Swimming is an exercise that activates the whole body! As you move through the water, you're able to build endurance, muscle strength, and cardiovascular resistance- without stressing the body. This is a great all-around workout also to maintain a healthy weight, heart, and lungs. With almost all of your muscles being activated during swimming, this workout is beneficial for everyone.
Types of Strokes in Swimming
By using different types of strokes during your swimming workout, you can focus on other muscle groups. Some basic strokes you can use include:
Breaststroke: This stroke is executed by starting in a prone position with a coordinating kick. The legs are brought forward with the knees together; feet are turned out with a backward sweeping motion of the arms.
Backstroke: Start on your back and alternatively lift your arms out of the water in a backward motion, followed by legs extended and kicking.
Sidestroke: This stroke is similar to breaststroke—however, you alternate sides with this stroke.
Butterfly: Perform this stroke on the chest, with both arms moving symmetrically accompanied with a butterfly kick.
However, no matter what stroke you choose, the water resistance will still push your body for a full-body workout.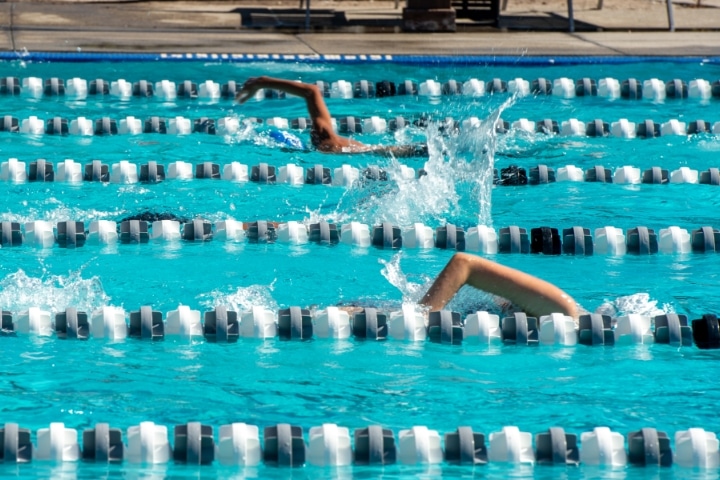 Additional Health Benefits of Swimming
Going for a swim has tremendous physical benefits, but it also has mental and preventative benefits. Scheduling in a few laps can be a great way to unwind and is a great way to find peace and alleviate stress. The resistance against the water trains the body to improve coordination, balance, posture, and flexibility. It's also a type of exercise that's low impact, meaning no hard pressure on joints, which can provide great intense impact therapy for injuries. Finally, swimming is accessible in many places! This exercise is a great way to cool down on a hot day, from swimming pools to beaches.
Safe For Everyone
Swimming is an exercise that can be safe for everyone. People who have arthritis, asthma, or other physical injuries can benefit and improve their health. In addition, swimming is a great aerobic workout for women who are pregnant and children. Remember to talk to your doctor before starting any new exercise programs with your related condition or are pregnant.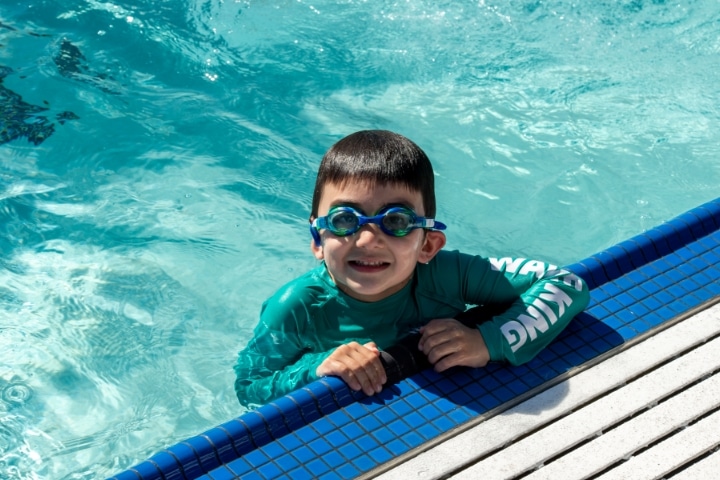 Swimming at Fit Athletic Club
Try your next swimming workout at Fit! All of our locations have premium amenities and water access for you to practice your swimming strokes. With our Little Italy and East Village locations, you can experience an elevated pool with cabanas for lounging in aftward. Fit Solana Beach has beach access for members to share ocean swimming. In addition, Fit Carmel Mountain and Mission Beach include an Olympic-sized swimming pool for swimming exercises, swimming lessons, and pool parties for kids!
Swimming is easy to incorporate into your workout routine at Fit. Sign up for your membership here to experience the benefits of swimmings!
There's a unique relaxing element to sitting in a sauna to unwind from the day or a workout! A sauna is a heated room between 158 and 212 degrees. This heated room is a great way to release toxins and a type of therapy that has been used for centuries. With over a million saunas in the United States alone, people gravitate towards this therapy for relaxation, cardiovascular health, and overall wellness for many reasons!
Relaxation
Traditionally, people use saunas to unwind, reflect and promote relaxation. The way your body relaxes in the sauna is due to increased heart rate, making the blood vessels dilate, ultimately increasing blood flow to the skin—improving skin circulation overall.
While experiencing the increased heat, your body's response is to– sweat! Within this, the sympathetic nervous system becomes more active to regulate body temperature. This experience can make you less perceptive to pain and more alert. In addition, the heat physically relaxes the muscles, which creates an elation of relaxation after a long day or intense training session.
Relaxation is one of the most popular benefits of using a sauna. When you relax your body physically, a relaxed mindset will soon follow. A mental relaxation tip could be to try practicing meditation or intentional breathing exercises.
Pain Relief
Pain relief is another benefit to why people incorporate saunas into their daily routine. When entering the sauna, pain relief occurs when your blood vessels relax and dilate in a sauna, blood flow increases. This therapeutic process help alleviates tension in the joints and relieves sore muscles. In addition, the blood flow can help ease the pain with arthritis and chronic pain.
Aids Weight Loss
Although long-term weight loss stems from burning more calories and increasing exercise– many people find that saunas help with weight loss. Losing weight directly in the sauna is more due to water weight; however, the heat in the sauna boosts metabolism, and essentials burn more calories than sitting stationary at room temperature.
Skin Clearing Benefits
Spending time in the sauna can have skin-clearing benefits. The heat from the room makes skin sweat and opens pores. The water in the air can then help bacteria in the skin wash away. If your skin is sensitive due to hormones or medications, saunas might not be suitable for you.
Reduces Blood Pressure
Having high blood pressure creates strain on the heart and can increase heart attack or stroke. Often, medical professionals will prescribe patients who have high blood pressure to use saunas to improve the function and mobility of blood vessels. However, it's always important to talk to your doctor for treatments with your medical treatments.
Using Saunas at Fit
At Fit, we are leading the way for an all-encompassing gym experience for over 13 years. Our gyms include premium amenities such as saunas and steams steam rooms! You can experience the excellent benefits of a sauna at the convenience of your Fit location.
For more information about Fit Athletic and memberships visit our website.
Breathe in, breathe out. Meditation and breathwork are simple practices with great benefits. Both are great to practice mindfulness, as well as promote long-term wellness. Here are the best ways to incorporate these practices into your lifestyle to relay mindfulness every day.
About Meditation with Breathwork
Meditation and breathwork work seamlessly together. Mediation is a technique used for mindfulness, where breathwork helps by calming the body down physically. Together, you can use these elements to elevate your daily wellness routine.
Meditation
Mediation is commonly known as a set of techniques to raise awareness and attention. Some people think of mediation by thinking about one object in particular to focus the mind. But meditation is much larger than a singular act; it's about focusing your thoughts on living in the present moment and remaining grounded. Meditation can be used to make revelations of the heart through the mind.
It's important to note that meditation has been practiced and valued in cultures worldwide for centuries. Many religions have traditions of using meditative exercises. While this is how mediation started- the technique has grown to many different types of practices.
Many people start to meditate by focusing on breathing as their "anchor" and letting the mind wander to let it clear and feel present ultimately. Meditation is more directed to feeling, healing, and manifesting.
Breathwork as a Type of Mediation 
Breathwork is the process of incorporating breathing techniques to change your breathing pattern intentionally. People practice breathwork for many different reasons– from improving your emotional state to lowering the body's stress. In general, meditation breathwork refers to various breathing techniques, exercises, and programs to focus on the awareness of breathing for a certain amount of time.
There are plenty of different types of breathwork exercises ranging from gentle guided practices to trauma-healing exercises. Many people experience breathwork practices in a yoga class or right before bed to clear their minds.
The Benefits
Emotional 
Practicing meditation can have mental and physical benefits. It can provide peace and balance that boosts your overall wellness. Performing meditation throughout the week can help you manage emotional conditions, translating to physical benefits by being less stressed!
Specifically, the emotional benefits of meditation can include:
Increased patience and tolerance
Stress management
Increasing creativity
Building self-awareness
Anxiety relief
Reducing trauma
Physical 
Meditation is helpful for physical benefits as well, significantly if you are greatly affected by stress. More research is being performed as we learn more about the benefits of meditation; however, recent studies have shown that meditation can help manage the following:
Anxiety
Asthma
Cancer
Chronic pain
Depression
Heart disease
High blood pressure
Irritable bowel syndrome
Sleep problems
Tension headaches
Ways to Practice Meditation Every Day
Meditation is a creative practice, with no "right" way to try it. Don't let this stop you from incorporating this into your daily lifestyle. What matters is that you make it work for you!
Breathwork: Try focusing all your attention on breathing deep and slow, counting your breaths, and holding breaths. This practice is a great way to slow your heart rate down and find immediate de-stress relief!
Walking: If you find more peace by moving- try walking! This can be a meditative practice by focusing on your breath, the movement of your body and not focusing on the destination you are going to. This can be a great way to re-connect and ground yourself.
Mantra: Whether your mantra is spiritual or a personal saying, try repeating it over as you relax or walk outside.
Take a class: At Fit, we offer various mindfulness classes from sound bowl healing, yoga, and meditation. With our highly educated instructors, you're able to experience the benefits of meditation at your favorite gym.
Meditation at Fit
At Fit Athletic, we focus on the wellness of the whole body. Each of our locations encompasses premium amenities to help you achieve your goals physically and mentally. Our Group Fitness yoga classes are available for guided meditations at every location, and our new sound bowl healing class available at the East Village location.
For class times, visit our website and Instagram to stay updated on Fit Athletic news.
Fitness is more than the body– it's the connection between mind, body, and soul. It's essential to prioritize our mental health, which is why our 'Your Brain on Fit' campaign is set to raise awareness and highlight Mental Health Awareness month. We want to take a step towards prioritizing mental health not only this month but into our lifestyles for the long run.
Fit Athletic Club and Wellness
Fit Athletic Club is not only a luxury fitness club, we aim to inspire healthy and inspired living. As we know, this past year faced many challenges. Our lives were transformed in more ways than we expected and mental health was pushed to the forefront. It's important to prioritize a healthy mind– studies show it drives monumental factors in life including maintaining good relationships, productivity, being physically healthy, coping with stress, and more.
At Fit Athletic Club, we create an inclusive community that prioritizes inspired living and taking time to address mental health.
Simple Mental Health Improvements
From preventive stress management to scheduling workouts that you can look forward to, will instantly help you heal and improve your mental health. Try these simple steps to improve your wellbeing throughout the week:
Schedule workouts that bring you joy– If you're forcing yourself to complete workouts that don't agree with your body, it contradicts the great mental benefits of exercise. Exercise boosts endorphins in your brain to stimulate happiness– you know, that "afterglow" effect after a workout that you love! If you're unsure of what the best workout routine is right for you, we recommend scheduling a time with our Fit Personal Trainers to talk through and create an exercise plan that works for you.
Find your community– Studies show that being a part of a supportive community creates a better quality of life, including improved physical health factors! With this in mind, 2020 highlighted the importance of social relationships and community. Whether it's an online community or surrounding yourself with like-minded people, a support system that encourages you to grow is essential. At Fit, we are a family of people who believe in full-body wellness and encourage each other on our health journies. One easy way to partake in our fitness community is our Group Fitness classes, with a wide variety of classes to choose from.
Stress management– Take time for relaxing activities that ground you. These calming actions physically make your body reduce muscle tension, blood pressure and slow your breathing to handle stress. Stretching, yoga, meditation, and saunas are easy ways to implement this into a daily routine. In fact, saunas are shown to help fight off depression, fatigue, anxiety, and appetite loss. All five of our Fit locations include premium saunas that are currently open.
Developing Long-Term Health and Wellness
Developing these simple strategies to improve mental health can result in long-lasting wellness. The goal for these tips and campaign is to create small improvements in our life to find long-term balance through wellness.
A large emphasis within the campaign is the importance of setting long-term goals that apply to you. For example, don't just set a goal to "prioritize working out", make it a priority to find movement every day that agrees with your body. Feel intuitive about how you want to eat and work out throughout the day to enjoy your wellness journey, as well as maintaining your hard-earned progress (instead of short-term diets).
Your Brain on Fit
Mental and physical health are linked. If one is off balance, the other can't work as well. When both are in good health, you feel a stronger feeling of who you are that translates to all aspects of life.
At Fit Athletic Club, our goal is to achieve a balance between the two. Our gym and high-end amenities are here to help you keep your physical and mental health in check. Check out our saunas, Group Fitness, Certified Personal Trainers and get involved with our fitness community- we are here to promote your mental health long-term wellbeing!
Restoring your mind and body is just as important as the hard work you put in throughout the week. Taking the time to find the balance between rest and work will help you from burnout or fatigue, and even maximize your productivity.
Focus on Sleep
Sleep is one of the most restorative activities you can do for your mind and body. A great night's sleep for an adult includes seven to nine hours of uninterrupted sleep. Our internal "body clock", known as your circadian rhythm, controls a 24-hour cycle of your body and lets you know when to fall asleep and when to be alert. When your circadian rhythm goes "off track" it's harder to see the great benefits of sleep.
Having a proper night's sleep is essential for brain function and metabolism regulation as well! Without it, there's a higher risk for certain diseases and medical conditions. Try the following to help develop an established sleep schedule.
Develop a schedule: sticking to a reasonable schedule for when to wind down before bed and when to wake up is ideal for your body.
Make your bed a stress-free environment: contract a comfortable sleep environment to de-stress your mind to fall into a deep sleep. The quality of your sleep can also be affected by light, so make sure to sleep in a dark room to reach all stages of your REM (deep sleep) cycle.
Exercise: Exercising regularly will help the body release stress hormones and allow you to get burn out all extra energy that can keep you up at night.
Practice Breathing Exercises
Breathing exercises are a great way to ground your mind and body. Often found in yoga teachings, the practice of Pranayama breathing teaches you to consciously breathe in awareness. This deep breathing affects you by activating your parasympathetic nervous system, which slows down your heart rate and blood pressure, making the body feel calm. Our bodies are faced with everyday stress, which puts us in a fight-or-flight response, which leads to the release of stress hormones that make our body feel contracted and anxious. Breathing deep helps reverse this process and relax the body.
Try these exercises to help you breathe deep:
A full breath cycle: use muscles from not only your diaphragm but your neck and chest, to engage your abdominal muscles and get the maximum amount of oxygen to your body.
Box breathing: this intentional breathing exercise is used specifically to calm to fight or flight response in the body. Breathe in for four counts, hold for four counts, breathe out for four, and hold for four.
Meditation: this ancient practice focuses on the breath to intentionally calm the mind and bring awareness to the body.
Sweat It Out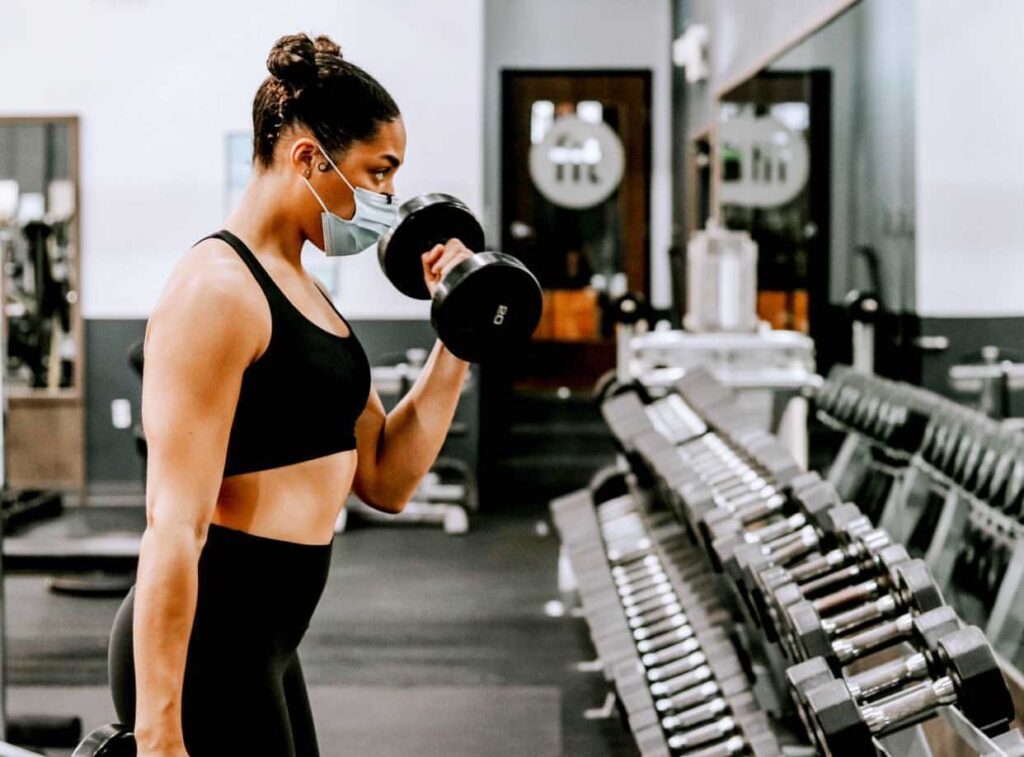 Exercising and sweating have many restorative benefits for the body. Exercising regulates mood and healthy immunity. In conjunction, sweating stimulates the lymphatic system, which removes heavy metals, chemicals, and bacteria from your body.
Make sure you're doing the right workouts for your body–  a FIT personal trainer can help you! Together you can create a custom plan to achieve your health and wellness goals that can help you develop a workout routine. Hop into the sauna room after to help with sweat-boosting lymphatic drainage!
Dial-In Nutrition
Incorporating proper nutrition into your lifestyle helps the body restore muscle and transmit the nutrients it needs. Some of the nutrients you should always include is the following:
Protein: You can get protein from animal and plant-based foods. Protein provides the building blocks of the body, and not just for muscle. Every cell, from bone to skin to hair, contains protein. Protein is used primarily for growth, health, and body maintenance.
Carbohydrates: The carbohydrates you want to include should be grains, beans, and fiber-rich fruits and vegetables. Loading up on whole-based carbohydrates will protect the body against disease and help function the brain and central nervous system.
Healthy Fats: Fats help the body absorb minerals it needs to function, muscle movement, and building cells.
Vitamins: Your body needs a variety of micronutrients to function properly, about 13 essential vitamins are needed including Vitamin A, C, B6, and D.
Water: H20 may be something we don't always think about when factoring in our nutritional needs– however, water is crucial for anything to function properly in your body– about 62 percent of your body weight is water. It helps function the brain and mood, flushes out toxins, and carries nutrients throughout the body.
Stretch
Restore your body properly with stretching, and it's one of the simplest ways to reset your muscles. Stretching is for everyone– especially for people who sit and stand all day or athletes. Practicing stretching helps resolve tension in the body, and create better circulation to carry nutrients to tissues. Stretching also is a great way to calm the mind to reset thoughts throughout the day.
With the launch of our new Group Fitness classes, you'll have the opportunity to join group classes that include restorative yoga. This is a great way to fit stretching into your daily routine or busy schedule.
Fit For You
Fit is here to help you achieve balance and restoration for your mind and body. From our Group Fitness classes, personal training, and other luxury amenities, you can use these practices to implement rest throughout your week.
No matter what your favorite way to sweat is, we know how important it is to keep up a consistent workout routine to maintain a healthy mind, body, and spirit. Hopefully, you have been keeping up a good exercise regime using one of our virtual training programs while our Fit clubs are temporarily closed. However, we understand that you enjoy working out at the gym for a plethora of reasons like the equipment, environment, personal training, classes, and culture to name a few. It is challenging to stay motivated when you are thrown off of your routine. So, don't feel bad if you've taken a step back without having access to your usual amenities. We miss seeing your shining faces in person as much as you miss having access to the facilities, and we can't wait to get you back to Fit! We are taking this time to prepare for a sweet and safe post-pandemic reunion with our beloved Fit Family!
As the vaccine rollout is happening, now is the time to get your body ready to return back to Fit and a little sense of normalcy. We are eagerly awaiting the news of when we can open our doors again. Don't worry, you will be the first to know when we get the go-ahead! In the meantime, here are 4 tips on how to safely prep your body for a post-pandemic return to the gym.
We're Getting Ready to Welcome You Back
While you are getting your body ready to head back to the gym, Fit is getting ready to welcome you back to our clubs with the amenities you've been missing during our temporary closure. We miss you all so much and are taking necessary precautions to ensure that our facilities are clean, safe, and ready to kick your butt once it is deemed safe to return! In the meantime, you can take advantage of our Virtual Training to help stay on top of your fitness goals and prep your body for the sweet post-pandemic return to the gym!
Yes, our Little Italy gym will soon welcome all the fitness enthusiasts and professionals who are ready to embrace a healthy lifestyle. Not only does our new gym boast an authentic setting in the boutique Carte Hotel, but it also brings you a range of fitness amenities that will elevate your workout to a whole new level.
At our new facility, you'll be able to lose more than just a few extra pounds. We will help you gain more confidence and strength, adopt healthy habits and level up your mindset. Get ready to shed the dissatisfaction with your body and transform your lifestyle!
What every gym should have?
In addition to opening in a vibrant, close-knit community, our outstanding Little Italy gym has so much to offer. The moment you enter our new fitness facilities, you'll find out why fitness enthusiasts around San Diego have been waiting for our new club with nothing but excitement.
Simply put, we have it all and we're ready to bring it to you! Have you dreamt of enjoying an inspiring yoga session with a view of San Diego Bay? Or would you prefer socializing with other members, sharing ideas, advice, and unforgettable moments? Just visit our gym as soon as it opens and get everything you need to be fit, healthy, and happy in one place!
"But, what exactly does your gym near me bring to the table?" you may ask. Well, everything you need to achieve your desired fitness goals, and more! Here's what you can expect from our upcoming fitness sanctuary.
Experienced trainers & friendly staff
The leading fitness professionals await you in our advanced fitness center in Little Italy. Assisting our community members in achieving their desired goals is among the most important fitness instructor duties and responsibilities of our trainers. Our team is highly qualified and professionally educated to work with individuals of different ages, providing them with tailored fitness plans.
Working with our personal and group instructors in Little Italy will be a true pleasure since we've handpicked patient, experienced, and amicable experts. In addition, our service staff is also here to accommodate your requests and maintain a pristine facility that matches the style and glamor of the Carte Hotel.
Innovative facilities with high-end equipment
Our Little Italy gym features an appealing, modern, sleek look that reflects the elegance of the surrounding areas. Stretching over 28,000 square feet, our new fitness club has everything you need to lose weight, tone your muscles, increase your flexibility, change your diet, and more. At our new facilities, you'll find the best commercial gym equipment in the region.
On top of all this, your new favorite gym will also charm you with some unique areas. For instance, you'll fall in love with our rooftop heated pool with a spa zone for relaxation. Yes, you heard it right! We mix business with pleasure by providing our gym members with an opportunity to work out and have fun to their hearts' content.
A range of personalized fitness courses
Do you want to join the best health and fitness courses San Diego has to offer? Then be the first in line when our new gym opens in Little Italy. Our fitness team specializes in a range of physical activities and plans, so there's no doubt you'll find a class that meets your needs.
Whether you want to join a group training, try hot yoga classes, or engage in strength and cardio training, you can do so at our fitness center. We offer a variety of fitness courses, so the only thing you need to do is to discover which one meets YOUR needs.
What is the best gym membership?
This one is easy! The one that gives you all of the mentioned benefits. But that's not all! Here at Fit Athletic, we believe that a gym is more than just a place to work out. That's why we're ready to take things up a notch in our Little Italy gym and provide our community members with:
Day passes and corporate wellness events
Free training sessions for friend referrals
Steam rooms, sauna, showers, locker rooms
Nutritional advice and healthy foods
Cozy and relaxing lounge areas
Free towel service
Valet parking
When will Fit Little Italy open?
Sooner than you think! In fact, you can plan your visit to our new gym the beginning of next year. Yes, that's right! The opening ceremony is scheduled for 2020 and we'll be more than glad to celebrate this day with you.
Reap all the benefits of regular physical activity while simultaneously enjoying one of the most luxurious gyms in San Diego. Discover what our new gym has to offer!