Yes, our Little Italy gym will soon welcome all the fitness enthusiasts and professionals who are ready to embrace a healthy lifestyle. Not only does our new gym boast an authentic setting in the boutique Carte Hotel, but it also brings you a range of fitness amenities that will elevate your workout to a whole new level.
At our new facility, you'll be able to lose more than just a few extra pounds. We will help you gain more confidence and strength, adopt healthy habits and level up your mindset. Get ready to shed the dissatisfaction with your body and transform your lifestyle!
What every gym should have?
In addition to opening in a vibrant, close-knit community, our outstanding Little Italy gym has so much to offer. The moment you enter our new fitness facilities, you'll find out why fitness enthusiasts around San Diego have been waiting for our new club with nothing but excitement.
Simply put, we have it all and we're ready to bring it to you! Have you dreamt of enjoying an inspiring yoga session with a view of San Diego Bay? Or would you prefer socializing with other members, sharing ideas, advice, and unforgettable moments? Just visit our gym as soon as it opens and get everything you need to be fit, healthy, and happy in one place!
"But, what exactly does your gym near me bring to the table?" you may ask. Well, everything you need to achieve your desired fitness goals, and more! Here's what you can expect from our upcoming fitness sanctuary.
Experienced trainers & friendly staff
The leading fitness professionals await you in our advanced fitness center in Little Italy. Assisting our community members in achieving their desired goals is among the most important fitness instructor duties and responsibilities of our trainers. Our team is highly qualified and professionally educated to work with individuals of different ages, providing them with tailored fitness plans.
Working with our personal and group instructors in Little Italy will be a true pleasure since we've handpicked patient, experienced, and amicable experts. In addition, our service staff is also here to accommodate your requests and maintain a pristine facility that matches the style and glamor of the Carte Hotel.
Innovative facilities with high-end equipment
Our Little Italy gym features an appealing, modern, sleek look that reflects the elegance of the surrounding areas. Stretching over 28,000 square feet, our new fitness club has everything you need to lose weight, tone your muscles, increase your flexibility, change your diet, and more. At our new facilities, you'll find the best commercial gym equipment in the region.
On top of all this, your new favorite gym will also charm you with some unique areas. For instance, you'll fall in love with our rooftop heated pool with a spa zone for relaxation. Yes, you heard it right! We mix business with pleasure by providing our gym members with an opportunity to work out and have fun to their hearts' content.
A range of personalized fitness courses
Do you want to join the best health and fitness courses San Diego has to offer? Then be the first in line when our new gym opens in Little Italy. Our fitness team specializes in a range of physical activities and plans, so there's no doubt you'll find a class that meets your needs.
Whether you want to join a group training, try hot yoga classes, or engage in strength and cardio training, you can do so at our fitness center. We offer a variety of fitness courses, so the only thing you need to do is to discover which one meets YOUR needs.
What is the best gym membership?
This one is easy! The one that gives you all of the mentioned benefits. But that's not all! Here at Fit Athletic, we believe that a gym is more than just a place to work out. That's why we're ready to take things up a notch in our Little Italy gym and provide our community members with:
Day passes and corporate wellness events
Free training sessions for friend referrals
Steam rooms, sauna, showers, locker rooms
Nutritional advice and healthy foods
Cozy and relaxing lounge areas
Free towel service
Valet parking
When will Fit Little Italy open?
Sooner than you think! In fact, you can plan your visit to our new gym the beginning of next year. Yes, that's right! The opening ceremony is scheduled for 2020 and we'll be more than glad to celebrate this day with you.
Reap all the benefits of regular physical activity while simultaneously enjoying one of the most luxurious gyms in San Diego. Discover what our new gym has to offer!

The very moment you arrive at the opening of the Fit gym in Little Italy, you'll discover that fitness and luxury can go hand in hand. Our Fit Little Italy gym will be the new favorite hotspot of everyone who wants to enrich their lifestyle and improve their wellbeing.
Visiting our new gym will give you an opportunity to become your best self surrounded by like-minded individuals in a setting that inspires you to overcome even the most challenging obstacles. Fit brings you the gym you've been waiting for: one designed to delight and equipped to inspire. And all this comes at a location you cannot but love.
Where will Fit Little Italy be located?
Featuring one of the most charming Fit gym locations yet, our newest fitness facility is located in the heart of Little Italy. In fact, it's an integral part of the luxe Carte Hotel San Diego, offering hotel guests access to one of the city's most unique gyms.
The hotel itself is an emblem of elegance and sophistication, boasting no fewer than 246 lavishly designed rooms with all the comforts you could wish for. As you relax in your comfortable and cozy hotel room after a rewarding and energizing workout, you can admire the view of the Embarcadero waterfront.
Here, you can start your day working out in the exclusive Fit fitness facility and then recharge your energy over a delicious meal overlooking the sea. There's more! You can savor and sample all the cocktails and wines the hotel has to offer without worrying about a few extra calories. You have the city's most eagerly expected gym on your side!
What perks and comforts does the gym offer?
Aside from the amenities that every gym should have, our Fit fitness hub brings you a few other perks that will truly delight you. Our facilities offer you state-of-the-art equipment in combination with a relaxed, pleasant, and welcoming atmosphere. At our gym, you can look forward to both outdoor and indoor workouts that guarantee maximum health and fitness benefits.
"What can your fitness haven offer that other gyms near me cannot?" Well, our gym is located in one of the most popular boutique hotels in San Diego, covering 28,000 square feet. This means that plenty of fitness zones await you, from yoga areas to steam rooms and saunas.
Towel service and an exceptional locker room are also one of the comforts you can enjoy at this Fit Athletic gym. However, the best and most exciting of them all is the ultimate relaxation experience and alfresco ambiance – the rooftop pool with a soothing hot tub.
Which gym is the best to join?
With all the perks that our gym offers, the unique setting of Carte Hotel, friendly staff, experienced trainers, and class variety, there's no better gym for your fitness needs than our Fit Little Italy.
With our professional assistance and fully equipped facilities, achieving your fitness objectives will be easier than ever before. Not only will you have all the support you need from your personal trainers, but you'll also be able to reach your full potential in the company of enthusiastic, like-minded gym members.
Finally, our fitness club in Little Italy is also stocked up on healthy foods, snacks, and beverages. This means that your physical transformation can be accompanied by a healthy diet that will help you achieve optimal results!
When does Fit Little Italy open?
You can expect the new Fit Athletic club to open in 2020, so the ultimate workout experience in a one-of-a-kind environment is just a few months away. Of course, our other facilities across San Diego are also at your disposal until our Little Italy location opens.
At our fitness club, not only will you get the recommended amount of physical activity, but you'll also have fun doing so. We invite you and other fitness enthusiasts to join us and cut the ribbon. Welcome!

Protect Yourself From These Common Sports-Related Injuries
Getting in enough physical exercise is important for our health. Yet, whether that physical activity involves working out at the gym or participating in sports, it's important not to overdo it. Pushing yourself can lead to common, yet painful injuries. Being aware of ways to avoid these injuries can help you stay safe, while pursuing your fitness or sports goals.
Head injuries
These types of injuries are more common in competitive team sports and include everything from traumatic brain injuries to incidences of TMJ. Trauma to the jaw or skull is generally responsible for swelling or a fracture of the bone of the skull in both these types of injuries. That's why regulations for contact sports, such as football or hockey, set guidelines for wearing face and head protection. While some types of sports don't require this type of protection, that doesn't mean there isn't a risk of a head injury. For instance, TBI incidences are still common in sports like basketball and soccer, even though the players don't wear helmets or mouth guards. In any physically active sport, it's wise to consider wearing a helmet or similar protection to protect your face and head.
Neck Pain
When the neck becomes misaligned, it can cause pain that won't seem to go away, but this isn't necessarily due to an injury. In fact, it can begin in the office, while you're working at you desk. Your neck becomes misaligned through poor posture, but the pain can really intensify later, when you hit the gym. It can become a bigger problem as you lay on the weight bench, if you don't ensure your neck and upper back are fully supported against the pad. Doing lifts that force you to raise your hands over your head can really aggravate the condition. To strengthen these muscles, do reverse shrugs with the lateral pull down bar, adjusting the weight to a comfortable level. Just pull the bar down to 3-4 inches in front of you.
Lower Back Strain
This is a common injury at the gym, especially with those who don't practice a proper form. Like the neck, the back relies on proper posture and, when it doesn't get that support, it can cause a strain in the lower back. A sharp pain, while doing squats can be an indication that you've put a strain on your back. To prevent this type of strain, practice working with your neutral back posture, before you begin lifting or doing squats. By laying on your back with your knees bent and your feet flat on the floor, you can experience your natural posture. Get comfortable with this posture, before advancing your workout.
Stress Fractures
These a tiny, hairline cracks in the bones of the lower legs, shins, and feet. Generally, they are caused by performing a repetitive motion too excessively, or they can be caused by overexertion. Symptoms of stress fractures include sharp, shooting pain in the foot and shins, making it difficult to walk. Jumping, running, walking, and even standing still can cause the pain to grow worse and the area around the shin and ankle may swell. To prevent stress fractures, start slowly and increase the intensity of your workouts gradually. Each week, you can boost your workout safely by 10%, giving your body time to adjust and build muscle.
Sprained Ankle
This is common in every sport, among runners, and also in gym workouts. This often happens when you're running and not paying attention to your footing. A misstep can cause your foot to twist beneath you, bending the ankle in an awkward position. The best way to prevent sprains is to run or jog on flat, even surfaces. If you're on the treadmill, don't forget to wear the clip that will stop the machine if you lose your balance. Outdoors, try to stay on concrete when running, as natural trails may be uneven and littered with branches and rocks.
Staying safe is important during any physical activity. To that end, be sure to wear the proper protective equipment and follow safety guidelines for that activity. While getting a good workout is your goal, overdoing it can lead to accidents and injuries that may leave you sidelined.
5 Reasons Why Warm Up Exercises Are Important
The importance of warm–up exercises should be considered by anybody who works out. Although warm–ups probably won't help much with burning calories or building muscle, they're crucial to the success of a workout! Before you even think about running or using the machines at the gym, you ought to make sure you complete a warm up and do a few stretches – but what makes them so important? 
1 . They help to increase body and muscle temperature
A good warm-up will raise your body temperature, which is particularly helpful to your muscles. As your muscle temperature increases, oxygen becomes more available to your muscles, allowing them to contract and relax more easily – so you'll be able to perform more strenuous tasks with ease. Your heart is also given a chance to prepare, meaning it won't be too strained during your workout. 
2 . You'll reduce your risk of injury
The last thing you need when you've been faithfully attending the gym and reaching your goals is to become injured. Warming up will improve muscle elasticity and allow for efficient cooling, meaning less chance of accidentally hurting yourself or overheating during your workout and ruining your day! 
3. They can help you to mentally prepare

 
Jumping straight into a workout without being adequately prepared can throw you off completely, especially if the preparation is mental rather than physical. It's easy to give up when working out gets difficult, but you'll be much less likely to do so if you've given yourself time to remember why you're working out. Use your time warming up to think about what you're about to do, guaranteeing that both your body and mind will be ready to succeed. 
4. You'll increase your flexibility, which will help with other exercise
Stretching is often considered something that should be done in addition to regular warm–ups. Stretching will increase blood flow to your muscles, and allow your body to increase its flexibility in both the short and long-term – always a plus when it comes to properly performing a workout. Stretch after you've already completed your warm up, as stretching when your muscles aren't properly warm can lead to injury. 
5. You'll be ready to tackle the heavy-duty machines at the gym
Using machines to help build muscle is a great way to spend your time at the gym, but they shouldn't be used before you've had a chance to loosen your joints! Warming up will ensure that both your body and mind are in the right state to handle gym equipment, again reducing your risk of injury.  
As well as a good warm-up, workout preparation should also involve ensuring that you have suitable equipment for the exercises you'll be doing. Crossfit, for example, can be enhanced by the use of accessories; particularly helpful for its Workouts of the Day are resistance bands and palm guards. 
Popular warm-up exercises you might like to try include jogging on the spot for several minutes, cycling, or even simply performing your workout at a much slower pace to prepare your body. For your stretches, try static stretching, which involves stretching a muscle slowly and holding it in place for up to thirty seconds. 
The benefits of warming up are evident, and warm ups will help you to achieve your goals at the gym; it's therefore clear that warm-up exercises should not be overlooked by gymgoers at any level. Once you've prepared your body and mind and done some stretching, you'll be ready to make the most of your workout! 
Kefir is a unique fermented beverage that contains probiotics and other nutrients that are beneficial for many things, such as improved digestion and immunity, weight control, and building lean muscle mass. While most kefir products are cow, goat, or sheep milk based, there are 3 basic types of kefir: dairy milk kefir, coconut milk kefir, and water kefir. For the purposes of this article, we will focus on the dairy milk kefirs and how you can benefit from drinking these after a workout.
What is Kefir?
Kefir is similar in taste to yogurt, only in a drinkable form. It contains many of the same beneficial bacteria as yogurt, but it is thinner in consistency and contains almost no lactose. Lactose is the naturally occurring sugar in milk.
Kefir is made by fermenting the milk kefir grains. These aren't actually grains at all. They are gelatinous masses that have different types of bacteria and beneficial yeast mixed in with milk proteins that are capable of fermentation at room temperature. The grains are removed from the milk and can be used to make a fresh batch of kefir, similar to how sourdough starter is repurposed. The end product is a very digestible dairy beverage that is loaded with beneficial bacteria, also known as probiotics.
Nutrients and Workouts
In addition to the beneficial probiotics, dairy kefir is a good source of protein and essential amino acids. 1 cup of kefir contains approximately 10 grams of protein. The whey protein in dairy products helps your muscles to recover after exercising, according to a 2011 review in The Proceedings of the Nutrition Society. The type of protein in kefir, casein, is a slower digesting protein. This may help your muscles to synthesize the protein for longer durations of time, thus promoting muscle growth.
Kefir also contains magnesium, calcium, and vitamin D. Magnesium and calcium together are essential for maintaining a healthy and calm central nervous system. This is beneficial for regulation after intense cardio workouts. Calcium and vitamin D together are necessary for bone health, according to The National Institutes of Health. Strength and resistance training, followed by drinking kefir will benefit your bones.
The B vitamins, including B12, are abundant in kefir. B12 is a natural energy booster. If your workout is intense, zapping your energy, you would do well to have a glass of kefir to restore energy, rather than reaching for a sugary energy drink.
Weight Control
After working out, you might feel famished and want to reach for a high-sugar, high-carb snack to get a quick, but temporary, recharge. This might make you feel good for a short period of time, but it will spike your blood glucose levels unnaturally with pretty empty calories. It won't satiate you like healthy lean meals with plenty of protein and fresh produce will. You will be hungry again very quickly and may find yourself eating more than you need to.
If time is limited, and sitting down to a meal isn't possible, consider having a nutritious smoothie made with kefir and fresh fruit. The Harvard School of Public Health noted in 2014 that "full-fat dairy may help control weight because it promotes more of a feeling of satiety and the fatty acids in full-fat dairy may help with weight regulation".
While the newest diet trends for building strong bodies and controlling weight are leaning more toward eliminating grains, sugar, legumes, and dairy, there is some hard evidence that the protein, probiotics, and other nutrients found in fermented dairy may be the exception to current thinking. Chris Kresser, LAc, a leading authority on Paleo nutrition, refers to kefir as the "not-quite-Paleo-superfood".
The next time you finish an intense cross-training workout, a boot camp session, circuit training, or whatever you enjoy, try drinking some kefir for muscle repair, satiety, bone health, and an energy boost. Be mindful of how you feel compared to having an energy drink or a high-carb snack.
At some point everyone faces setbacks on the road to fitness. While it is easy to beat yourself up about missing a workout or hitting a weight loss plateau, it is important to keep moving forward. To get back on track, use these tips that will help you forget that you ever experienced a setback.
Revisit Your Goals
Start by taking a second look at your goals to make sure you didn't set standards too high and overwhelm yourself. You can eventually hit your goals if you break loftier goals into smaller ones that give you a sense of achievement. If you have recently experienced an injury or new health condition, then it is important to alter your goals to fit your current level of physical health.
Practice Visualization
Once you have your goals set, it is time to start thinking about the future. Professional athletes utilize visualization techniques to hone their focus before competitions and you can use this same method to increase your motivation. Whether you are looking to finish a marathon or need to master that complicated gymnastics routine, spend a few minutes each day visualizing what you want to happen.
Go Public With Your Intentions
Having goals is important and sharing them with others helps to keep you accountable. Let your coach or best friend know what you are attempting to accomplish. Alternatively, you can create a social media post or start a blog detailing your journey. Whatever method you choose, make sure to keep the people involved updated, and invite them to ask you about your achievements along the way.
Think About the Non-Physical Benefits
People often get frustrated when they don't feel like they are seeing the effects of their workouts on their body. Instead of getting stuck ruminating on a scale that won't move or your inability to lift that certain amount of weight, try to see that each workout builds your stamina along with improving your mental health. That elevated mood you get after a strenuous workout is just as important as looking amazing in your swimsuit.
Change It Up
Boredom is a big reason for fitness setbacks, and losing motivation means that it is time to change up your routine. As you plan for changes, try to come up with ideas that are completely different for your normal routine but that will increase your skills. For example, a football kicker might take dance lessons to fine tune their kicking skills while still enjoying a cardio workout. Alternatively, a swimmer might go for a long run to increase their stamina. Just doing something out of your normal routine will kick start a positive attitude making your regular workouts more interesting.
Establish a Reward System
While it might be tempting to go out for a luxurious restaurant meal after winning that marathon, it is important to stick to healthy rewards. Giving yourself little markers for your achievements helps improve your motivation while reinforcing positive behaviors. Consider giving yourself something fun like a stadium blanket with your favorite team's logo, or you could get some new gear such as running shoes. Either way, rewarding yourself sends signals to your brain that will keep you wanting to achieve even more.
Get Inspired
Remembering why you care about fitness is as simple as watching others who also pursue a healthy lifestyle. Take a break from your regular workouts, and go watch a professional or high school sports team in your field of expertise. From catching a football game to enjoying a gymnastics competition, watching others playing at their peak performance will help you renew your determination to hit your fitness goals.
Make It Social
It's possible that you have been focusing too much on your workouts and not enough on how much fun physical fitness is when you add some friends. Get your friends or teammates together and head to the park for a game of soccer. Alternatively, you could schedule a weekly jog with a friend. Even walking with another group of moms as a stroller group turns a mundane workout into an uplifting experience, and having someone depending upon you to show up helps keep you accountable.
Set a Schedule
Changes in your routine are another common reason for setbacks that are easily correctable. Getting sick, having a baby or starting a new job are all potential hindrances to your normal workout schedule, and it is possible that you just need to change it up. Think about what happened before you got off track, and see where changing your workout schedule might help. For example, you may just need to get up an hour earlier in the morning instead of doing your jog at night. Once you set your schedule keep in mind that flexibility is still important. On days when you can't stick to your routine, have a backup plan such as breaking your workouts up into smaller chunks so that they are more manageable.
Talk to any professional athlete, and they will tell you that setbacks happen to everyone. The important thing is to not let it deter you from accomplishing your goals. While you can't take back the time that you have lost, you can take control over the future by implementing these strategies for getting back on track. By renewing your focus and adjusting your workout routine as needed, you will be able to accomplish every one of your fitness goals.
Oh, exercise. We all know that we should do it, we all understand its benefits and yet so many of us struggle to make it a daily part of our lives. It's not necessarily because we're lazy; rather, we all deal with mental roadblocks that keep us from lacing up our gym shoes and hitting the jogging path.

If you struggle to find the motivation to hit the gym, don't sweat it. (Pun intended!) Instead, use these eight motivational methods to help yourself to get into a better mindset to make exercise a regular part of your life.

1. Visualize Your Goals

There's no shame in physical changes being a huge motivator for you to workout. Plenty of people exercise primarily for aesthetic reasons. This is why it can be useful to visualize what you would like to look like. Whether that's an older version of yourself or a popular Instagram fitness model, there's nothing wrong with focusing on what you would like your end goal to resemble.

2. "Just Do It"

Nike didn't come up with this phrase randomly. The concept of "just doing it" can be incredibly helpful when you're trying to get into a fitness mindset. If the idea of hitting the gym feels overwhelming, then just get up off the couch and go for a walk around the block. You'll have done something, which is better than doing nothing.

3. Write Out Your Intentions

Putting pen to paper can be a great way to make your goals seem more real. It's a good idea to sit down and actually write out an exercise schedule that you'd like to follow. Try not to plan for too much too soon. If you've been a couch potato, don't start out with a full week of difficult boot-camp classes.

4. Consider The Non-Body Benefits

Sure, a lot of us workout because we want that swimsuit body. But there are other benefits to fitness, such as combatting depression and addiction. For example, many facilities offering sober living in Los Angeles advocate fitness as part of therapy. If the physical results aren't enough to motivate you, focus on the other benefits of exercise. Addiction Helper states "Taking up a sport will keep you active and healthy and will ensure that you always have something to do. Team sports will also mean meeting new people, which is an added bonus. That is why sports plays a massive part in the recovery process fro recovering addicts."

5. Stop Focusing On The Scale

Focusing on the scale can be frustrating and discouraging. After all, our weights fluctuate and you rarely see quick results at the beginning of a new fitness regimen. Instead, try focusing on athletic achievements. For example, if you can only run a mile, keep training until you can run two miles. Focusing on your accomplishments instead of your weight can be far more motivating.

6. Reward Yourself For Accomplishing Goals

No, we're not talking about rewarding yourself with pizza or beer. Instead, promise yourself a non-food treat if you stick to your fitness schedule for a month. A great reward would be a new dress or suit, which you'll probably need if you've stuck to your program.

7. Recruit A Friend

If you're trying to meet fitness goals, odds are one of your friends is as well. Recruit a like-minded buddy to be a source of motivation, inspiration and accountability. The two of you can keep each other on track and help one another to stay motivated.

8. When You Fail, Get Back On The Horse

So many people beat them+selves up when they miss a day of working out. While it's great to stick to your fitness goals, keep in mind that even professional athletes occasionally skip a day. If you miss a day of working out or fall off of your set schedule, don't beat yourself up. This is bad for motivation and bad for your morale. Instead, just pledge to get back on that horse the next day.

Exercise isn't just beneficial to our bodies, it's beneficial to our minds and overall senses of wellness. If you use these tips, you can stay motivated and stay on track as you work to accomplish your fitness goals. Remember that getting in shape is a marathon, not a sprint. Pace yourself and eventually you'll get to where you want to be.
By Dr. Rafael Ramon; Acru Health: Precision Chiropractic
We all know that we should get more sleep, but what is the lack of sleep actually doing to our bodies? We tend to sacrifice your sleep for friends, work, family, or the next big thing. While I can respect the fact that so many of you are trying to do something amazing with your life, you have to realize that quality sleep is a non-negotiable. What ever you are trying to accomplish it can be done faster and with a higher level of quality if you are recharging the battery to its full level each and every night.
I want you to imagine your body as an iPhone. You would never leave the house to take on the day without making sure your phone has a full charge. Now I understand that some days you do, and that is the beauty of this, not everything has to be perfect. When you sleep you engage the parasympathetic aspect of your nervous system. That is the part of your brain that is in charge of sending out informational signals that tell your body how to heal and repair damaged tissues. It controls the immune system, rebuilds your muscles, regulates hormonal production, it activates the anabolic state that basically rebuilds and keeps you youthful.
Newsflash: When you sleep you are entering the deepest and strongest state of parasympathetic activity.
When you are not getting a large amount of good quality sleep you start to enter a state of sleep debt. Just like with a credit card, you can survive with a small amount of debt but it will continue to accumulate over time. Eventually our very adaptable bodies hit a wall and become overwhelmed with the amount of sleep debt…this is when we enter the sleep deprivation state. These effects suck for lack a better term. The dangers of sleep deprivation include immune system failure, diabetes, memory loss, depression, oh and let us not forget obesity. The list goes on but we don't have time to sit here and scare you, we want to help you improve the quality of your sleep so that keep doing what you love and allow your body to heal and repair from the stressors of life. Lets look at three of the simplest tips for improving your sleep tonight.
Don't Surf:
Don't channel surf before bed! Actually don't watch T.V. or use any electrical devices that have screens for a full hour before you go to sleep. This includes computers, tablets, and phones. When you look at the screen of your T.V. or device you are exposing yourself to an artificial blue spectrum light. This "blue light" tricks your body into producing more daytime hormones like cortisol and sets up a roadblock for your body's natural sleep preparation phase. Now if you're saying "there is no way I can not be on my computer before bed, I have e-mails to answer or work to do" then please do the next best thing. There are apps that block the blue spectrum light from exiting your computer (Unblue). If you have to use your devices please get these installed, your body will thank you for it. The newest apple update for iOS actually has a built in button called "night shift" that does this for you.
The Caffeine Curfew:
It may seem like common sense but when you drink caffeine it will arouse an alert state. While this may be a good thing in the morning, it can keep you awake when you drink it too late in the day. Caffeine mimics the structure and shape of something called adenosine in your body. Adenosine will act as a central nervous system depressant that helps your body move into a relaxed state and prepare you for a great night's sleep. When Caffeine binds to the adenosine receptor sites there is no longer room for the adenosine to bind, therefore not letting your body move into the stages of sleep preparation. Depending on your tolerance, and how your body reacts to caffeine, your curfew may differ. I would say that a great starting point is 4:00pm. Try not to drink anything with caffeine after that cutoff time and watch your sleep (and life) improve.
Early to bed, Early to rise:
We all have sleeping patterns and rhythms that our bodies become accustomed to. Some of us believe that we are night owls, while others believe that we are morning people. The reality is that you are what you repeatedly do, so if you stay up late every night then yes, you will become a night owl. Get it? The human body is designed to sleep when it's dark and you should be awake when it is light. This causes our bodies to produce different hormones when we are in the light vs. in the dark. If your goals include: building and repairing muscle, burning fat, and balancing your hormone production then you are going to want to make sure you are getting to bed at a decent hour.
These are just a few tips to improve the quality of your sleep and unlock your body's amazing potential for health. There are other ways people regulate their sleep problems such as CBD oil and other natural remedies. Stay tuned for more information on other topics in order to be as healthy as possible.
Don't forget… Life can be challenging and the stresses of our days tend to beat us up. It is imperative that we get enough sleep and allow our bodies to recover and recharge. You heal when you sleep, so enjoy it.  
-Dr. Rafael Ramon
Summer is officially here! Whether it's poolside or during your FIT workout routine, enjoy our FIT SUMMER FEELZ playlist to jumpstart your summer jams.
Chill. Vibe. & Enjoy your three day weekend!
1. Washed Out – Feel It All Around
2. Toro Y Moi – So Many Details (Remix feat. Hodgy Beats)
3. ODESZA – Bloom
4. ViLLAGE – The Touch (Original)
5. Majid Jordan – A Place Like This (Rainer + Grimm Remix)
6. Skrillex & Diplo – To Ü ft AlunaGeorge (Official Video)
7. Doin' Time (Remix) – Sublime and The Pharcyde
8. Macklemore & Ryan Lewis vs Major Lazer – Can't Hold Us Remix (ft Swappi and 1st Klase)
9. ODESZA – Sun Models (feat. Madelyn Grant)
10. Prince & The Revolution – Purple Rain [Max Hydra Remix]
As the month of February focuses on the ones we love, we decided to showcase some of the "Things We Love" within the walls of Fit Athletic Club during this Valentine Season!
___________________________________________
Give a women the right shoes and she can conquer anything. There's a whole lotta love in this pair of spin shoes. 15 years of love to be exact. And they could only belong to the one and only, Connie Cook – a spin class we LOVE!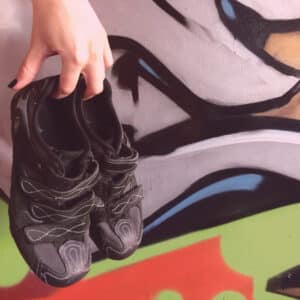 Cardio can be a pain in the butt, but what's not to love about this view?! Enjoy getting your sweat on with a VIP view of Petco Park from the balcony at Fit Downtown.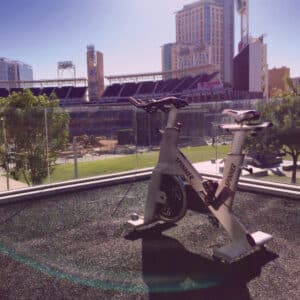 Let's be honest, happiness is a gym all to yourself. But true happiness is a gym that actually has the space to comfortably workout. If you haven't already, check out the 5000 square feet Turf Zone at Fit Athletic Solana Beach!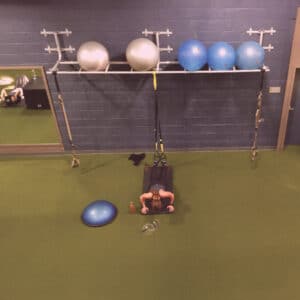 What's better than sweating it out and not having to work for it? Take advantage of the Dry Sauna at any of our three Fit Athletic locations!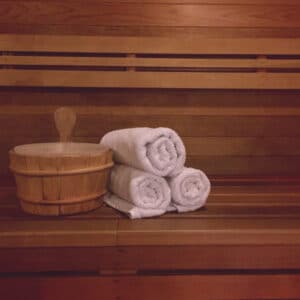 Because who doesn't like to hangout poolside on a rooftop deck? Oh, and not to mention with a stellar view of Petco Park.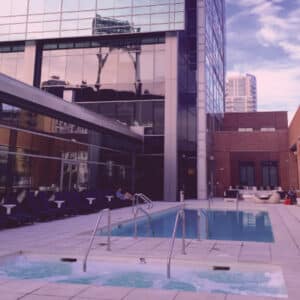 Tennis, the fun kind of cardio. Discover your inner Serena Williams at Fit Carmel Mountain's tennis courts!